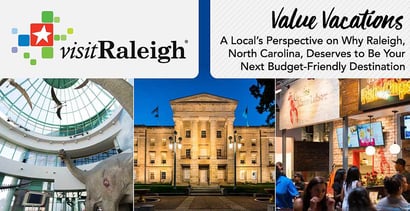 Travel can feel like an impossible feat for those on a budget. Luckily, there are some great destinations across the US where visitors can soak up the local culture, enjoy the sights, and grab some great food without breaking the bank.
With its abundant outdoor activities, rich cultural amenities, and vibrant culinary scene, Raleigh, North Carolina is one of those places. Visitors to the capital of North Carolina will find a number of low- or no-cost options suitable for children and adults, including free museums and an amusement park.
Recently, we had a chance to sit down with Scott Peacock, Director of Public Relations and International Tourism at the Greater Raleigh Convention and Visitors Bureau, to get an insider's perspective on some of the best affordable activities Raleigh has to offer.
What brings the most tourism to Raleigh and what are some of your can't miss attractions?
Our culinary scene is the No. 1 driver of visitation, but it's followed pretty closely by some of our larger attractions and I think that's where we can really appeal to those on a budget. Raleigh is known as the Smithsonian of the South because of the number of museums and cultural attractions in the area. The North Carolina Museum of Art, the North Carolina Museum of Natural Sciences, the North Carolina Museum of History, and the Gregg Museum of Art and Design on the North Carolina State University campus are all fantastic and free. We also have a great contemporary art museum, CAM Raleigh.
We're also one of only 12 cities in the US that has a symphony, ballet, and orchestra.
When you add those attractions on top of the museums, I think these are some of the most appealing offerings besides our culinary scene. And they are of interest to anyone of any age. The museums have amazing exhibits with wide-ranging topics being covered at all times.
What is the best time of year to visit Raleigh?
I'd say fall. It is one of our busier times — typically September and October. It's my favorite time to be here because some of that summer heat edge has gone away. It's also the harvest season, and we're blessed to be in the middle of the state, where we're surrounded by all the agricultural bounty of North Carolina. Our chefs love this time of year because there's so much new produce coming in, and they can really get creative and playful with their menus. The food scene definitely sees an uptick during this time of year.
Also, school is back in session so that oftentimes means fewer crowds at some of the attractions. But, on the other hand, it can mean more crowds if there is a field trip in session.
You mentioned North Carolina State University. How much of the city's local energy revolves around being a college town or around local athletics?
Not as much as you might see in other college towns, and I've lived in a few. Most notably in Columbus, Ohio, for 12 years.
Here's the interesting thing. Raleigh is the state capital and a university town, with 12 universities and colleges in the greater Raleigh area in addition to NC State, but neither of those two things defines the city. I think that makes it kind of unique.
NC State is prevalent here, but, because the campus is not downtown, you can visit Raleigh and never step foot on campus. Additionally, because so much of the economy around here is centered around technology — like clean tech and smart tech, and some of those areas — it doesn't have to be driven by the university.
I think the third part of that is the fact that the football stadium isn't in the heart of downtown or on campus either. It's in the mid-city area. I think if the stadium was on campus, people would feel more of that NC State vibe on weekends.
What are some of your personal favorite things to do and see in Raleigh that are either free or inexpensive?
For me, hands down, going to the North Carolina Museum of Natural Sciences is a must. If you can't do anything else in Raleigh, I'd say visit that museum because it's not just a museum. It also has a live research institute as part of it which is very interactive and hands-on with visitors. All of the scientists and most of the research they're conducting are behind glass where visitors can see everything.
There are certain times of day where the researchers will open up the labs and people can come in and talk to them and learn more about what they're doing. They very much try to take science to the people. And, besides just housing the museum and exhibits, the building itself has always been impressive to me.
I also love walking around the historic City Market, which is in the heart of downtown. There are a bunch of great restaurants and shops around that area. I always really enjoy the architecture in that area and the cobblestone streets. It's also across the street from one of four downtown city parks.
The governor's mansion is here, as well, and it is free to visit. It's great for someone who is really into history. I like going to the old State Capitol building and then walk across the street to the more recent Legislative Building. It's cool because you have this Greco-Roman architecture at the old State Capitol and then you go to the Legislative Building and it's all mid-century modern. It's kind of an interesting juxtaposition.
I love to walk through what's called the Warehouse District, which is like a pocket neighborhood within downtown that has breweries, chocolate factories, denim factories, clothing manufacturers. It's a place where lots of makers and artisans have their shops. Even if you don't want to spend money, just walking through that area and seeing the architecture and redevelopment that's going on is really cool.
Finally, if you have kids coming to visit, I'd say you have to go to Pullen Park. It's the 16th oldest amusement park in the world and the fifth oldest in the US. It is awesome. We're talking an old-school merry-go-round, pedal boats, and a train that runs around the gardens. It's built around a lake. It's just a really cool place for kids and very picturesque.
What are some popular local dishes or restaurants to try that won't break the budget?
I think you have to go to Big Ed's which is in the historic City Market. It's your quintessential low country Southern cuisine — a breakfast and lunch spot. You get your country ham and red eye gravy, grits — it's just awesome. And the design is cool, it has the old school farmhouse vibe you might expect. And the diversity of people that come through there is truly like a reflective melting pot of Raleigh. You'll see everything from politicians in suits to farmers coming in and everyone is eating all at once. It's a cool juxtaposition of the community. And it's very inexpensive.
And then, I'll mention a couple of other dishes on the more affordable side of things.
Our most popular dish is the macaroni au gratin from Poole's, which is a diner. It's an upscale diner so overall, it is not cheap, but it would be fairly inexpensive to just get an order of the macaroni and cheese.
The other dish that is probably the most sought after and Instagrammed in Raleigh is a pork belly soup made by Bida Manda, which is a Laotian restaurant that is extremely beloved here.
I also like Garland restaurant, which serves a blend of Indian, Asian, and Southern cuisine all in one. I think their lunch menu pricing is very affordable.
Do you have any advice for tourists looking for affordable lodging in and around Raleigh?
We've got pretty broad-ranging hotel options in the downtown area. There's everything from a Holiday Inn to a full-service hotel like a Marriott. There's a Sheraton, Hampton Inn, Residence Inn, and Red Roof PLUS+. So there are definitely some nice and more affordable hotel options in and around downtown, and certainly in and around the broader community. I would tell people if you've got loyalty and you can utilize hotel points, first and foremost start there.

We've got a booking engine on our website and we encourage all the hotels to load their inventory into it and try to offer their best rates. So if someone is having trouble finding decent rates, I'd say take a look at visitraleigh.com and see what we have available on there.
What about affordable transportation options?
We like to encourage people to take what we call the R-LINE. It's a City of Raleigh transit bus that runs in a square pattern around the core of downtown in a loop all day long. It's free and anyone can hop on and off the R-LINE. It's definitely the best option in that area.
Downtown Raleigh and some of our pocket neighborhoods are also very walkable in general.
There are a few places where people can rent bikes. And we have plans to create an actual citywide bike share program in the near future. Bikes are great because we have a pretty robust trail and greenway system. I think there are more than 180 miles of trails in the area.
We just recently launched Bird and Lime scooters, so that's our newest, most fun way to get around the city. As Raleighites, we love it and are using those like crazy because they're not very expensive, depending on how far you're going.
Finally, one thing to think about when getting to Raleigh is the train. We just built Raleigh Union Station, which is a brand new train station in the core of downtown, and it's beautiful. We have an Amtrak line here that runs all the way from New York to Miami. So, in addition to driving and flying, the train can be a cost-effective way to get here.
Advertiser Disclosure
BadCredit.org is a free online resource that offers valuable content and comparison services to users. To keep this resource 100% free for users, we receive advertising compensation from the financial products listed on this page. Along with key review factors, this compensation may impact how and where products appear on the page (including, for example, the order in which they appear). BadCredit.org does not include listings for all financial products.
Our Editorial Review Policy
Our site is committed to publishing independent, accurate content guided by strict editorial guidelines. Before articles and reviews are published on our site, they undergo a thorough review process performed by a team of independent editors and subject-matter experts to ensure the content's accuracy, timeliness, and impartiality. Our editorial team is separate and independent of our site's advertisers, and the opinions they express on our site are their own. To read more about our team members and their editorial backgrounds, please visit our site's About page.