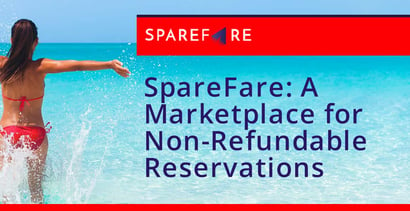 In a Nutshell: SpareFare is an online marketplace that allows travelers to buy and sell non-refundable airline tickets and hotel reservations. Buyers and sellers negotiate deals, and SpareFare ensures payment is received and reservations are transferred, providing a much-needed layer of security for both parties. Most airlines allow transfers, as do many hotels, but those companies, and many travel agencies, may charge fees. And as COVID-19 has challenged the travel industry, many companies have shifted to more accommodating policies that should become standard as business gradually returns to normal.
As a lawyer, Galena Stavreva had no choice but to balance her desire to travel with a hectic work schedule. Her job frequently preempted her adventures, and she often had to let airline tickets and hotel reservations go unused when work called. Those reservations were usually non-refundable, but they could be transferred to another person, which let Stavreva offset some of her losses. The trick was finding someone who wanted to buy them.
At the time, there was no efficient channel for connecting people holding non-refundable reservations with someone who wanted them. And even when Stavreva could find a buyer, both parties were hesitant to make the first move. Should she take buyers at their word and change the name with no guarantee of payment? Should she expect buyers to pay first when they had no guarantee they would get what they were paying for?
"There was this huge block between buying and selling on the usual marketplaces," said Stavreva. "So I thought, 'That's stupid. Someone should do something about it.' And then after it happened for the 10th time, I said, 'Why don't I do something about it?'"
So Stavreva co-founded SpareFare, an online marketplace for buying and selling airline tickets, hotel reservations, and holiday packages that which typically include both.


Sellers can offload their unused, non-refundable bookings, and buyers can get a much better deal than purchasing direct. The platform provides a level of security that was previously lacking in this secondary market.
"We are talking quite a lot of money in some instances," Stavreva said. "So people need a trustworthy intermediary between them to make the exchange safe."
That is especially important for people who enjoy travel but need to book trips on a modest budget, which is common among non-refundable ticket purchases. SpareFare provides a way for them to reduce debt incurred from unused, non-refundable travel bookings.
Sellers can also avoid wasting money or even get some cashback to help pay off outstanding debt while buyers can find deals on travel and lodging.
Users Negotiate Deals on Tickets and Accommodations
SpareFare offers a straightforward process for buying and selling. Sellers list their tickets and reservations on the site, and potential buyers make bids. If the seller likes the offer, they can accept it. If not, the bid establishes communication between the two, allowing them to negotiate a price with no obligation to either.
"You're free to reject it if you don't like an offer," Stavreva said. "You can also say, 'If you pay me a little bit more, we can work it out.' But many sellers accept because the alternative is losing everything. Getting back half of it is so much better than not getting anything."
When both parties reach a deal, the buyer has 48 hours to make a payment, which is collected and held by SpareFare. Once payment is confirmed, the seller has 48 hours to transfer the reservation to the buyer's name, which a SpareFare team member confirms. Three days after the reservation date, the payment is released to the seller.
Watch on
The key to successful selling on SpareFare, as on any other online marketplace, is to offer an in-demand service and provide plenty of details about it. Certain information is mandatory, including dates and the airline or hotel name, but additional information will help entice potential buyers.
"You can include as much or as little information as you want, depending on how keen you are to fill in the form," Stavreva said. "We will always advise sellers it is wise to give as much information as they can."
Name Changes Prevent Losses on Non-Refundable Products
The majority of SpareFare buyers and sellers are based in Europe, but the company sees lots of business in the U.S. as well. There is no restriction on who can transact on the platform.
"We are a global marketplace, and you can sell from anywhere, but Europe and the U.S. are the two biggest markets," Stavreva said.
Once purchased, airline tickets are nonrefundable and incur hefty fees to exchange or alter. But some airlines allow customers to sell non-refundable bookings. SpareFare provides a list of several dozen airlines that maintain this policy, allowing sellers to quickly determine if it is a viable option.
"Everyone can quickly check to see whether they have a flight with an airline that allows name changes," Stavreva said. "They can see what kind of fee it has, when they charge it, when they have to pay it, and all of that is summarized on the website."
Unlike airlines, changing names on hotel reservations is a standard practice. Additionally, hotels typically don't charge a fee for doing so.
"There might be some hotels out there that don't allow it, but I've not come across them," Stavreva said.
Holiday packages, on the other hand, may be a different story. Transferring bundled deals to other consumers depends on the particular travel agency's policy.
"All travel agents based in the European Union have to allow name changes by law because of the package travel directive," Stavreva said. "If they're based outside Europe, it varies. It depends on the travel agent. Most of them do it for free."
Some agencies may charge a low fee for name transfers. Even in those cases, it's still a better deal than letting reservations go to waste and accruing debt for services you're not using.
Sellers Can Recoup Money on Unused Reservations
Stavreva estimates that, on average, sellers recoup about 50% of their expenses when selling their bookings on SpareFare. But the going rate can depend on various factors.
First is if a user is selling tickets and accommodations for a destination that people want to visit. If demand is high, they command a better price; otherwise, people may have to wait (and hope) for the right buyer to come along.
Timing can make all the difference, including the time until the reservation date or flight. If it's only a few days after the listing, then the selling price tends to be lower. And when they're running out of time, sellers tend to be more willing to take whatever price they can get. Listing bookings as far in advance as possible offers much more flexibility.
"If you know far in advance that you're not going to travel and you have three months to sell the reservation, then you have the luxury of refusing a few lower offers and waiting for a higher price," Stavreva said.
For buyers who are on the lookout for bargains, but aren't picky about dates or specific accommodations, SpareFare can provide email alerts that will notify them when something becomes available.
"If you really want to go to Paris, but you're just looking into cheap flights, you can sign up for an email alert," Stavreva said. "The next time we get a flight to Paris, you'll be the first to know so you can grab the bargain before other people realize it's there."
SpareFare: Evolving to Meet the Needs of Individuals and the Travel Industry
Stavreva saw an opportunity to connect those who needed to sell non-refundable airline tickets and hotel reservations with travelers looking for deals. And SpareFare has helped countless users in both camps.
"Something that people often say is 'I wish I knew you existed sooner, I would have saved so much money,'" Stavreva said. "If I had a penny for every time someone told me this, I wouldn't have to work. I'd already be a millionaire."
And as 2020 winds to a close, many more people probably share those sentiments. Due to health concerns and travel restrictions imposed by the COVID-19 pandemic, the need for SpareFare's marketplace has become much more pronounced. The platform's traffic has increased 15-fold during the pandemic as people sell to avoid taking on more debt and buy to realize better deals on travel.
"All of a sudden, many people were trying to cancel and resell their flights because they didn't want to travel. So, we became very relevant," Stavreva said.
SpareFare has helped a broader audience sell their reservations to others who want to buy them. The latter get a good deal, and the former get cash in hand, which they can use to reduce and avoid credit card debt when finances are tight all around.
Another effect is that airlines and other travel agencies have become more flexible about cancellations and changes. SpareFare is currently exploring partnership opportunities with many of them to facilitate this positive shift in the market.
"All the travel providers have become acutely aware of offering options to canceling clients," Stavreva said. "We're partnering with hotels, insurance services, and travel agents because they want to offer their clients options other than cancellation. That's good because those options will be here to stay, so that will be one positive thing out of this whole crazy time."
Advertiser Disclosure
BadCredit.org is a free online resource that offers valuable content and comparison services to users. To keep this resource 100% free for users, we receive advertising compensation from the financial products listed on this page. Along with key review factors, this compensation may impact how and where products appear on the page (including, for example, the order in which they appear). BadCredit.org does not include listings for all financial products.
Our Editorial Review Policy
Our site is committed to publishing independent, accurate content guided by strict editorial guidelines. Before articles and reviews are published on our site, they undergo a thorough review process performed by a team of independent editors and subject-matter experts to ensure the content's accuracy, timeliness, and impartiality. Our editorial team is separate and independent of our site's advertisers, and the opinions they express on our site are their own. To read more about our team members and their editorial backgrounds, please visit our site's About page.