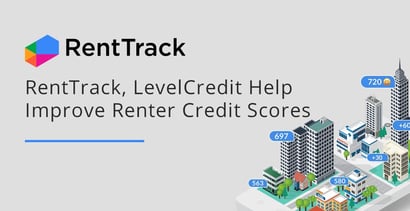 In a Nutshell: Renting a house or apartment doesn't yield the same credit-building benefits as making mortgage payments. That's why RentTrack and its sister platform LevelCredit pioneered credit reporting tools for renters to ensure their rent and utility payments contribute to their credit scores. RentTrack serves tenants of large property management firms, while LevelCredit brings the same benefits to individuals who rent from smaller landlords. These services provide renters with credit monitoring and updates, support for payments and reporting, and the opportunity to leverage a history of timely payments into an improved credit score.
The number of renters in the United States surpassed 108.5 million in 2018, according to RentCafé. That is nearly a 10% increase from the estimated 99.4 million renters in 2010. Data shows that the renter population has grown twice as fast as that of homeowners.
But homeowners enjoy certain benefits that renters don't see, including improving their credit score by making timely mortgage payments. A good credit score is one of the most significant factors when it comes to qualifying for a home loan, but renters don't get credit for a major aspect of their creditworthiness.
That can put renters in a bind when they want to purchase a home.


That's why RentTrack, an online rent payment platform, and its sister platform, the consumer data reporting company, LevelCredit, set out to solve that problem. These services report rent and utility payments to all three major credit bureaus, ensuring diligent tenants can build credit the same way homeowners do through mortgage payments.
"We see ourselves as empowering consumers," said Matt Briggs, CEO and Founder of RentTrack and LevelCredit. "It doesn't matter if you rent from a high-rise, large property manager, a single-family unit, or even subsidized housing. You should get credit for making that payment."
And that can add up quickly. Payment history makes up about 35% of the average credit score, and including on-time monthly rental transactions can result in a welcome boost. A recent LevelCredit study showed that the service reported at least one payment for 1.26 million users.
RealPage Integration Streamlines Reporting for Tenants of Large Management Companies
RentTrack pioneered rent reporting in 2014. It partnered with RealPage, a property management software, which allowed the service to initially reach a broad segment of people who rented from large firms. Through the partnership, RentTrack became the first company to report rent to all three major credit bureaus.
"We're not going into an alternative database. It goes into the file everyone's going to see," Briggs said. "When we started, we had to process the rent payment to report it. The property manager, in those situations, furnishes the data. At that point, we act as a middleman between the property manager, the consumer, and the credit bureau."
Watch on
RentTrack assumes the burden of reporting and compliance for property managers, and it can also take care of customer disputes and handle questions and concerns.
Thanks to its RealPage partnership, RentTrack onboarded plenty of large property management firms. But the company still couldn't reach the full spectrum of renters until it innovated a new service.
"Tens of thousands of consumers don't fit into that model. Only 30% to 40% of the rental market today in the U.S. is with a property manager of that size," Briggs said. "The other 60%, those with individual landlords, traditionally couldn't work with us because the landlord's just too small and it wasn't worth it. The problem was, all these people were still paying their rent on time, and no one could do anything for them. Then we had our 'Ah-ha!' moment and came up with a new business called LevelCredit."
LevelCredit Extends Reporting Benefits to Those Who Rent from Smaller Landlords
The rent and utility market turned out to be very segmented, according to Briggs. Market. Many landlords don't have the IT resources or the knowledge to handle compliance and furnish data to RentTrack.
LevelCredit was designed to meet the needs of that segmented market and fill in the gaps left by RentTrack. It serves those renting from small landlords who own and manage one or a handful of properties.
"That enables us now to report a high majority of all rental units in the United States," Briggs said. "Instead of reporting only 30% to 40%, we're now well above 90%."


LevelCredit, like RentTrack, takes over specific responsibilities and duties from smaller landlords. It still must serve as a data furnisher to report payments to credit bureaus. And it verifies three critical pieces of information: the consumer's obligation to pay, that consumer's identity, and the timely payment of rent through whatever means the renter chooses.
"It doesn't matter how you pay, as long as you pay," Briggs said. "And we take on all of that. If you look at a trade line of a person that lives in a single-family residence owned by one landlord and a trade line that's with Pinnacle — which is 200,000 units with IT and RealPage — they're going to look identical. We provide the same service to both of them. We verify and validate the information and report it to the bureaus in a compliant way."
LevelCredit can also report utilities separately, including water, electricity, telecom, and gas, among others. That means if a user signs up, they could potentially get five LevelCredit tradelines each month.
Monitoring and Alerts Encourage Early Payments
RentTrack and LevelCredit offer plenty of benefits for property managers as well as renters. For renters, those revolve around building and maintaining positive credit scores.
Renters receive instant credit monitoring and reporting through the Credit Builder platform, which helps them keep a careful watch on their progress. Payments are typically reported to the credit bureaus on a nightly basis, ensuring they are as updated as possible.
"We want to give them credit for it as soon as they pay," Briggs said. "As soon as that tradeline hits — anywhere from a day to a few weeks — you're going to benefit from reporting those payments. You're going to get an alert, especially the first time. You get a new tradeline, the credit score goes up, and you're going to log in and see it."
Briggs said that, although renters only make payments once per month, they log in to Credit Builder an average of three to four times monthly. The platform sends them credit alerts, which effectively encourage them to pay attention to their situation. The visibility of the speedy rewards also provides an incentive to pay rent early, which benefits both renters and landlords.
"They're going to see their collection cycles shorten. They're going to get paid a few days sooner," Briggs said. "They're also going to see a higher adoption of online payments. It's easier for everyone, and they get credit for it."
Of course, not all renters sign up for RentTrack or LevelCredit when they move into a new apartment. Some may come to the services after having lived in the same location for an extended period. The services help these tenants retroactively build credit based on previous residence.
"We can report back to the inception of the lease up to 24 months," Briggs said. "Conceivably, a consumer could come into us if they've been at their current lease for 24 months, and we can verify the payments going back. They could get a 24-month season tradeline the first month they are with us, which is a tremendous benefit to that consumer."
Proactive Customer Support Helps Renters Build and Maintain their Scores
According to the LevelCredit blog, reporting rent payments to credit bureaus has an appreciable effect in the short and long term. On average, renters may see their credit scores improve by 20 points in the first two months and by 50 points in two years. Renters occupying the lower credit score range can see even greater increases in the same periods.
"I've used RentTrack for the last three years while living in an apartment," Barbara B. wrote in a testimonial on the website. "About a year ago, I was able to obtain an auto loan from my credit union because of my RentTrack record of paying on time and thereby bringing up my credit score."
Realizing those benefits requires diligent payment, but RentTrack and LevelCredit support teams are standing by to lend a helping hand. If a payment can't be found in the system, a representative will reach out to the renter to verify that payment and the method. By clearing up discrepancies and encouraging timely payments, the support teams aim to ensure all renters get the credit they deserve for making on-time payments.
And even if a tenant rents from a small landlord or their roommate is primary on the lease, RentTrack and LevelCredit can still help them establish a history of residence and timely payments. That process requires some manual investigation and verification, but service teams are dedicated to helping tenants any way they can.
"We work with them," Briggs said. "There are situations where they're kind of invisible, but they still make that payment. We can prove they make that payment and give them the credit they deserve."
Advertiser Disclosure
BadCredit.org is a free online resource that offers valuable content and comparison services to users. To keep this resource 100% free for users, we receive advertising compensation from the financial products listed on this page. Along with key review factors, this compensation may impact how and where products appear on the page (including, for example, the order in which they appear). BadCredit.org does not include listings for all financial products.
Our Editorial Review Policy
Our site is committed to publishing independent, accurate content guided by strict editorial guidelines. Before articles and reviews are published on our site, they undergo a thorough review process performed by a team of independent editors and subject-matter experts to ensure the content's accuracy, timeliness, and impartiality. Our editorial team is separate and independent of our site's advertisers, and the opinions they express on our site are their own. To read more about our team members and their editorial backgrounds, please visit our site's About page.