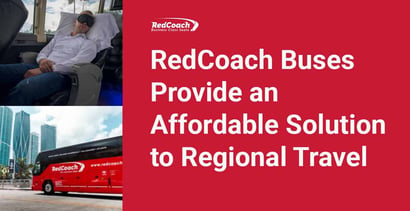 Experts share their tips and advice on BadCredit.org, with the goal of helping subprime consumers. Our articles follow strict
editorial guidelines
.
In a Nutshell: RedCoach provides a luxury bus experience to and from some of the largest tourist destinations at flexible times and affordable prices. The company focuses on comfort and accessibility with features such as reclining seats, free wifi, and power outlets at every seat. Passengers are permitted two checked bags plus a carry-on bag. RedCoach currently offers a variety of discounts, including for seniors, military, children, students, and groups. Buses currently only travel in Florida and Texas, but plans are in the works to add more states and stops in the future.
Traveling is never easy, especially in my household. My family is always finalizing plans, packing, and leaving for the airport at the last possible minute.
If leaving the house isn't bad enough, once you get to the airport, you have to park your car in an expensive parking lot, and rush to get your bags checked in. You also have to deal with an airport security line that moves at a snail's pace no matter how many times I check my watch.
Once on your plane, you wonder how any human is supposed to sit in these narrow airplane seats with no elbow room or legroom. I can't stream movies or shows from my favorite apps because I refuse to pay for the wifi and forget to download them beforehand.
The founders of RedCoach experienced the same travel issues outlined above, and saw an opportunity to make it better. RedCoach is a luxury bus line that provides comfortable and affordable regional travel without the headaches of airline travel.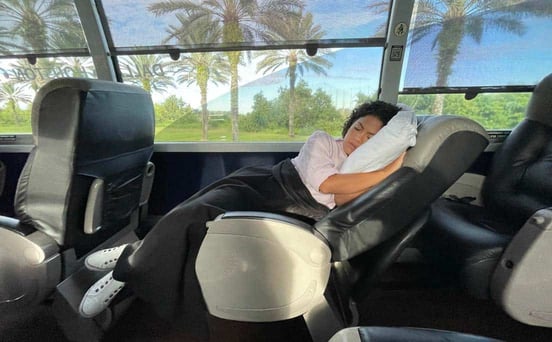 The company's founders have more than 50 years of experience in transportation in South America, where bus travel is more common. When the founders visited Florida, they saw too many people who had to take road trips after traveling to Miami to make it to Orlando.
RedCoach buses feature air-conditioning, free wifi, comfortable seats, foot rests, and two checked bags and a carry-on bag included with the ticket. The company takes security seriously as well, with GPS tracking and camera monitoring throughout the bus.
RedCoach currently only travels in Florida and Texas, but the company has plans to add more destinations. All of the extra features the company provides would normally cost an arm and a leg on an airline, but RedCoach provides comfortable experiences without exorbitant pricing. Ticket prices are as low as $24.99 in Florida and $29.99 in Texas.
"Bus travel can be super comfortable and affordable," said Florencia Cirigliano, RedCoach's President. "You don't have to drive yourself, you can save money, and our luxury features don't cost outrageous prices."
First-Class Features For a Fraction of the Price
With gas prices hitting all-time highs earlier this year, Americans are looking for more ways to save money at the pump. Instead of driving long distances with gas stops on the way, many families are opting to use RedCoach's services.
RedCoach said good word of mouth from families who want to save money is helping it grow. The company offers dynamic pricing so ticket prices are cheaper for trips with lower demand.
There are three tiers of tickets riders can choose from: first class, business class, and economy class. First and business class offer larger, more comfortable seats that recline. But every ticket includes two checked bags and a carry-on, free wifi, power outlets at every seat, and a foot rest.
Every RedCoach seat is more comfortable and offers more space than a traditional airplane seat. And with wifi included, travelers can do work, play games, and stream movies while on the road.
Many riders don't have to pay the base rate for ticket prices with RedCoach's discounts available. RedCoach offers discounts for military personnel and veterans, students, children, seniors, and groups.
RedCoach said families appreciate the senior discount because they trust the bus service to get grandparents to their destination without confusion. Families can also take advantage of group discounts of up to 25% just by booking three or more tickets at the same time.
"When you consider families with children, we believe that we can provide a package to help them save money," Cirigliano said. "When three or four people are traveling, they save up to 25% more."
RedCoach: Taking Anxiety Out of the Equation
Some of the anxiety and headaches that come with traveling come from trying to make a flight on time. Flight delays also create stress because people don't know when it will be time to fly.
All of RedCoach's buses have GPS tracking so riders can see exactly where their bus is at all times with an estimated time of arrival that updates in real time. The company said it is very transparent when buses are facing delays so riders can plan accordingly.
Travelers do not need to be at the bus stop hours in advance as they do at the airport. Those with tickets can get to the bus stop five minutes before the bus leaves and still make it on. Riders only need to pull up a QR code on their phone from their order confirmation to check in.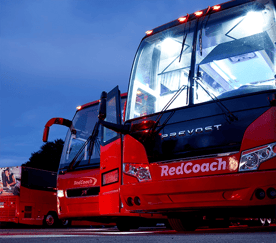 "If you're coming from South America on an eight hour flight to Miami and want to go to Orlando, you have to rent a car and drive another three hours on a road that you have never heard of before," Cirigliano said. "For those who don't know the language, it can create a daunting scenario that we want people to avoid."
Tickets are nonrefundable, but RedCoach allows travelers to make changes or cancel their trip up to three hours before the bus is scheduled to leave. Passengers who cancel their trips will receive a voucher from RedCoach for the value of the ticket.
Travelers can transfer vouchers to someone else or combine them to cover part of or all of a new ticket. There is no need to go through a long process to make changes, travelers can cancel their ticket online and receive the voucher automatically.
"We're trying to make everything go smoothly because it's not just about how comfortable the bus is," Cirigliano said. "It's also the whole experience, including booking. If it's a hassle to book a ticket, customers get frustrated. We're trying to make things better."
Creating a Straightforward Travel Process
Passenger comfort is a top priority for RedCoach and is the reason why the company limits most trips to under 400 miles. RedCoach said 400 miles is the sweet spot for how long trips should be for maximum comfort.
RedCoach buses only go to the most popular destinations. This limits stops and gets travelers to their destinations faster. Longer trips include a 30 minute rest stop in Orlando to allow travelers to get out, stretch, get something to eat, and use the bathroom.
The company is in the process of revamping its rewards program as well. The new program will allow frequent travelers to earn points toward free bus trips.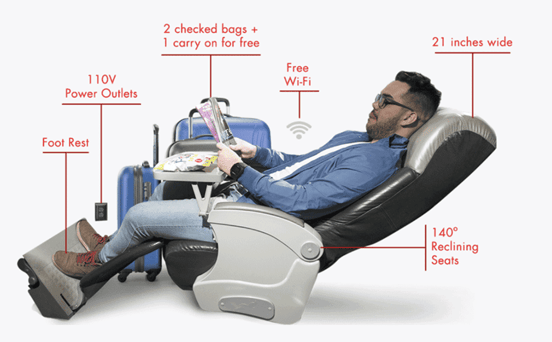 Traveling with RedCoach is easy. Passengers can complete the entire process from booking to boarding right from their phone, no computer or printing required.
RedCoach supports multiple payment methods to allow travelers flexibility in how they pay. Travelers can pay using a credit or debit card, PayPal, Google Pay, Apple Pay, and Samsung Pay.
As for its future plans, RedCoach is looking to expand into Georgia after  traveler feedback to add that state as a destination. The company is also working on an app that it hopes will make it to smartphones in 2023.
"We try to make things easier, because as passengers when we go through airlines, it's all hassle and they look at you like they don't care," Cirigliano said. "We created our policy to focus on what passengers like and deliver on that while staying viable as a company."