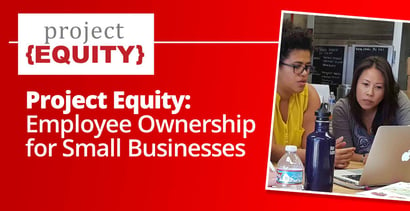 In a Nutshell: Project Equity is on a mission to help small businesses implement employee ownership structures. That includes employee stock ownership plans (ESOPs), worker-owned cooperatives, and employee ownership trusts, each of which suits different business needs and goals. Selling a business to employees also benefits owners and founders. It allows them to bypass finding an outside buyer, and they can sell to workers who value the business and who will carry on its legacy. And by keeping ownership local, employee ownership sustains local economies and benefits entire communities.
Recology is a waste management company headquartered in San Francisco that employs nearly 4,000 workers who operate across three states. In early 2020, much of its work halted when shelter-in-place orders were enacted in response to the COVID-19 pandemic. Waste management is an essential service, but many of its employees were left without work when a large number of businesses shuttered. But every single employee received full pay and full benefits for two and a half months.
Recology has been 100% employee-owned since 1986, and this decision is illustrative of the type of decision-making seen in employee-owned companies, with business decisions that reflect the needs of the employees and their communities.
In addition to benefiting the workers who keep businesses running, employee ownership also benefits owners who are ready to sell.
When it comes time to retire and pass their business on, selling to the current employees is one of the most efficient ways to accomplish that seamlessly. And as more baby boomers prepare to retire, almost half of the small businesses in the United States face an uncertain future.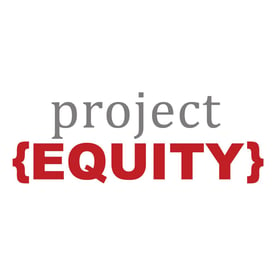 "We want to preserve small business assets in communities, and help small business owners preserve their legacies," said Alison Lingane, Co-Founder of Project Equity, which helps businesses explore employee ownership. "We want to have the businesses remain locally owned, and, in doing so, bring the opportunity of shared entrepreneurship and employee ownership to the workforce at large."
Project Equity helps businesses implement those employee ownership programs, and it focuses on creating opportunities within existing businesses, rather than fostering startups with employee ownership structures.
When owners sell to employees, workers gain more agency and control over their employment. Additionally, keeping businesses locally owned benefits communities and ensures the founder's legacy is carried forward into the next generation.
"Why isn't there more of it? And what can we do about it?" Lingane asked. "That's the mission of Project Equity."
Innovative Ownership Structures Meet Diverse Goals
There are different forms of broad-based employee ownership, each suited to particular goals and needs. The three most common are employee stock ownership plans (ESOPs), worker-owned cooperatives, and employee ownership trusts.
"This is a business model that has opportunity baked into it," Lingane said. "You get a job, and you have the opportunity within that job not just to work your way up as you might in a big company but also to become a small business owner."
Under any form of broad-based employee ownership, a business — not the employees — takes out a loan to buy out the owner. That is business debt rather than personal debt that effectively leverages future business profits to buy an ownership share. The loan amount is based on the strength of the company and its cash flow, not on individual creditworthiness or wealth of the employees.
"The employee stock ownership plan was created essentially through federal legislation in the 1970s and strengthened in the 1980s because the federal government saw this model as incredibly beneficial," Lingane said. "An ESOP is actually a qualified retirement plan in the same way a 401k is. Employees receive their stock ownership as a retirement benefit."
Watch on
ESOP businesses also receive additional tax benefits, albeit under closer regulatory scrutiny. Lingane says this model is ideal for operations with 40 employees or more, whereas other structures can serve businesses of all sizes, down to a size of about 10 employees.
Like ESOPs, worker-owned cooperatives are 100% employee-owned. They are governed by a board of directors that is elected by the full body of employee-owners. Cooperatives operate on a profit-sharing model called patronage, with individual income based on hours worked. To convert an existing business to a cooperative, employees may need to bring a small amount of money to the table to buy their ownership share.
That cost is relative to earnings, usually totalling 1% to 5% of the business sale price.
Depending on the sale price, transitioning to employee ownership of any form may require a loan, but similar to a mortgage, it is often a reasonable and productive debt to take on, as it promises future returns on the investment.
Finally, employee ownership trusts — also called perpetual employee trusts — are similar to ESOPs in utilizing a trust structure. They are more flexible, allowing them to be adjusted to meet business goals and needs, though they do not offer the ESOP tax benefits. Employees don't have to purchase ownership shares, and, thanks to its nature as a trust, it offers more long-term stability than an ESOP.
All three structures can help employees achieve ownership while avoiding substantial personal debt. ESOPs, cooperatives, and ownership trusts are broad-based employee ownership plans, and they are open to almost all employees, with certain caveats based on employment duration or hours worked. By becoming part-owners, employees can develop valuable professional skills and leverage them to benefit the business, employees, families, and communities.
Small Business Owners Plan for Legacy and Succession
Employee ownership offers clear benefits for workers, but it also provides significant advantages for the owners selling the business. According to Project Equity, 85% of owners don't have succession plans in place. Only about 15% of companies get passed down to children, and about one-third of sellers over age 50 have difficulty finding buyers for their businesses.
"That's our No. 1 message: Plan for your business ownership succession so that life or illness doesn't get in the way," Lingane said. "That's the outcome we're trying to avoid. Plan ahead. Start when you're 60."
Even with adequate planning, only an estimated 20% of businesses listed with brokers end in a sale. That leaves many owners with no choice but to close the business they've worked so hard to build. In many cases, employee ownership is a convenient and easy solution.
"That also opens up a whole new buyer category for business owners," Lingane said. "I often say you can find a buyer right under your nose through employee ownership."
With ESOPs, for example, the sale is often financed by a bank, and for other models, the lender is more likely to be a community development financial institution, providing peace of mind for the seller. Sellers typically receive 60% to 70% of the sale price at the time of the transaction, and the remaining 30% to 40% is paid out over a few years.
"They receive immediate liquidity and then money over time, say over five to seven years, from the sale of the company," Lingane said.
Owners can also rest assured that their legacy — and that of their business — will be preserved in the community.
"Who better to carry it forward into the next generation?" Lingane said. "From the perspective of their company continuing, a lot of business owners name it with their surname. That will continue in the community into the next generation. And then the knowledge that this business is now turning into a machine to help fuel the wealth-building opportunities of the next generation is also tremendous."
Communities Benefit from Keeping Businesses Local
In many cases, small businesses get sold to larger companies or buyers from outside the area. That can result in employees being laid off as the absentee owner consolidates the business, jeopardizing the financial stability of workers and putting them on a potential path to debt.
And if ownership is external, money may be pulled out of the local economy, which hurts the entire community. Small businesses make up 99.7% of U.S. employer firms, and they provide more than 48% of private-sector jobs on a national level. These businesses circulate three times more money back into local economies than do chains or absentee-owned establishments.
Employee ownership programs help maintain local relationships and civic engagement. And because employees are personally involved in running the business, they may be more motivated to make strategic choices that take the local community into account and work harder to keep the business running.
Those businesses are more capable of sustaining themselves during economic downturns and outperforming others in their industries. All of that, of course, depends on the strength of the individual business. And great strength is often found in the synergy of the employee ownership structure and the operation's internal culture.
"That ownership culture comes in, and you have people who are thinking about their role in the context of the whole," Lingane said. "That's why you see the outcomes that we see in terms of year-over-year higher profit margins, higher growth, more employees, lower layoffs, and outperforming peers in business cycle downturns. That's because of that ownership culture, and it just makes for stronger businesses."
Project Equity: Helping Employee-Owned SMBs Overcome Economic Challenges
Small businesses in 2020 face two crises. The first is that there is no succession plan for 85% of the privately held small businesses owned by baby boomers. That generation owns nearly half — 2.34 million — of the nation's privately owned businesses with employees, which together employ 24.7 million people who earn $949.1 billion each year. Those businesses also account for a total of $5.14 trillion in sales. The transition of baby boomers from working to retirement signals a major entrepreneurial shift in the U.S. economy — one that will have drastic consequences.
Simultaneously, many businesses are struggling to sustain themselves amid the COVID-19 pandemic. Public health concerns and expectations have forced significant changes in consumer behavior and business policies and practices, creating a challenging situation for all involved.
"We need to be addressing both of those crises," Lingane said. "Employee ownership isn't going to bring back a restaurant or the economy by itself. However, if there were a time when employee engagement was critical to small businesses, it is now. Because if there's anything certain for small businesses today, it is that everything is uncertain."
As baby boomers retire, employee ownership presents the opportunity to keep these businesses locally owned for the long term and deepen their impact on the local economy. With greater control over their employment and workplace, employee-owners would have greater agency in setting policies and devising strategies to address the twists and turns of an uncertain economy. Employee ownership would continue to provide local jobs, improve access to wealth and encourage entrepreneurship. And they can do so without accruing the substantial personal debt typically involved in buying a business.
Project Equity's mission is to provide guidance and support to help realize employee ownership on the scale that the current economic conditions call for.
"Reach out to organizations who can talk to you about it, help you get up that learning curve, and they can help you through the whole process," Lingane said. "This is not something you need to figure out on your own or do on your own."
Advertiser Disclosure
BadCredit.org is a free online resource that offers valuable content and comparison services to users. To keep this resource 100% free for users, we receive advertising compensation from the financial products listed on this page. Along with key review factors, this compensation may impact how and where products appear on the page (including, for example, the order in which they appear). BadCredit.org does not include listings for all financial products.
Our Editorial Review Policy
Our site is committed to publishing independent, accurate content guided by strict editorial guidelines. Before articles and reviews are published on our site, they undergo a thorough review process performed by a team of independent editors and subject-matter experts to ensure the content's accuracy, timeliness, and impartiality. Our editorial team is separate and independent of our site's advertisers, and the opinions they express on our site are their own. To read more about our team members and their editorial backgrounds, please visit our site's About page.