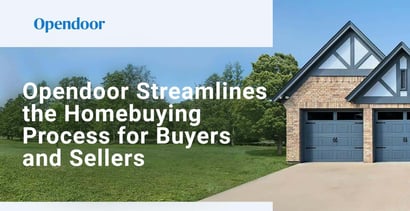 Experts share their tips and advice on BadCredit.org, with the goal of helping subprime consumers. Our articles follow strict
editorial guidelines
.
In a Nutshell: The Opendoor mortgage team's financing app puts the power to buy a home in the palm of consumers' hand by enabling them to self-serve their mortgage pre-approval in minutes. The financing app asks four simple questions: a customer's name, phone number, email and Social Security number, and calculates how much they can afford to pay for a home, what the expected payments will be and provides a range of loan options available–all without any credit score impact. Consumers can then generate pre-approval letters to apply for a mortgage in as little as two minutes. The app also streamlines the frustrating document and paperwork process, making the mortgage pre-approval process simple and stress-free.
The housing market is showing no signs of slowing down in the U.S. Housing prices are expected to rise 10% this year alone. That is after prices shot up 17% last year.
Total home sales jumped by half a million in 2020 from 2019 figures, and another 400,000 homes were sold in 2021 pushing sales to a total of 6.9 million. Americans flush with cash are buying up homes as soon as they hit the market, putting others who need mortgages at a disadvantage because they need approval.
Receiving faster mortgage approvals is an issue Heather Harmon and Ali Mackani aimed to fix. The duo developed an app that in just minutes provides buyers with pre-approval on homes they want to buy.
Harmon and Mackani's success led to Opendoor acquiring their technology to integrate it into the company's platform. The app now lives with Opendoor's mortgage brokerage subsidiary OD Homes Brokerage (ODHB).


The app provides an accelerated experience for the consumer through its mortgage pre-approval process. Borrowers input information about themselves and receive pre-approval for a loan within their buying power in minutes.
Opendoor's app helps people understand and customize their loan options, break down closing costs, and generate a printable pre-approval letter with verified information. Harmon, who is now Head of Opendoor Finance, said the process shifts the power to purchase homes back to buyers who can't make all-cash offers.
"In the big picture of Opendoor, we deliver a simple, certain and fast end-to-end experience for our customers, and our app fits right into that mold," Harmon said.
Providing Access to Tailored Home Financing Options
The new app and technology Harmon and Mackani bring supports what Opendoor has already built for buyers and sellers.
Much of the homebuying process is done digitally through the Opendoor app. The app is available right now on Apple's App Store and the Google Play Store.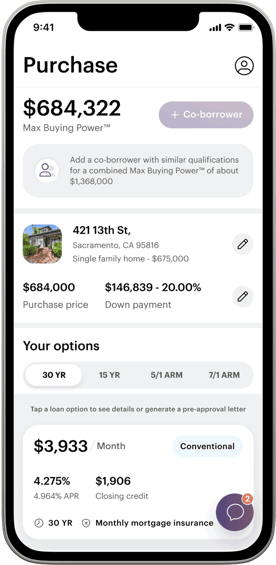 The mortgage team's app shows consumers their Max Buying Power™ and pre-approved loan offers. It also has the power to show consumers how their Max Buying Power changes as interest rates go up and down, and when buyers increase their down payment. Checking Max Buying Power™ and looking at loans does not have an impact on credit scores.
Buyers can feel confident that they will get the best loan, because the Opendoor mortgage team's technology partners with many lenders to find the best rates from thousands of loan options.
Overall closing costs are broken down and fully transparent. With MLS integration, the app can pull in property information for specific loan option scenarios that are property-specific. A home buyer can then customize their loan option, term, down payment, and purchase price to adjust their overall monthly payment and closing cost breakdown. Consumers then get to generate their own pre-approval letter in real time and can update and come back to customize it at any time.
"We're streamlining the process in every way from start to finish," Harmon said. "Customers usually get stalled because they're dependent on a loan officer to tell them what the next step is. We automate processes to make things move faster, and provide 7-days-a-week professional support through the app, so it's there when you need it."
Buyers using the app who plan to sell their current home before moving can also factor its value into their Max Buying Power.
Consumers have support every step of the way and can access the information through the financing app, with licensed professionals available to help every day of the week.
Receiving Pre-approved Loans in Minutes
When Opendoor's mortgage team says it offers a simple pre-approval process that can be done on a buyer's schedule, it means it. A prospective homebuyer can end up with a preapproved loan with just a few taps on the phone while watching TV or cooking dinner.
"Our customers have been pre-approved standing in line at Disneyland. We've had a bartender get pre-approved while he was serving happy hour," Harmon said. "We are building on the idea of a simple and fast experience that Opendoor is creating."
Consumers can find tweaks to their Max Buying Power™ as interest rates or credit scores continue to change. It's also possible to see how Max Buying Power™ is affected by adding a co-borrower to the loan.
The app only requires a name, email, an address, and a Social Security Number to start surfacing financing results. The technology behind the app processes over 10,000 data points in seconds to turn the information into loan options across all of the partner lenders.
The app is currently in early launch in California with plans to bring it to more customers in the near future. Harmon said the team has already received amazing feedback from people who are using the app.
"We've got a phenomenal product that really delights people," Harmon said. "We have millennials and people all the way up into their 90s that have been delighted to do this process in such a simple way."
Reducing Strenuous Paperwork Through Digital Process
Harmon and Mackani said they knew that the process of finally purchasing a home was tedious and stressful. The pair identified that a major pain point for mortgage customers was the constant uploading and filling out of documents throughout the loan application process.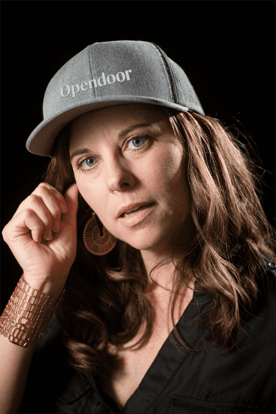 The financing app streamlines the process making it more efficient after a buyer accepts a loan offer. Harmon said the app works so well that some buyers are pre-approved to buy a home during the home's showing.
"Real estate agents have helped people touring open houses become pre-approved inside of the kitchen during the showing," Harmon said. "They ultimately ended up writing the offer that was accepted by the seller of the home a few hours later."
The app has a secure portal that allows users to upload requested documents when they are needed. The technology also works to acquire as many documents as possible on the user's behalf, which takes away the typical hassle and back and forth of the process.
Sensitive information is encrypted and there is no impact to credit to get pre-approved. Buyers have the advantage of getting the best loan options from over 1,000 options, and their information is kept safe and never sold. When it comes time to sign, easy digital signing is available wherever possible.
Opendoor understands that taking a deep dive into the financial world of real estate is intimidating. The company's mission is to empower homebuyers and sellers by providing information and access early to make the process simple, certain, and fast.
"Consumers get those answers and numbers upfront," Harmon said. "It's not meant to sell them a mortgage, it's meant to empower them with information so that they can make the decision that's best for them."