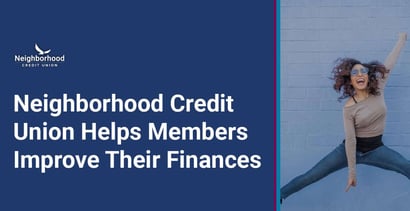 Experts share their tips and advice on BadCredit.org, with the goal of helping subprime consumers. Our articles follow strict
editorial guidelines
.
In a Nutshell: Neighborhood Credit Union established its roots in the Dallas-Fort Worth community nearly a century ago. The credit union believes in offering second chances to people who have made financial mistakes and is committed to helping neighbors improve their financial security. Members who prove their reliability with the credit union's subprime products can upgrade to more attractive low-cost products over time. And Neighborhood Credit Union aims to educate people in the communities it serves through accessible financial classes.
Neighborhood Credit Union first opened its doors nearly a century ago, and the credit union has proudly served the Dallas-Fort Worth area ever since.
The institution is the oldest credit union in Dallas and is one of the largest in the area with more than $1 billion in assets. 
The credit union counts 60,000 members and 13 branches across its service areas in Texas. And members can use the credit union's app to bank from anywhere in the country, with the Moneypass and Allpoint network of thousands of surcharge-free ATMs across the US.

Neighborhood Credit Union encourages membership for people of all backgrounds and credit scores. The credit union emphasizes its products and educational materials to help individuals improve their financial standing.
Anyone who lives in Texas is eligible to join, and all prospective members need to join is to buy and maintain the minimum required share of $25.
Neighborhood Credit Union is a not-for-profit cooperative, and it has no shareholders to please or pay out. Members own it, and all revenue is funneled right back into offering better products and services for the community.
"We consistently hear positive feedback from our members that the service they receive at Neighborhood Credit Union exceeds their expectations," said Carolyn Jordan, Neighborhood Credit Union Chief Growth Officer. "That is what we strive to do, so it is encouraging to hear."
Helping Members Avoid Predatory Lenders
Payday loans have the potential to cause serious damage to a credit score and create issues if the borrower does not pay it back in a timely manner. Sometimes it creates a dangerous cycle of repeating payday loans just to make ends meet.
Neighborhood Credit Union cares about its members and the community. Its goal is to keep people from using payday lenders that don't allow people to make the most of their money.
The credit union offers a quick cash loan alternative to traditional payday loans. Neighborhood Credit Union does not require a credit check for new members to apply. And Neighborhood Credit Union members with a minimum of 12 months of credit union membership and in good standing can receive loans of up to $1,100.
Borrowers can pay off the loan over a six-month term with a flat rate of 28% APR. The interest Neighborhood Credit Union charges is significantly less than what payday lenders charge to borrow money.
"In Texas, the rates can go as high as 600%, so it really is money savings for them to get that loan," Jordan said. "Regular payments of the loan will show up on their credit report. That will help them improve and build credit."
Neighborhood Credit Union also offers a checking account for members with any credit score. It calls its second chance checking account Fresh Start. 

Members can open the account with as little as $25. After meeting the $25 requirement, there are no further minimum monthly balance requirements.
The Fresh Start checking account can receive direct deposits up to two days early to provide members access to their paycheck days in advance. The account comes with a Visa debit card at no charge and access to Neighborhood Credit Union's vast ATM network through Moneypass and Allpoint. 
The Fresh Start checking account includes all of those features for a competitively priced monthly service charge. The credit union said that after six months of satisfactory account activity, members can move to a better checking account with fewer fees and more perks.
"It gives them a pathway to get one of our premier accounts and get the most out of the features," Jordan said. "It also provides a pathway where they can eventually get to a free account or reduced charge."
Financial Products to Help Members Save Money
Outside of the Fresh Start checking account, Neighborhood Credit Union offers its Better Than Free checking accounts. Members earn perks and rewards by using the account as they normally would – without having to jump through any further hoops.
"When you do simple things, such as debit card transactions, ACH, debits or credits, or signing up for E-statements, you can get our competitively priced interest rate on our high-yield checking account or cash rewards checking account," Jordan said. "We call it Better Than Free because we're actually giving you interest or cash back just for the things you do every day."
Neighborhood Credit Union's high-yield hecking account earns a 2% APY on up to $50,000 in the account. The cash back checking account earns members 3% cash back on purchases for a maximum of $9 a month. Both the interest and cash back rewards are based on members completing the qualifying activities.
After the credit union helps people get back on their feet, Neighborhood Credit Union wants to continue supporting those members with other products.
Watch on
Members have access to special insurance rates for all of their insurance needs. The credit union provides health, auto, home, life, and accidental death and dismemberment insurance.
The credit union said it saved members more than $750,000 in gap insurance in 2020 alone. The comprehensive plans ensure members and their families have good, affordable options for insurance at all times.
Neighborhood Credit Union also partners with GreenPath to provide financial counseling and help members budget. The credit union's mobile app has a digital money management feature that helps members budget and practice good financial habits on the go.
One member, Kaydee, started a Fresh Start checking account after accruing serious delinquency, collections, and accounts with too many high loan balances. A Neighborhood Credit Union associate discussed Greenpath educational programs with her. In August 2022, Kaydee present her Greenpath certificate of completion for the program. And as a result, Neighborhood Credit Union was able to convert her Fresh Start checking account to Neighborhood Credit Union's cash back checking account. That offered additional cost savings, perks and rewards, and a new beginning in her financial journey.
"We want to make sure that we are getting members to where they can gain control of their financial situation," Jordan said. "We want to be able to help them have confidence about making smart money decisions. And when we can do that, they're going to have a sense of financial empowerment."
Emphasizing Education in the Community
Education is a critical part of Neighborhood Credit Union's mission. The credit union said helping more people better understand financial security will bring a better quality of life for everyone in the community.
Neighborhood Credit Union created a nonprofit organization to expand its efforts in teaching financial literacy. The nonprofit is called Neighborhood CU Foundation.
The nonprofit works across Texas promoting financial wellness. Any event the organization puts on is open to members and nonmembers.

Neighborhood Credit Union said it uses the foundation to spread the umbrella of financial education, and in turn, bring people in to use the credit union's services.
The credit union's community relations team teaches financial literacy classes at local companies, community groups, and online. Through its efforts, Neighborhood Credit Union is able to raise more than $25,000 every year during a Children's Health fundraiser.
Neighborhood Credit Union is excited about its new branch opening in Dallas, in the same spot as a former branch. The branch that was there previously served people in that area from the 1970s to the 2000s.
However, there is no need to physically walk into a branch to open an account. People who want to become members can sign up entirely through their phone or computer.
After learning about financial education, members are ready to start building wealth. To assist in that endeavor, the credit union has an investment side called North Texas Capital Advisors.
The credit union said it is constantly looking into adding features that will help its members. One product the credit union is developing will help loan applicants who have been declined by other lenders. 
Neighborhood Credit Union's mobile app shows members their credit score absolutely free whenever they log in. The credit union boasts that its mobile app has the same features found with larger banks.
"Sometimes consumers think that credit unions don't have those digital capabilities, but we do," Jordan said. "And along with all the financial literacy and all the great products, we also have a great digital presence as well."