Experts share their tips and advice on BadCredit.org, with the goal of helping subprime consumers. Our articles follow strict
editorial guidelines
.
In a Nutshell: Michigan Schools and Government Credit Union (MSGCU) offers comprehensive banking services to those living within the state. The credit union gives emphasis to supporting first responders and enhancing financial literacy in the community. In recognition of its social outreach and philanthropic work, BadCredit.Org recognizes MSGCU with our Editor's Choice™ Award.
Michigan Schools and Government Credit Union (MSGCU) was founded 66 years ago in a house in Fraser, Michigan, by a small group of educators. The credit union grew from there and opened its membership to government employees.
After moving to out of the Fraser home to its permanent home in Macomb County, MSGCU expanded to Metro Detroit areas including Oakland and Wayne Counties and now serves all of Michigan. While some may assume they must be associated with a school or government entity in order to join, that is simply not the case.
Anyone who currently lives, works, worships, or goes to school in Michigan can open an account. MSGCU has maintained strong ties with the community through financial education in the schools, support to first responders, and philanthropic endeavors.


MSGCU currently has 137,000 members, and 17 branches, which will soon expand to 20 branches. And with such tremendous growth, it has maintained a 95% member satisfaction for two decades.
In its annual member survey, MSGCU reports that over 40% of members indicate they joined because a friend, family member or team member referred them.
And in recognition of its work with credit access, financial literacy resources, and giving back to communities, we are pleased to honor MSGCU with our Editor's Choice™ Award.
Fostering Financial Literacy for the Community
One of MSGCU's main focal points for serving the community is through financial education, with much of that effort being directed toward students and school communities.
MSGCU's Vice President of Marketing and Business Development, Ann Jones, said the credit union is highly dedicated to working with high school students and has created a number of tools to help them prepare for adult life. One of those tools is the Achieve Student Debit Account that has spending safeguards that help educate young adults between the ages of 16 and 23 on how to be fiscally responsible. Before opening that account, students are encouraged to go through the MSGCU Getting Started with Cash & Credit workshop to ensure they are educated to the best of their ability.
"We get a lot of turnout from that," said Jeff Hopson, Assistant Vice President of Retail Services at MSGCU. He noted that after students go through the workshops, it really gives them advantages when opening an account. "We feel like they're more educated when they walk into a branch and sit down with one of our specialists."
Another benefit of the Achieve Student Debit Account is that students can opt into the Roll Up the Change feature on their debit card, which allows them to take the leftover change from a purchase and move it into a savings account. Two of every three students take advantage of this, and most save $17 to $20 on average per year.
MSGCU also brings financial education right to the classroom of many local schools. Students also have the opportunity to participate in MSGCU's Reality Fair events, during which they can experience real-life financial scenarios and then meet with a financial counselor to evaluate their spending and see if they've been able to live within their monthly budget.
For those looking to purchase real estate, MSGCU offers homebuyers workshops that are led by the credit union's mortgage team. The workshops are set up to educate possible first-time homebuyers on a number of essentials like the elements of budgeting, getting preapproval for loans, understanding market conditions, and how appraisals work.
Additionally, MSGCU provides online support through its interactive financial education platform, where viewers can find a number of resources including financial lessons, workshop announcements, in-class and virtual programs, one-on-one support, and a financial blog.
Specialized Products for Members and First Responders
MSGCU is a strong supporter of first responders in police, fire, military or medical fields, and lends a hand in several ways, including charity and financial products.
The credit union offers a zero interest loan to first responders to help them with their material needs like gear and protective equipment that is essential to performing their jobs. The loan is available for up to $1,000 and repayment terms can be extended to 12 months. Learn more about them on this page.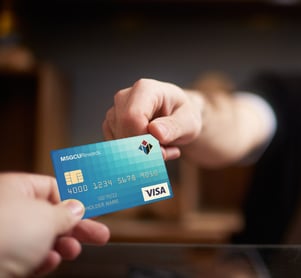 Hopson said the loan provides an easy way for first responders to get necessary equipment through multiple paychecks without being charged. "I think that's a really great thing we offer."
To apply, first responders only need to visit an MSGCU branch and bring proof of their employment or volunteer affiliation.
MSGCU offers discounts through its Auto Rate Pledge Program to members looking to refinance their auto rates. The program enables members to apply for a 0.25% rate discount or the lowest possible rate when they refinance a non-MSGCU auto loan.
Those who have good credit can gain the most from the Auto Rate Pledge and may find that not only would they receive significant discounts on their rates, but also on their monthly payments. The program also has no application fees, and those interested can learn more here.
"Since that program has been available, we've saved our members almost 3 million dollars over the last two and a half years," says Hopson.
Charitable Support for Those In Need
An important part of MSGCU's community outreach is performed through its charity work. The credit union makes multiple contributions throughout the year, donating time and money to raise awareness about important issues affecting everyone living in the state of Michigan.
MSGCU has a specific program called Giving Back that provides support to many organizations throughout local communities.
The credit union recently awarded school library grants aimed at replenishing low inventories at library bookshelves due to unreturned books during the pandemic. MSGCU donated $69,000 this year to 92 local elementary school libraries to support the purchase of essential books, including books to support youth education on diversity and inclusion.
The credit union's outreach also extends directly into classrooms.
MSGCU has an annual program that invites teachers to submit their plans for classroom projects that they need help financing. The program supports many innovative teaching ideas for schools with limited budgets. After MSGCU collects the nominations, its membership base selects the best ideas, and MSGCU funds up to $45,000 for those grants.
All MSGCU team members come together once a year for a special day where they give to communities in the areas that MSGCU supports. They also use that opportunity to raise money for organizations like the Children's Miracle Network, the American Red Cross and the American Lung Association. It is a full force of 350 to 380 team members all contributing to the community on one day.
With so much giving being done on its part, it would be hard to find a reason not to support an organization like MSGCU.
The team at MSGCU believes its dedication to these core values of financial learning and community involvement tie in with the member experience as well.
"It's about the education of our members and making sure that they really understand what their options are, where we make a recommendation," says Hopson. "But ultimately, it's up to them to decide what's best for their path. We can give you all the information at your fingertips, and you make the appropriate decision for you."
MSGCU is insured by NCUA and an equal housing lender.