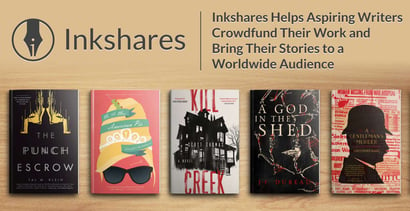 In a Nutshell: While it may be true that everyone has a story to tell, not everyone has an audience that wants to hear it. But Inkshares, a crowdfunded publishing platform, is changing that for aspiring writers by connecting them with a worldwide readership hungry for new tales. Unlike other crowdfunding platforms for written works, Inkshares offers traditional publishing services, helping writers not only fund their books but also make them commercial successesink. Inkshares offers a wealth of resources to help writers improve their storytelling and provides a venue for connecting with like-minded readers who value and support their creative efforts.
H.P. Lovecraft is one of the most unique and influential names in modern fiction. He is recognized as the godfather of the contemporary strange tale and the cosmic horror genre as we know it. But in his lifetime, he was a self-declared nonentity who died impoverished at the age of 46.
Lovecraft took a radical approach to horror. Instead of the ghosts and monsters of earlier scary stories, he sought to convey the terror of things incomprehensible to the human mind. Although he met with more commercial success as a ghostwriter for other authors and personalities (Harry Houdini among them), Lovecraft nonetheless befriended writers like Robert Bloch, who went on to pen "Psycho," and posthumously influenced even more authors, including Stephen King.
But Lovecraft's work would have been lost to history if not for his friend and fellow writer August Derleth, who founded Arkham House Publishers to keep Lovecraft's fiction alive and in print. And in the age of Twitter and Patreon, we can't help but wonder how Lovecraft's career — and life — would have differed had he had access to the internet, where his fandom and legacy still thrive. Might he have been able to connect with a larger readership?
For all the latter-day Lovecrafts out there — those dedicated wordsmiths doggedly pursuing their passion projects — Inkshares offers the possibility of not only realizing but also monetizing their dreams of sharing stories with the world.
"The idea behind Inkshares, originally, was to create a merger between Kickstarter, which was the first big crowdfunding platform, and Random House," said Adam Gomolin, Inkshares CEO and Co-Founder. "We created a crowdfunding platform that has all the services of a traditional book publisher — editorial, book design, distribution, and marketing."
Inkshares leverages the collective judgment of a worldwide audience of readers, letting them guide the publishing industry by investing in individual writers and works. Readers can choose the types of books they want to read, and Inkshares handles all of the publishing services.
By funding these books through a profit-sharing model, Inkshares helps aspiring writers turn their creative passions into financial successes.
Publishing in the Digital Age: The Best of Times, The Worst of Times
In the past, a writer who couldn't land a deal with a publishing house had two options: give up or self-publish through a vanity press. In the latter case, the writer not only had to pay out of pocket for printing but also had to hire an editor, cover designer, and proofreaders — in addition to handling marketing, publicity, and distribution. Self-published writers keep all proceeds from their book but, in exchange, are required to take on a significant part of the process with which they have little experience.
"If you're a writer today, it's one of the best times because you have so many avenues to have books made and produced," Gomolin said. "It used to be that if you didn't get a traditional publishing contract, that's it. There was no other way to get your stuff out to readers."
That is still largely the case with self-publishing. Social media and online retailers have made marketing and distribution slightly more manageable, but self-publishing is still an uphill battle for an author with no experience or expertise.
Ironically, the same digital avenues that have eased certain aspects of self-publishing have also served to make other aspects even more challenging. Traditionally, many consumers chose books as their primary form of entertainment. But casual reading for pleasure began to decline drastically in the late 1990s when digital technology began to take root in popular culture.
"The world is no longer a place where publishers could constantly churn out as much derivative genre fiction as they wanted and know that people are running to Barnes & Noble on a Friday," Gomolin said. "That doesn't happen anymore. I think fewer authors can break out today because it's a lot harder."
In addition to facing competition from video streaming, social media, and video games, authors now face more competition from other writers. Anyone with a word processor and an internet connection can write and publish a book. As a result, the market is flooded with offerings. Readers' time and money are scarce, meaning that most writers (self-published or otherwise) may never get a second look.
Inkshares' model offers a solution to this dilemma. By allowing dedicated readers to decide what gets published, it provides a built-in audience to any writer who gets picked up for publication. Inkshares and readers can handle most of the heavy lifting for authors struggling to make their voice heard over the cacophony of digital channels.
Services and Support Let Writers Focus on Creativity
After registering with Inkshares, aspiring authors can write a proposal and even post writing samples to find their prospective audiences. Interested readers can support the project by pre-ordering a copy of the book. Once a book reaches 750 pre-orders, the campaign is a success, and Inkshares steps in to fill the traditional role of a publishing house.
To help writers reach that mark, Inkshares provides a robust social layer to help creators connect with readers and boost interest. Initially, Inkshares offered only one avenue of communication: authors implicitly asking readers for funding, and readers expressing their approval through pre-orders. But the platform now includes forums and messaging that allows authors to pitch more effectively and enables readers to communicate with authors and learn more about the latter's work.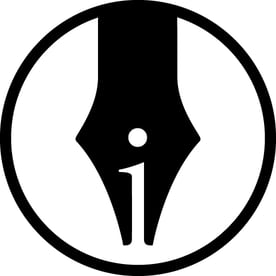 From a book's wholesale price, Inkshares subtracts distribution, printing, and additional costs (including fees paid to retailers in exchange for prominently displaying a book in stores and on websites). The remainder is split with 35% going to the author and 65% to Inkshares.
In exchange for its services, Inkshares also retains 10-year exclusive rights to print, publish, and sell its authors' works. It also retains the exclusive right to negotiate the sale of derivative works, such as film and TV deals — although the author has final say on whether the deals go through. Inkshares gives 70% of those revenues to the author.
So, beyond getting books published, Inkshares can help writers promote their work for adaptation to the large and small screens, sharing their tales with an even larger audience.
Great Stories Spring from Everyday Experiences
Writers have traditionally only had a couple of paths to making a career in publishing. One is earning a Master of Fine Arts (MFA) degree — which involves a multi-year graduate program in creative writing such as fiction or poetry. Many MFA programs are available throughout the U.S., but for the most prestigious ones, entry is extremely competitive.
"There's this notion that real writers come from one of five schools, and then they go to one of these writing academies — which is an MFA program. Then they get one of five agents and get published by one of five publishers," Gomolin said. "This is the portion of publishing I have always been uncomfortable with. It tends to look down its nose at the everyday people who write. The reality is that that portion has never really defined the head of the marketplace."
"When you look at the storytellers that have defined the world, 90% of them come from everyday walks of life," Gomolin said. "Tom Clancy wasn't a super-spy, and he didn't get an MFA. Tom Clancy was an insurance salesman in Baltimore. When you think of it that way, one of the greatest parts of literature is that it comes from inside us and comes from an appreciation of things that are all around us."
The premier example of this is the award-winning author J.K. Rowling, who began working on her famed Harry Potter series as a creative escape from a bad financial situation — much as its title character discovers magic as an escape from an abusive home life. Rowling pursued her passion for storytelling and went on to become one of the best-selling authors of all time.
"The greatest storytellers in the world don't necessarily come out of an MFA program," Gomolin said. "They have a wealth of human experiences and human passions that build up inside of them, and those experiences and passions are important to other people also."
Inkshares Helps Ordinary People Tell Extraordinary Tales
Although financially downtrodden, Lovecraft was a highly educated man. He grew up in his grandfather's library, reading the classics of world literature. And his vocabulary spanned more words than most contemporary dictionaries.
Regardless of their backgrounds and financial situations, writers don't need a college degree in literature or language to succeed. Many of the classics and great works of modern literature are freely available online through venues like Gutenberg and Wikisource. Many universities offer free online guides and writing labs to both students and the general public. And an abundance of open storytelling resources — such as Brandon Sanderson's creative writing lectures at Brigham Young University — can help budding writers transform a proficiency with language into a compelling narrative.
To facilitate its writers' self-education, Inkshares plans to launch Inkubator, an educational curriculum based on the company's experience helping amateur writers understand how to craft quality stories. The program will be available free of charge to Inkshares subscribers in the first half of 2019.
Inkubator is another example of how Inkshares is committed to helping everyday people tell their stories while getting the support they need in the intimidating realm of professional publishing. With this assistance, even a previously unpublished and unknown author can earn revenue from creative labor and reach an audience with whom their stories will resonate.
"Each of us has a story within that, if we're willing to tell, can be important to other people," Gomolin said. "The ability to sell those stories into traditional publishing is virtually nonexistent. It's just so, so small. But it doesn't mean those stories aren't highly valuable."
Advertiser Disclosure
BadCredit.org is a free online resource that offers valuable content and comparison services to users. To keep this resource 100% free for users, we receive advertising compensation from the financial products listed on this page. Along with key review factors, this compensation may impact how and where products appear on the page (including, for example, the order in which they appear). BadCredit.org does not include listings for all financial products.
Our Editorial Review Policy
Our site is committed to publishing independent, accurate content guided by strict editorial guidelines. Before articles and reviews are published on our site, they undergo a thorough review process performed by a team of independent editors and subject-matter experts to ensure the content's accuracy, timeliness, and impartiality. Our editorial team is separate and independent of our site's advertisers, and the opinions they express on our site are their own. To read more about our team members and their editorial backgrounds, please visit our site's About page.