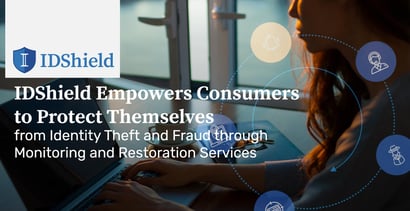 In a Nutshell: As technology has grown more sophisticated, so have the thieves who seek to use it for malicious ends. But IDShield helps consumers stay a step ahead of cyberattacks by actively monitoring financial and social media accounts, credit reports, and the dark web to alert them to security threats. In the event of theft or fraud, IDShield's certified professionals can immediately begin taking the necessary steps to stop criminal activity. IDShield also offers a suite of services designed to protect children from fraud and other dangers present in the digital world.
According to the Consumer Federation of America, 16.7 million people in the United States were victims of identity theft and fraud in 2017. All told, victims lost more than $16 billion, and the average consumer spent about $290 and 16 hours fixing the problems caused by these crimes.
The best way for consumers to prevent identity theft and fraud is to pay careful attention to all of their accounts and personal information. Keeping a close eye on activity allows them to address problems quickly, rather than scrambling to fix them well after the fact. But with so many financial and social accounts in our daily lives, closely watching all of them can be difficult and time-consuming.
IDShield reduces the chances of identity theft by monitoring accounts and issuing alerts. And in the event of identity theft, the company helps consumers resolve issues in a timely and efficient manner.
"You can never protect yourself 100% of the time," said Allen Spence, Director of Product Leadership at IDShield. "But you want to know as soon as any information about you has been compromised, and then you can begin to take action to protect your identity."
IDShield launched as an add-on for LegalShield, which provides affordable legal consultation and services. But as identity theft became more prevalent, and technology and hackers became more sophisticated, IDShield became a standalone product that grew to encompass credit reporting, financial instruments, and other sources of potential harm.
"We decided to have it as a standalone business, separate from LegalShield," Spence said. "That's when we expanded out to credit monitoring and other services."
The service now provides users with a broad picture of the security of their data by closely monitoring personal and financial information and accounts. IDShield also monitors public and court records, social and financial accounts, and even information exchanged on the dark web.
In the event of a security breach, IDShield alerts users so they can deal with the situation immediately. And, if they are victims of identity theft, it provides consultation and comprehensive identity restoration services to help users fully recover.
Two Coverage Plans Protect Individuals and Their Loved Ones
The system automatically begins monitoring basic information as soon as a user signs up for an IDShield account. For more comprehensive coverage, users can add credit card numbers, bank accounts, email addresses, phone numbers, social media accounts, and other sensitive accounts or information. IDShield monitors 20 sources of potential theft and fraud — including social media, financial institutions, court and public records, payday loan services, and all three major credit bureaus — for the user's information.
"Individuals have used fake identification cards and mortgage companies and title companies have accepted them. Then you see title has transferred, and a new line of credit opens under the individual's name," Spence said. "The person who's been compromised may not find out about this until 60-90 days later. By then the hacker has drained the equity out of a property or vehicle."
IDShield members have access to unlimited free consultations, monthly credit score tracking, and continuous dark web scanning. If a potential problem arises, IDShield notifies users directly through its mobile app and stands ready to connect them with a representative immediately to address the issue.
This service covers theft of personal information and fraudulent activity committed in the user's name — including the use of fake accounts or existing lines of credit. It can also address account takeovers and direct theft of funds through the threshold alert service. This feature notifies users when a predetermined amount of money is withdrawn or transferred, allowing them to take quick action. IDShield also monitors legal action, whether as a result of identity theft or a simple typo or misidentification in court records or legal cases.
IDShield offers two identity protection plan tiers. The first covers a single individual, and the second covers entire families of two adults and up to 10 minors. The family option can ensure that loved ones are protected, especially children, who can be particularly vulnerable to fraud.
Helping Safeguard Children and Adolescents Against Identity Theft and Other Dangers
Children don't have credit scores, so it's often assumed that they're in no danger of identity theft or fraud. But children have Social Security numbers, health insurance policies, and other vulnerable data that can be exploited.
"Most individuals feel that minors do not need to be monitored because they don't have a credit profile," Spence said. "But a Social Security number is a Social Security number, and the hacker is not concerned if it's a minor or an adult. If it's a number that can be used nefariously, they will take advantage of that."
And there are myriad other threats to young people's well-being. Children who grow up with digital technology have just as much personal information circulating as adults do, but they may not be conscious of how it can be used to harm them. But IDShield monitors that information to protect children from financial and social harm.
Additionally, IDShield provides sex offender monitoring, allowing subscribers to see all registered offenders living within a five-mile radius of their address. This information is particularly crucial for the peace of mind of parents whose children walk or bike to school, to friend's houses, or anywhere else in their neighborhoods.
Because so many young people are active on social media, IDShield monitors their accounts for any untoward or inappropriate activity. This service can be used to detect fraudulent actions as well as unacceptable posts and behavior. That can be an invaluable means of protecting children from predators, cyberbullies, and exploitation.
Providing Automatic Monitoring, Notifications, and Comprehensive Restoration Services
When an account is established, users can add banking, social media, and any other information they want to be monitored. Account monitoring begins immediately, and IDShield notifies them if it detects any signs of suspicious activity.
In the event of a security breach, users receive an alert detailing the suspected activity or misuse of personal information. Users can connect immediately with an in-house specialist to confirm the instance as a security threat and begin taking the appropriate steps. A restoration case is opened, a licensed private investigator is assigned, and the user can grant IDShield a limited power of attorney that enables agents to act on the consumer's behalf.
Watch on
"Our team is what we hang our hats on," Spence said. "They're in-house, not outsourced outside the United States."
The private investigator handles the task of disputing the fraudulent activity and takes all necessary steps to restore the user's identity and private information. That includes working with government agencies, financial institutions, credit bureaus, collection agencies, and other organizations to resolve the situation.
An IDShield membership also includes a $1 million protection policy that reimburses losses and expenses including travel, childcare, eldercare, and other costs such as legal fees.
At any point in the process, IDShield subscribers can check on the account status of a case directly with their assigned licensed private investigator. That accessibility allows them to stay updated on the situation as it unfolds while bypassing the hassle and expense of dealing with the issue themselves. Instead, they can rest assured that an experienced, certified professional is on the case.
IDShield Defends Consumers Against Emerging Threats
While the Federal Trade Commission reported fewer complaints of identity theft and fraud in 2017 than in 2016, fewer reports don't necessarily mean fewer instances. Rather, fraud may go unreported because consumers are unaware that crimes have occurred. Keeping careful track of personal information and financial activity is the best way to avoid becoming a victim, and where cybersecurity is concerned, timely alerts can be critical.
IDShield helps users stay on top of potential threats and thefts, and, in addition to helping them resolve these problems, it also provides information to help consumers better understand and prevent identity theft.
Its knowledge base includes an FAQ page that covers many common concerns about fraud. Topics range from the basics — what identity theft is and the different forms it can take — to more advanced issues like credit freezes and monitoring, and Social Security number theft.
The company also keeps up with evolving scams and frauds so that its clients can stay a step ahead. Today, the company is working to better address bank account takeovers — wherein fraudsters add their own names to a pre-existing account and start draining funds — as well as IP takeovers, through which hackers try to pass as another person and access their financial data, social media accounts, and other sensitive information.
"Those are the types of technologies and products we're looking to enhance in the future," Spence said. "We're also testing new features to assist in protecting their identity."
IDShield works hard to remedy identity theft when it occurs, but it works just as hard to stay at the forefront of monitoring and protection to prevent fraud from happening in the first place. Its users can rest easy knowing that qualified professionals are working to help them to stay safe and, in the event of theft or fraud, react immediately to minimize its impact on their lives.
Advertiser Disclosure
BadCredit.org is a free online resource that offers valuable content and comparison services to users. To keep this resource 100% free for users, we receive advertising compensation from the financial products listed on this page. Along with key review factors, this compensation may impact how and where products appear on the page (including, for example, the order in which they appear). BadCredit.org does not include listings for all financial products.
Our Editorial Review Policy
Our site is committed to publishing independent, accurate content guided by strict editorial guidelines. Before articles and reviews are published on our site, they undergo a thorough review process performed by a team of independent editors and subject-matter experts to ensure the content's accuracy, timeliness, and impartiality. Our editorial team is separate and independent of our site's advertisers, and the opinions they express on our site are their own. To read more about our team members and their editorial backgrounds, please visit our site's About page.