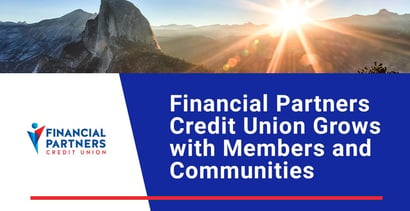 Experts share their tips and advice on BadCredit.org, with the goal of helping subprime consumers. Our articles follow strict
editorial guidelines
.
In a Nutshell: More than 85,000 members count on Financial Partners Credit Union to provide support wherever they are on their financial journey. The credit union delivers products that span the spectrum to address member and community needs. Financial Partners fosters broader access to credit, helps members build and rebuild their finances, and educates students and community members about fiscal responsibility. And the credit union remains focused on providing innovative products and services that will help every member prosper.
At the height of the Great Depression in 1937, a group of employees at the aerospace firm North American Aviation pooled their resources to get themselves a fairer financial deal. That included better loan and savings rates for building community prosperity.
The credit union expanded as Los Angeles-based North American Aviation became part of Rockwell and then Boeing. In 1999, it became Financial Partners Credit Union.
Financial Partners now serves more than 86,000 members and manages more than $2 billion in assets, with branches stretching from South San Francisco to San Diego. The name came naturally because, by that time, building lifetime financial partnerships had been the mission at Financial Partners for decades.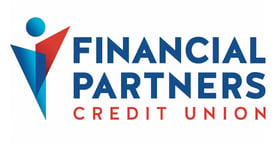 "We decided we needed a name representing who we were," said Lori Reeves, SVP and Chief Marketing Officer. "So Financial Partners was perfect because that's what we do every single day."
Commitments to credit building, homeownership, financial education, and saving for the future contribute to products and services suitable for every stage of the financial journey. The credit union aims to provide value and the highest level of service to all members.
That includes members who may find themselves dealing with an unexpected financial crisis. Professionals at Financial Partners are always available to provide a financial checkup that offers members ideas and points out effective strategies — a road map to help them get to the next level of their journey.
Financial Partners still has many members who work in the aerospace industry. Reeves said even rocket scientists who may think they're particularly good at managing their money could get themselves into adverse financial situations where things begin to spiral.
"Sometimes they don't think to ask for help," she said. "We're always glad when we have an opportunity to talk to them and work together — that's what we're here for."
Products for Building and Rebuilding Credit
The Financial Partners Credit Builder Loan stands out as a tool for crossing boundaries and reinforcing positive behavior.
The loan is suitable for young borrowers with no credit history or members at any stage who may need a fresh start. The Credit Builder Loan deposits a loan amount of $600 or $1,200 into the member's savings account. The money becomes available after completing 12 on-time monthly payments that help build a positive credit history.
"We love this product because we don't ever have to say no to a member — we can always give them an option," Reeves said. "And when they build a better credit score, we can transition them into another loan to build better credit even further."
For some, debt consolidation is the right next step. Through affordable personal loans of up to $75,000, Financial Partners demonstrates its commitment to a better credit deal.
Watch on
For Reeves and her colleague at Financial Partners, Manager of Consumer Lending Underwriting Jorge Gonzalez, making debt more manageable and credit more affordable builds financial flexibility that manifests itself in many different ways.
"One couple that faced pandemic-related job loss had some serious challenges," Gonzalez said. "It took a collaborative effort, but we saved them about $1,000 a month, putting them on a firm path to homeownership."
Another member, a nurse, used savings gained from her Financial Partners consolidation loan to help put her daughter through nursing school. And another put $1,000 in monthly savings toward medical debt.
"For some members, having that much additional cash available every month can be life-changing," Reeves said.
Supporting Financial Responsibility Through Education
Another facet of the Financial Partners approach to equity appears in its commitment to community building based on financial education. Financial Partners strengthens households and families by focusing on child and family health, financial literacy, and STEM education.
For example, through Financial Partners at Work, credit union teams visit select employer groups to present seminars on a variety of topics, including how to improve your credit score.
"That's always a big topic — everyone asks for that," Reeves said.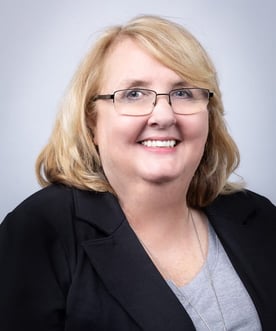 Digital resources include an extensive collection of Financially Fit! modules that work as personal financial trainers to coach learners through challenges. The Credit Union provides the modules free of charge to help members and the community explore financing higher education, purchasing a car or home, saving for retirement and more.
Financial Partners offers digital financial literacy education in local high schools through its partnership with EverFi. Engaging digital lessons from EverFi provide a curricular foundation while imparting real-world skills.
Thousands of people view content from the Financially Fit! modules every quarter. In the meantime, Financial Partners staff members work to spearhead and participate in community initiatives.
"We even go to PTA meetings. We're always looking for ways to get the message out there and help people," Reeves said. "Wherever the people are, we try to go there because strong financial skills can make such a difference over a lifetime."
Financial education also involves protecting members against fraud. The Financial Partners online Security Center contains extensive resources for safety, monitoring, and reporting suspected fraud — including account alerts, ID theft protection, and card controls.
"People think it could never happen to them, but anyone can fall victim," Reeves said. "Fraudsters have information to far more personal information now and are getting more and more sophisticated. We're always looking for ways to communicate ways to protect yourself more effectively to our members."
Committed to Innovation for All Members
Underwriting is only as accurate and flexible as the available data allows. That constraint spurs Financial Partners to look creatively at broader strategies to qualify members for credit.
Financial Partners looks beyond tried-and-true underwriting assumptions with its First Step Credit Card and the First Step Personal Loan.
"Some members may not have a lot of credit history, but they pay their utilities and cellphone bills every month," Reeves said. "We're taking those positive payment histories into account."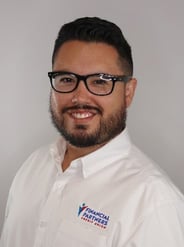 For children under 17, Financial Partners offers First Step Savings, an account that earns 2% interest on the first $1,000 in balance, to encourage the habit of saving.
Along with always-free checking, Financial Partners offers the EZ Card, a free checkless checking account with zero overdraft fees, perfect for teens and young adults learning how to manage their everyday spending. It's essentially a debit card to pay for everyday expenses without the threat of overdrafting.
Its APEX Member Rewards program brings member checking accounts, new home equity lines of credit, auto loans, personal loans, and mortgage loans under the points-earning umbrella.
Wealth management, investment, and insurance groups complete Financial Partners' comprehensive product and service portfolio. And the credit union remains committed to creating lifetime financial partnerships with its diverse and changing member base.
"When members do more with us, we want to give them more," Reeves said. "Points aggregate across products and are redeemable for cash, merchandise, and travel."
"The great thing about FInancial Partners and credit unions, in general, is that we only invest in our members and the communities we serve," Reeves said. "You're always going to get a better deal and great advice from people who care."