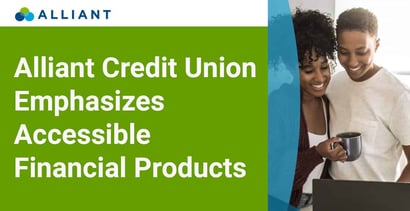 Experts share their tips and advice on BadCredit.org, with the goal of helping subprime consumers. Our articles follow strict
editorial guidelines
.
In a Nutshell: Alliant Credit Union offers straightforward banking products that help build credit with limited fees. The credit union takes an entirely digital approach and has no brick-and-mortar branches or ATMs. Members can open accounts, pay off credit cards, and take care of all of their banking needs from a computer or their smartphone. Alliant Credit Union is a nationwide credit union, with several ways to attain membership. In addition to promoting digital banking, Alliant Credit Union also supports local organizations that work to bridge the digital divide.
Every meeting at Alliant Credit Union, whether it is a leadership meeting or an employee meeting, starts the same way. One person volunteers to highlight the impact their actions made on a member.
These stories include an instance in which a member's car broke down right before embarking on a cross-country road trip. The member reached out to Alliant Credit Union to see about financing for a new car, but time was of the essence. They needed the car within 48 hours.
Alliant Credit Union worked with the member to secure financing on a new vehicle just in time for them to make their road trip. This is just one example of Alliant Credit Union factoring in members in each and every part of its organization.
"It's really impactful because we actually get to hear how Alliant Credit Union helps our members," said Meredith Ritchie, Alliant Credit Union's Senior Vice President, General Counsel and Chief Ethics and Government Affairs Officer. "It also gives us an understanding of what that means and what that looks like."
There are three easy ways to become a member of Alliant Credit Union. Anyone who lives in the Chicagoland area, where Alliant is headquartered, is eligible. Alliant Credit Union also partners with several select employment groups, and if you are a current or former employee of these organizations, you can become a member.

Finally, if those two options do not apply to you, Alliant Credit Union will accept anyone who becomes a member of the organization Foster Care to Success. Alliant Credit Union will even pay the $5 membership fee on the member's behalf.
Alliant Credit Union emphasizes straightforward products with no hidden terms. Its high-yield checking and savings accounts offer perks that rival, and even surpass, what you can get from a big bank, including offering rates that are on average 20 times higher.
Alliant Credit Union is fully investing its resources into technology, making it an all-digital institution. Alliant Credit Union does not have any branches, but members do not have limitations on how they can bank.
Being an all-digital credit union means members require technology, such as a computer or smartphone, to satisfy their financial needs. For those who do not have access to a smartphone or computer, Alliant Credit Union partners with organizations and works to donate computers to communities to bridge the digital divide.
"We focus our resources on digital," Ritchie said. "It allows folks from all over the country to join in. Digital equity is everything – whether it's for education, financial services, or health care."
Incorporating a Fully Digital Approach
Alliant Credit Union got its start nearly 90 years ago as United Airlines Employees Credit Union. A small group of United Airlines employees decided that putting their money together and forming a cooperative credit union would better suit their needs than receiving financial services from a traditional bank.
In the 2000s, the credit union decided to rebrand as Alliant Credit Union, but it still maintains its roots with airline employees. Alliant Credit Union designed its services for members who are always on the move.

Alliant Credit Union does not have any physical branches. It instead opts for a completely digital approach that allows members to bank from anywhere in the country. Because of the digital approach, Alliant Credit Union does not limit membership to one area, instead allowing people to sign up from any state.
Part of Alliant Credit Union's digital approach is its Money Mentor blog. The credit union regularly adds posts to the blog that focus on financial literacy and good habits. The credit union also makes topical posts, including how to save for big holiday purchases, what the Federal Reserve interest rate increases mean, and how it affects members.
The blog posts are easy to understand and applicable to most people. By using the credit union's tools, readers can learn how to be more fiscally responsible and how to make the most of their money.
"We can give them tools to be financially responsible," Ritchie said. "The tools that we have are really good, such as the Money Mentor blog, which you don't even have to be a member to take advantage of."
Offering Transparent Products That Build Credit
Alliant Credit Union said its mission is to get the best rate possible for members and help them get ahead. Part of that mission is to focus on total transparency for members.
As a credit union, Alliant Credit Union does not answer to shareholders who worry constantly about increasing profits. The members own the credit union, and all money it earns goes back into offering members better products and services.
One of Alliant Credit Union's biggest moves toward increasing transparency was eliminating overdraft fees. Alliant Credit Union was one of the first financial institutions to make that decision.
In addition to no overdraft fees, Alliant Credit Union also has no monthly service fees and a low minimum balance requirement of $5. The credit union said it will front the initial $5 for members who open an account.
Alliant Credit Union's High-Rate Checking account features a competitive APY, and the High-Rate Savings account has an attractive APR that rivals some of the top rates across the country. And the credit union's member-first mentality contributes to its commitment to offering some of the most competitive rates on the market.
Watch on
"The High-Rate Checking is important for people to get back on their feet," Ritchie said. "If you look at your statement and see that there's something tangible coming back to you, rather than being taken away, I think that's really empowering."
Alliant Credit Union said it commonly receives and incorporates feedback from its members. For any issues or concerns, members can reach out to Alliant Credit Union's member care specialists. 
The member care specialists will have insight into your account and situation and can recommend low-interest loan products to help pay off high-interest loans. Making regular payments on those types of loans will help increase your credit score and eliminate debt.
Alliant Credit Union's products are simple and not overly complex. The credit union strives to make it easy for members to know exactly what they are signing up for. 
Supporting Organizations That Bridge the Digital Divide
Alliant Credit Union also manages the Alliant Credit Union Foundation, which focuses on bridging the digital divide across the country. The foundation provides grants to charities and organizations that donate computers and equipment to communities.
The foundation's mission in 2022 was to give out $250,000 to organizations that donated technology to underbanked communities. It received so many grant applications, it ended up donating nearly $330,000.

"We gave out more than what we anticipated to worthy causes, who then went forward and helped make our goals a reality," Ritchie said. "Some of those stories where we hear about how we're making a difference in somebody's life is amazing."
The credit union said it plans to provide between $250,000 and $350,000 in grants to organizations in 2023. It's also looking to expand its partnerships to put more computers in people's homes.
Alliant Credit Union is also encouraging employees to do what they can to help the community. The credit union matches each employee's charitable contributions up to $1,000. Employees who also volunteer 50 hours in a year will receive a community leadership award and Alliant Credit Union will donate $250 to the charity of the employee's choice.