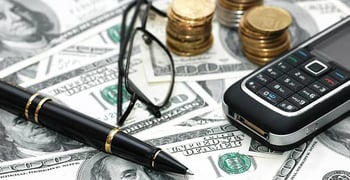 Experts share their tips and advice on BadCredit.org, with the goal of helping subprime consumers. Our articles follow strict
editorial guidelines
.
When you find yourself overwhelmed by bills, debt or financial stress, the answer isn't more spending, opening an additional line of credit or taking out another loan.
Rather than letting your finances overwhelm you and continuing to make the same hasty decisions that got you into financial distress to begin with, follow these simple steps to take control and start managing your money rather than it managing you.
1. Make an assessment
Before you can build a solid financial future, you need to understand your financial present and how you got there.
How much are you spending each month? Are there any expenses you can cut out or reduce? Are you earning enough money to cover your expenses and still save? If not, what can you do to earn more?  How are you planning for your future?
The answers to all of these questions will be instrumental in helping you take control of your finances, so take the time to answer them thoughtfully and honestly.
Consider tracking your expenses while you do this. You may find you're spending a lot more than you realized, illuminating some of the places you can cut back and reprioritize.
"Hold yourself accountable

so those feelings dissipate."
2. Define your next steps
Now that you have an understanding of your financial present, what do you need to do to improve it and get where you'd like to be?
If you're spending more than you're making, that means either asking for a raise, taking on another job or cutting back on some of your unnecessary spending.
Budgets are a great way to get you from point A to point B. They can serve as the road map from your current financial stress to your future financial goals.
If you don't have the discipline to do it alone, there are a host of free online resources that allow you to link up all your accounts, track your inflow and outflow and even recommend categorical spending limits.
3. Follow through
The truth is money management is just common sense. You know you need to earn more than you spend. You know you need to save. You know you need to stick to a budget. The failure happens in the follow-through. Don't let it.
Hold yourself accountable to your next steps. Those feelings of financial stress will dissipate and you can experience the joy of financial freedom.
Photo source: lifeloveshopping.com