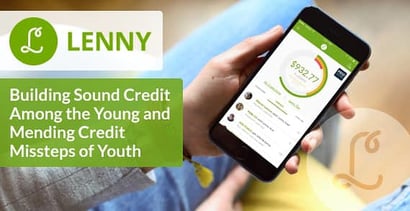 In a Nutshell: The free Lenny Credit app courts college students, Millennials, and people with poor or no credit history and helps them build their credit profiles with lines of credit that start at $100 and go as high as $10,000, depending on eligibility. Interest rates at Lenny start at 7.9% and average 9.7% APR, well below its competitors. Lenny clients improve their creditworthiness by paying on time, which earns them increased credit limits. The mobile-based app is currently available in the company's home state of California but will roll out in Florida, Texas, and New York soon, and nationwide by the end of 2016. It's also poised to launch additional credit products with perks. That said, Lenny's focus remains on building life-long financial relationships with Millennials and people struggling to restore their financial profiles.
My first credit card was from a major retailer. It was the thing to do in my family — build a credit history by buying something on credit and paying it off a little at a time.
The problem was I didn't know how my credit score was being affected every time I was late with a payment or missed one altogether. By the time I understood how the process worked, my credit score had taken a real beating.
Millennials and other consumers whose low credit scores have left a trail of rejections from traditional lenders are discovering Lenny, a mobile lending app that offers credit lines that help people build their credit.
The company achieves this by, first, considering factors in a person's background, including education and earning potential — even a GPA if the applicant is a college student — that are usually overlooked by other lenders. It also offers incentives for consistent on-time payments and reports those to the major credit bureaus, where everyone's credit profiles live.
Why should Millennials care about their credit profiles? Because entities from prospective employers to future landlords look at your credit history.
Your credit score rates your credit risk and helps lenders determine whether to give you credit, the terms you are offered, and the interest rate you will pay. A high credit score can positively affect just about every major financial decision you will make, from renting an apartment to getting a loan approved for a car or a house.
How To Say 'Yes' to Borrowers: Lenny Scores People on More Than Meets The Eye
Traditional lenders look at your credit history — or FICO score — when determining whether to approve a request for a loan.
What sets Lenny apart from traditional lenders are the broader factors it considers to decide your creditworthiness. Lenny looks at everything from repayment history and years of work experience, among other details.
Using a proprietary algorithm that is constantly being improved, Lenny is able to compile accurate profiles that identify qualified borrowers who often get sidelined by other lenders.
For college student applicants, Lenny looks at the school they attend, their major, their year in school, and GPA, to make a decision.
"We try to look at things other than what the traditional FICO credit score looks at to try to determine their creditworthiness based on their overall level of responsibility," says Melissa Monte, Lenny's Director of Media.
Based in Santa Monica, California, Lenny was established about in late 2015 and has issued close to 1,900 loans so far. The company, which will offer lines of credit in Florida, Texas, and New York soon before it goes nationwide by the end of the year, is working on developing its own, more comprehensive credit score that includes a small level of social components.
"As we develop the Lenny score, we're trying to really get this algorithm dialed in to gather as much data as we can. The FICO score was developed decades ago and not with young people in mind," says Melissa.
Lenny recognizes how hard it can be to emerge from a bad credit score, which is why the 12-person (and growing) team makes sure applicants have the best chance to be approved.
One applicant, whose credit was horrible and whose income was less than stable, was still able to get a $100 credit line, making her eligible — with regular on-time payments and regular use of the Lenny app — for quarterly balance increases.
"Then, the purpose of this is not only to help with their credit utilization ratio, which helps build their credit scores, but it also helps them to more quickly prove their creditworthiness," says Melissa.
Building Financial Relationships That Last a Lifetime
For years, banks would descend on college campuses across the country in the fall to sign students up for their first credit cards.
Before the CARD Act, or Credit Card Accountability, Responsibility and Disclosure Act of 2009, which made it harder for anyone under 21 to get a credit card, thousands of students, including Melissa, were hooked into credit card accounts that charged high interest rates and fees.
"It ruined my credit score," recalls Melissa, who, on her first week at college, signed up for a credit card with a $300 limit and a 29.9% APR. "I didn't really understand how it worked. I didn't have the money, and I didn't think it was going to be that big a deal."
She says she knows lots of people this happened to, including Lenny CEO and Founder Joe Bayen, a French native who attended college in the U.S., and was able to get a credit card with little difficulty.
It wasn't until Joe tried to buy a car that he realized how crucial a part his credit history played in getting an auto loan approved at an interest rate he could afford. He never forgot the lesson he learned.
"That was the breaking point for him. He was like 'What is going on here?'" says Melissa. "In France, they do lender-customer relations a little bit differently."
To begin with, banks in France recognize that relationships with their customers are long-term so they're willing to give them some room for error. For example, college students are given an overdraft allowance of up to $500 with no penalty.
"Joe has told us banks know they're building a financial product for life. People don't tend to leave their banks so banks know if they cut students some slack, they're going to stick with them and they're going to do better."
The 4 Steps to a Lenny Line Of Credit
Lenny's online application process is simple and takes less than 10 minutes.
Download the app — The first step to a Lenny line of credit is downloading the free app on your iOS phone or Android and creating a Lenny account.
Create a Lenny account — Answer some personal and credit score-related questions that vary depending on whether you're a student or not.
Apply for an initial credit line — You can apply for a line of credit of up to $10,000. A decision is made on your application in less than three minutes.
Cash out or pay back your friends — Once you're approved, you can cash-out instantly to your bank account or pay back friends.
To access the funds once the line of credit has been approved, most Lenny customers cash out the money from the app to their bank accounts for immediate use. To further sweeten the deal, Lenny reports all on-time payments to the major credit bureaus so Lenny customers also get the benefit of watching their credit scores grow.
Earn Quarterly Credit-Limit Increases of Up to $1,000
Depending on your eligibility, you can be approved for an initial Lenny line of credit that can range from $50 to $10,000. Lenny interest rates begin as low as 7.9% APR — lower than most other lines of credit on the market — and you'll pay no interest at all if the balance is paid in full within the 30-day grace period.
The average line-of-credit amount approved is around $300, up from an average of $200 just a few weeks ago, and that average is going up every week, says Melissa.
Responsible financial habits will be rewarded: pay your Lenny bill on time and use the Lenny app frequently to earn up to a $1,000 credit increase every quarter, while students can earn an increase of up to $300 every semester.
Lenny also encourages peer-to-peer transactions within the app using Dwolla, a powerful payments platform that securely connects to bank or credit union accounts to enable the transfer of money for any individual or organization in the U.S.
Lenny's Mission: Teach Millennials Financial Best Practices
Lenny's aim isn't just to lend money. Having experienced the relationship people have with their banks in France, Joe has made it Lenny's goal to build a close lender-client rapport, which is why the company has placed a big emphasis on customer service as it hires more people. Lenny's relationship building includes welcoming applicants who have no credit score at all.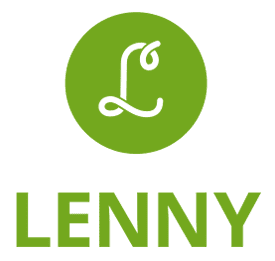 "We can actually help them start to build it because our entire mission isn't just the lending. It's to help people build their credit scores and to teach millennials sound financial education because a lot of us in the company didn't get that," says Melissa.
Studies show Millennials know less about credit scores than other adult Americans. Those 18 to 34 years of age understand less about which businesses use the scores and about who collects information on which the scores are based.
Lenny's mission to really know its clients is evidenced in the instances when a Lenny customer is not approved for a line of credit. In those cases, a Lenny service representative will personally review the application to see if some important piece of customer information slipped through the cracks.
The more Lenny knows about its customers, the greater the chance to customize its response to credit queries.
"We look at how we can update our algorithm so that doesn't happen again," says Melissa. "It's not always cut and dried."
With Improved Creditworthiness Comes Greater Rewards
In adding products, Lenny executives consider how to best help their clients build their credit scores. An increase in an existing line of credit is great, but adding a separate product to an account strengthens a client's creditworthiness.
With that in mind, Lenny is developing several new products that it plans to launch with its next round of funding. The Lenny premium credit lines — Lenny Blue, Lenny Platinum, and Lenny Black — will have credit limits of between $5,000 to $25,000 — and lots of perks.
Other products being considered include student-loan consolidation and larger loans, especially for established Lenny customers. Another goal is to offer a physical card, with which to access their line of credit to customers who have used the Lenny app for a year.
"That's the vision. We want to have the best financial products for the life of a user and not just stop at students or Millennials," says Melissa. "We want to be the best solution for people to develop their credit history over time."
Learning How to Protect Your Credit History With Lenny
I realized after being turned down for a loan how important my credit score was in determining the outcome of many decisions on my path to adulthood. It took me awhile, but eventually I learned to be consistently on time with my payments and achieved a credit score that opened the door to the financing I needed.
Lenny understands that having a poor credit history isn't the final judgment of what a person is worth. Even if it's a line of credit of only $100, Lenny gives you the chance to build your credit profile — one on-time payment at a time. Along the way, Lenny rewards your good habits with greater credit limits and other incentives. And they share the news of your success with all the major credit bureaus.
Joe and Melissa have not forgotten the credit card lessons they learned as young college students. Which is why Lenny drills deep to gain a complete picture of a Millennial applicant. After they determine a young person's credit risk, Lenny shares solid personal finance advice a Millennial can take to the bank.
Lenny takes the long view of customer relations by offering products and incentives that build good financial habits for a lifetime.
Advertiser Disclosure
BadCredit.org is a free online resource that offers valuable content and comparison services to users. To keep this resource 100% free for users, we receive advertising compensation from the financial products listed on this page. Along with key review factors, this compensation may impact how and where products appear on the page (including, for example, the order in which they appear). BadCredit.org does not include listings for all financial products.
Our Editorial Review Policy
Our site is committed to publishing independent, accurate content guided by strict editorial guidelines. Before articles and reviews are published on our site, they undergo a thorough review process performed by a team of independent editors and subject-matter experts to ensure the content's accuracy, timeliness, and impartiality. Our editorial team is separate and independent of our site's advertisers, and the opinions they express on our site are their own. To read more about our team members and their editorial backgrounds, please visit our site's About page.