Experts share their tips and advice daily on BadCredit.org, helping subprime consumers navigate the world of personal finance.
In a Nutshell: While discussing personal finance remains taboo, younger generations aren't learning the necessary basics like budgeting, saving, and how credit works. The majority of states don't even mandate personal finance as a high school graduation requirement, but Credit Abuse Resistance Education (CARE) programs have been able to reach students in nearly every state due to an impressive network of volunteers. Just last year, CARE filled the gap in personal finance education for more than 35,000 high school and college students using interactive presentations with engaging pop culture references.
Only five states throughout the nation require high school students to take a personal finance course before graduation, according to a 2015 report on financial literacy in high schools from the Champlain College Center for Financial Literacy. While micro and macro economics were available courses when I was in high school, personal finance — a subject touching on saving, budgeting, financing large expenses, and proper credit card use — wasn't taught in either of them.
It was only when I went to college and began to pay my own way that I realized how much I didn't know about finance. I had to figure out what to look for in a bank, how to budget, and where to find the best deals on textbooks. Luckily, I was surrounded by enough people in my college town who could help me figure out the basics and point me in the right direction for more advice, but not everyone has that luxury.
The Credit Abuse Resistance Education (CARE) program wants to change that experience.
CARE aims to increase financial literacy among young adults by providing personal finance workshops at high schools and colleges. Founded in 2002, the program has evolved to have a presence in nearly every state and has kept students engaged with fun activities and pop culture-infused presentations including clips of actor Ashton Kutcher and comedian Demetri Martin.
We sat down with Anna Flores, the organization's executive director, to hear more about what she hopes to accomplish with CARE. She told us that in 2015 alone, more than 35,000 high school and college students were reached by CARE's volunteer education program. Through strategic partnerships with other non-profits like the National Endowment for Financial Education (NEFE), the JumpStart Coalition, and the LifeSmarts program, she believes CARE can expand into even more schools and colleges.
CARE's Success in Tailoring Its Messaging for Students
The CARE program is brought into high schools and colleges by educators requesting it. CARE then sends a volunteer to come to their institution to provide an extensive overview of various financial topics.
"Unfortunately, not a lot of families discuss personal finances," says Anna. Because the schools don't address the topic either, concerned educators look to third-party organizations like CARE to bridge the gap.
The presentations are about an hour in length, but often span several days or even an entire semester. Institutions can request the entire curriculum as well instead of just a single topic. Presentations currently cover three main topics: the basics of budgeting and saving, student loans and paying for college, and a complete guide to credit cards.
Using humorous clips from celebrities students relate to, including sketches from The Daily Show and Saturday Night Live, students are able to confront the growing gap between the fabulous lives they see on Instagram and the bank account they need to pay for it all.
Volunteer presenters generally come to CARE from the bankruptcy community, where the program was first conceptualized. The volunteers are able to carry out thoughtful discussions because they have seen first hand exactly what can go wrong when people abuse credit or make poor financial decisions.
"Our volunteers do this because they have a passion about financial education," Anna says of the 400 individuals who participated in the program last year. "They give their time to help prevent the problem before bankruptcy is the only solution."
Financial Literacy Missing Among Young Adults Led to CARE
After years of working for the New York bankruptcy courts, Judge John C. Ninfo II, noticed an alarming trend — many of the cases before him featured young adults who had found themselves drowning in credit card and student loan debt. Every day he saw new, distraught faces of folks whose poor, uneducated financial decisions led them to his courtroom.
The worst news he had to deliver was that their student loan debt was not eligible for discharge during bankruptcy. While young adults are able to wipe out their credit card or other debts through bankruptcy, their student loans typically can not be cleared unless an extreme circumstance warrants it, which leaves them still struggling to make ends meet.
Judge John Ninfo recognized that the root of the problem was financial literacy — the young people in his courtroom didn't know how to manage their finances. That's when in 2002, he created Credit Abuse Resistance Education as an outreach program for students. Soon after its inception, Judge Ninfo reached out to the American Bankruptcy Institute (ABI), which he was a member of, for help running the organization, and just last year CARE was incorporated as its own 501(c)(3) organization complete with its own board, funding, and volunteers. ABI still functions as a CARE affiliate and helps the nonprofit access more volunteers through the ABI member database.
Many program volunteers come from the world of bankruptcy — due to the ABI affiliation — and as such tend to be judges, lawyers, and even trustees who can speak from experience during CARE presentations. When it became a standalone organization, Anna was brought on as the first executive director of CARE, and Judge John Ninfo, now retired from bankruptcy court, still participates through his seat on the new board.
Creating the Next Generation of Debt-Free Adults
By leveraging collaborations with the National Endowment for Financial Education, the JumpStart Coalition, and the LifeSmarts program, Anna says CARE plans to provide even more resources for students, parents, and educators, including revamping its website and offerings this summer.
"We're also working with TransUnion," she says, detailing a new venture that should attract more speakers for CARE. "Our Chicago volunteers have been training TransUnion employees to be able to help present our material since they also have experience in the finance space."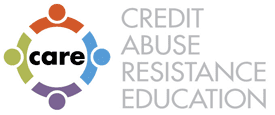 Anna is excited about growing the reach of CARE by building relationships with more volunteers, individuals, and other organizations to help personal finance education become mandated in every state. "I think the most important thing is to make it a requirement for high school graduation or as part of college orientation."
Another course of action to get personal-finance education fully mandated is to adapt the in-depth CARE curriculum to fit into current required classes such as math or economics, which Anna believes would be an easy way to increase financial literacy.
After learning about what Anna's organization does for students, I can't help but wonder how much easier it would have been for me to figure out my finances and start adulthood armed with that kind of financial knowledge.
I think this testimonial sums up just how impactful CARE is: "I wish I had access to the information when I was in high school, says Shelly Palmer, a student at Monroe Community College. "After the presentation, I paid off two credit cards and cancelled three others. Now if I don't have money to pay cash for an item, I don't buy it."