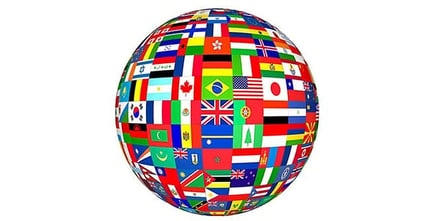 Experts share their tips and advice on BadCredit.org, with the goal of helping subprime consumers. Our articles follow strict
editorial guidelines
.
To improve a bad credit report, you need to buckle down for years.
There is a way to immediately start over without changing your identity. It is a bit extreme, but you could wipe the slate clean in a new country.
Reporting consumer habits and tracking credit histories can be costly and requires constant upkeep. Creditors rarely share this information with non-partner agencies out of country.
It is the same reason reporting agencies rarely share information with non-members.
In the U.S., credit reports include background information, account balances, payment histories, public records and credit inquires.They are extremely thorough.
According to a paper distributed by TransUnion, one of the key differences starts with whether the nation's credit bureaus are public or private.
1. Private bureaus.
The U.S. and Canada are examples of nations with private credit reporting agencies.
At these private credit reporting agencies, a blend of positive and negative financial information from various types of creditors are reported to a few private credit bureaus for aggregating.
This is what lenders see when they check your credit to determine if you are a good risk.
In the U.K., a credit history is also called a credit reference. It may include credit payments from lenders, but not all lenders choose to report.
It also includes court judgments and credit inquiries, as well as whether you are registered to vote. If you are not, you could have problems getting credit.
Private credit bureaus have to follow the laws of the country they operate in. That fact makes it difficult to share information, even for companies that operate in multiple countries.
2. Public bureaus.
Some countries, like France, Spain and China, have government-run credit bureaus called public credit registries (PCR). Lenders are required to report consumers' information to the centralized bank, which creates the reports.
Many public bureaus collect less information than private ones, often only reporting negative information like delinquent payments.
In France, an "interdit bancaire" label for a bounced check will keep you from getting credit until the debt is paid off.
However, the China Credit Reference Center issues credit reports that are among the world's most comprehensive.
They include positive and negative information from banks and courts, housing and utilities, taxes and licensing records from various government agencies.
 "Other nations require less information on

their reports, and that could work in your favor."
3. Specialized reports.
In some countries, you might also have several specialized credit reports.
One credit report would be collected and shared only among banks. Another might be used only by companies in the retail section, and a third might be used among financial companies.
These industries only care about your history in specific areas. They do not collaborate on an all-encompassing credit report.
While many countries use both public and private reporting agencies, some countries prohibit the registries from sharing information with private bureaus. It really just depends on where you go.
4. Emerging markets.
Credit reports are evolving, with much growth coming in the 1980s. Still, by the year 2000, less than 60 percent of the world's countries had either a private credit bureau, public bureau or both.
In the United Arab Emirates, a credit bureau began collecting consumer information for the first time ever in the summer of 2013. Credit reports will not be available until 2014.
India and Pakistan are also emerging markets. There are still many places in Africa and South America that still do not use credit reports.
If you do move out of the country, you can start your credit history over. Keep in mind that some of your debt may follow you, especially tax debts.
Photo: axjusa.ning.com.