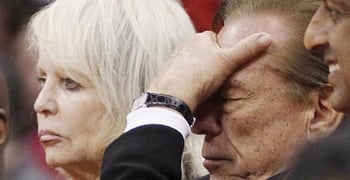 Experts share their tips and advice on BadCredit.org, with the goal of helping subprime consumers. Our articles follow strict
editorial guidelines
.
The world of professional basketball was set ablaze with controversy in April over racist remarks made by Los Angeles Clippers billionaire owner Donald Sterling.
It appears his already estranged marriage is on the verge of the divorce, and divorce could affect his credit.
Racism and the road to divorce
In April, a taped private conversation between 80-year-old Sterling and his 31-year-old girlfriend, Vanessa Stiviano, was leaked to the public.
In the recording, Sterling made unflattering racist remarks that quickly went viral. Sterling's disparaging comments caused outrage among fans and players alike.
NBA commissioner Adam Silver decided to nip the problem in the bud. According to ABC News, Silver imposed a $2.5 million fee on Sterling and banned him "for life from any association with the Clippers organization or the NBA."
He added he would try to force the sale of the team from Sterling. It's important to note Donald Sterling's family wasn't included in this ban. However, this makes it complicated since he isn't the sole owner of the team.
According to CNN, "The Sterlings own the franchise through a family trust, with each spouse having a 50 percent share."
Marriage murkiness
This situation is even hairier since Donald Sterling isn't yet divorced. He and his wife have been married for 50 years and have publicly admitted they are estranged and simply business partners.
Rumors abound that Sterling and his wife are divorcing in the wake of the scandal. However, the NBA speculates this is just to maintain appearances and the two are in cahoots.
USAToday.com announced May 23 Sterling has given his wife permission to sell the Clippers, but she has insisted she retain a minority interest. This likely won't fly.
According to the publication, "Such a condition is not acceptable to the league, which wants to wash its hands of both Sterlings. The NBA said…it will proceed with plans to forcibly terminate the Sterlings' ownership with a three-quarters vote of league owners."
CBS explains California family law plays a role in what will take place since it's a community property state, "meaning spouses jointly own property they acquired while married." Sterling bought the team in 1981 while they were already married.
A legal expert told CBS this joint ownership could act against them since they are legally a single entity. "So if the NBA forced Donald Sterling to sell, even under a divorce scenario, Shelly Sterling would have to sell, too," according to CBS.
Impact to his credit
As a billionaire, Sterling likely won't have to worry about qualifying for credit cards. However, if he ever applies for future loans or mortgages, his credit will be important.
Divorce can damage credit because it often results in the closing of joint accounts that have been open for decades.
A key factor in your credit score is the length you've had accounts, so suddenly closing several lines of credit in order to separate finances during a divorce can drive down your credit score, especially if those accounts have been open for a long time and are in good standing.
If Sterling and his wife eventually divorce and close joint accounts, they both may experience lower credit until they can build it back up in their individual names.
Photo credits: http://s1.ibtimes.com/; www.huffingtonpost.com; http://media.philly.com/;
http://37.media.tumblr.com/