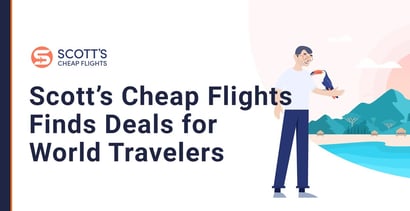 Experts share their tips and advice on BadCredit.org, with the goal of helping subprime consumers. Our articles follow strict
editorial guidelines
.
In a Nutshell: Scott's Cheap Flights scours airfares from airports worldwide and notifies members of deals tailored explicitly to their needs. Whether it is discounted tickets from a nearby airport or to a specific location, Scott's Cheap Flights tracks bargain fares down and lets members know as soon as they hit an all-time low price point. Anyone can use some of its features for free, but the bulk of the website's features are behind its $49 or $199 annual subscription. Most members stand to make their money back from savings on their first flight alone.
After nearly two years of being locked in our homes and keeping to our communities, travel and vacations are back on the minds of most Americans. Travel bookings are up almost 50% over this time last year and nearly 20% over pre-pandemic levels in 2019.
Consumer prices are going up. Gas, groceries, and restaurant bills have shot up in price, and flights are no exception. Demand is through the roof, and airlines are preparing for what experts believe will be the busiest travel season ever this summer.
But airfare doesn't have to be cost-prohibitive. If you know where and when to look for deals, you can still score affordable round-trip tickets to some of America's top destinations. But if you don't know what to look for, you're stuck spending hundreds or even thousands on airfare someone else can buy for a fraction of the price.
Travel experts at Scott's Cheap Flights leverage proprietary technology to scour domestic and international airfares from more than 180 different departure airports in the U.S. to find the best and cheapest tickets. The company tracks regular airfare prices, and when it sees them fall below average, it notifies its members who have signed up for updates from that specific airport or destination.


Members who sign up for free have access to international economy class deals from up to five airports, but most of the site's features require a subscription. Scott's Cheap Flights has two subscription packages, Premium and Elite. 
Premium members receive economy deals from up to 10 airports for $49 a year. Elite members get all the benefits of Premium in first, business, or premium economy class from unlimited airports for $199 a year. Scott's Cheap Flights said the subscription pays for itself after just one booking.
"Our mission is to make sure that folks never overpay for travel again," Scott's Cheap Flights Senior Product Operations Specialist Willis Orlando said. "We are focused on changing the way people travel."
Dream Vacations On a Budget
People committed to traveling and staying flexible will see cheap fares to their dream destinations. Scott's Cheap Flights helps people get to where they want, but it can't make prices go down on its own. Its platform works best with flyers whose travel plans are easily adjustable.
When a fare hits between 30% and 50% off on a major airline with a good route, Scott's Cheap Flights sends the deal to members who have those specifications set on their profile. For flights to locations that don't typically have cheap airfares, the website uses what it calls the "first flight method."
"Typically, when you travel, you first figure out where you want to go," Orlando said. "Next, you look into when you want to go there, and then you check what the flights cost. By doing that, you've pigeonholed yourself and you've almost guaranteed you're going to overpay."
Watch on
The first flight method looks into the cheapest possible route to a specific destination. For example, if a flight to Finland doesn't drop in price, Scott's Cheap Flights looks at inexpensive flights to nearby countries, then suggests a low-cost flight to end up in Finland. 
Subscribed members also receive lists with the cheapest flights to numerous destinations at several different time frames to ensure it provides members options for every situation. Scott's Cheap Flights wants members to take full advantage of its services.
"All of a sudden, you've opened up opportunities to the whole world and increased your odds of scoring a great deal," Orlando said. "We try to convince folks that as long as you're not stuck into going to a destination wedding or visiting mom and dad, open up those options. You're going to travel a lot more and see a lot more of the world."
Built For Post-Pandemic Flying
Being flexible with travel plans is not the only way to get a deal on flights. Scott's Cheap Tickets works to find cheap airfare for members' top destinations. In fact, the website said about two-thirds of members who book on Scott's Cheap Tickets were people waiting for a deal on a specific location.
"When that deal dropped in their inbox, they were excited," Orlando said. "They were thrilled. They may have waited a year, they may have waited six months, but they end up getting it. We had someone recently get a deal for a flight between Denver and San Francisco for $96 round trip. That's a wonderful deal."
The pandemic has changed how Scott's Cheap Flights looks at deals and sends them out to members. The team often experiments and redefines what a deal is. For example, the team told us about its process for assessing flights to Australia. Flights to Australia from the U.S. are usually between $1,500 and $2,000. The best deals before the pandemic would pop up for $600 roundtrip. Today, there is not as much wiggle room. Now, when airfares go down to $800 or $900, Scott's Cheap Flights sends a notification out to members.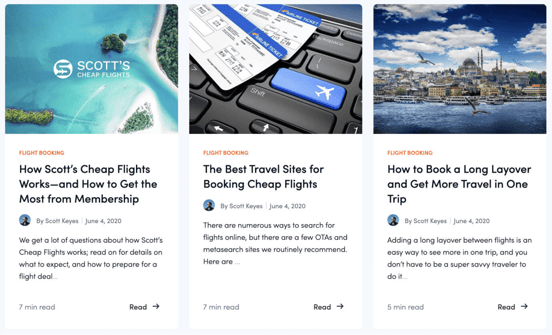 "What we consider a deal right now is not what it used to be," Orlando said. "This is the best you're going to find at the moment. We had people right and left and right say they've been waiting to go back to Australia and thank us when we send them whatever we find."
It's especially important now to save when possible with costs for household staples rising. Scott's Cheap Flights said average airfares are up about 35% in the last year and continue to increase. This past April was the biggest month-over-month increase the site has seen.
"Deals are faster now," Orlando said. "As average fares rise up, these deals don't last for a week like they used to. Now, you're lucky if they last for 24 or 48 hours."
Airlines are more competitive, and sales are less frequent. The Scott's Cheap Tickets team said the key is to get tickets for flights with unsold seats. That's where the best deals are found every time.
Scott's Cheap Flights: Committed to Affordable Travel
Scott's Cheap Tickets focuses on cheap flights with a mission to do more. It wants members to feel like they are getting their money's worth. The site is looking into additional opportunities to help people save money.
"We've got a great team," Orlando said. "Something myself and Scott and our support team constantly works on are new strategies to get members from where they are to where they want to go."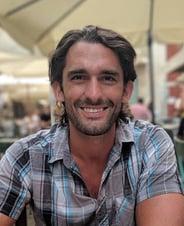 The website rolls out a destination guide every week to provide members inspiration for where their next trip will take them. The Scott's Cheap Flights team said it receives excellent feedback from people looking to travel following the pandemic. The guides feature a new location and show airfares to get there. The Scott's Cheap Flights strategy works, and people who book even once see the value and stay subscribed.
"Those folks who book that first deal have no reason to walk away because they're getting a newsletter they're excited about," Orlando said. "They get inspired, they're excited, and maybe they'll book something else. But if not, they've already made their money back."
Mistake airfares are another big part of Scott's Cheap Tickets' process. The site's technology detects when there are price mistakes on airfares and sends them out instantly for people to book. Time is of the essence with these deals because they are usually only up for a few minutes.
"We had a mistake fare from a dozen U.S. cities to Iceland," Orlando said. "as low as $100 round trip and as high as $154 round trip. We sent it out, and it was gone within maybe half an hour."
Airlines cancel mistake fares only half the time, so there are good odds members will fly somewhere on a really low fare and save hundreds or even thousands, the Scott's Cheap Flights team said. 
Scott's Cheap Flights is actively exploring options to help people travel and never overpay again for the entire duration of their vacation. Its most requested feature is a similar tool for hotels. While Orlando said the website can't help with that now, the company is keeping the door open to that possibility.
"Members are telling us they save a bunch on flights and then overpay for the hotel," Orlando said. "We tell them we can't help right now, but hang tight because maybe someday we can."