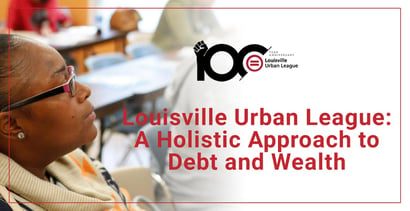 In a Nutshell: The Louisville Urban League takes a holistic approach to advancing homeownership by providing communities access to mortgage lenders and and money-saving loan tools that improve their chances of loan approval. Owning a home can be an essential tool for building wealth and enjoying financial independence, and it can intersect with other areas of life, including employment, education, justice, and health. The Louisville Urban League works to help people strengthen their standing in each of those areas to create more opportunities.
For many Americans, homeownership may not feel like an achievable dream. Some people face a variety of interconnected barriers that stand in the way of reaching that dream, and they may give up.
The Louisville Urban League is on a mission to highlight those fundamental connections — including employment, education, and health — and devise holistic solutions to fortify them. The ultimate goal is to help people prosper in every aspect of their lives.
"The Urban League is about jobs, justice, education, health, and housing," said Lyndon E. Pryor, Chief Engagement Officer at the Louisville Urban League. "You cannot talk about any one of those five pillars without really thinking about the others. The workforce — you really can't think about that without talking about housing. You can't think about the workforce without talking about education or justice. That goes across the spectrum, and so all of our programs and services are designed with that in mind."

Investing and property ownership, among other personal finance goals, can be important components of financial wellness. But for many potential borrowers, they seem like the domain of the wealthy. That's why the Louisville Urban League wants everyone to know that those goals are within reach if they understand how to navigate the process.
"You can go from renting Section 8 housing to owning a home," Pryor said. "That process doesn't have to be long. It doesn't have to be arduous. But we, as a society, do not do a good job of demystifying that or making that plain for people. Wealth does not have to be unattainable. It truly is accessible to you with the right help and support."
The Louisville Urban League provides that education and support for its communities and helps people achieve the financial dreams they once thought unattainable.
Investing in People for More Than a Century
"To understand the Urban League, you have to understand these pieces," said Lisa Thompson, Chief Impact Officer at the Louisville Urban League. "We are 100 years old. That means that this organization was founded at the height of Jim Crow, and Louisville did Jim Crow almost like no other city. And we still see the evidence of clear racial demarcation in our housing patterns and our commercial patterns."
Today, many problem-solvers may start working on solutions in the digital realm of apps or web platforms. But the Louisville Urban League's approach is rooted in the tradition of activism and direct support.
Watch on
"Particularly if you are trying to do it equitably, you cannot do this work without the people," Pryor said. "These are the coaches and counselors who do this work every single day. And the work that they do is person to person."
That approach is intentional and fundamental. No two people share the same financial situation, so effective solutions cannot be one-size-fits-all. Counselors get to know people and their concerns through one-on-one engagement, which is the foundation needed to devise realistic financial plans and make progress.
"We need to get more people in front of other people who are equipped to guide them through this process," Pryor said. "There are certainly some policy things that we can work out that would make this process easier because there are lots of undue burdens that we put on poor people in this country. But, at the core of it, we've got to have more people equipped and ready to go out and serve more folks if we're going to make this happen."
Homeownership Depends on Knowledge and Support
One of the most critical components of homeownership is understanding a mortgage. A credit score is an indicator of risk to the lender because it quantifies a borrower's ability to manage and repay debt.
Credit scores also factor into the interest rate, and the borrower's income affects how much money the lender provides, since it indicates how much the borrower can reasonably pay back each month.
"When we talk about folks being housing-ready or homeownership-ready, it means a lot of things," Pryor said. "It's not just about the simple nuts and bolts of 'I can go out and get a house now.' It is saying that your credit is where it needs to be, you have saved money, and you understand how your money works. Studies show those who seek counseling before their major purchase are far more likely to remain invested and not be displaced out of homeownership."
Over a recent four-year period, the Louisville Urban League helped 442 people achieve a credit score of 640 or higher and save at least $2,000 in the homebuying process. It also helped many of them obtain down-payment assistance, which made it possible for them to purchase homes in their market of choice. The Louisville Urban League didn't just put them in a home, but also prepared them to stay in their homes.
The low interest rates following the COVID-19 pandemic present a unique opportunity for the Louisville Urban League's housing work. While many households have faced severely restricted budgets, interest rates have dropped to extreme lows. As the economy recovers, those interest rates represent an opportunity for homebuyers.
"We can look at that inequity and make a dent in the next five years," Thompson said. "When I think about building back better, that's what I think about, because within that purchasing power of homeownership comes small businesses. It's the American continuum."
Redefining Success in Work, Justice, Education, and Health
Homeownership is only one of the pillars supporting equality and social wellness in Louisville. A significant piece of gaining the financial footing necessary to buy a home is an adequate income.
"In our workforce development area, we're about getting people a job or a better job, really helping them advance their careers in meaningful ways, and getting them into jobs that are going to pay above living wages. We focus on advancing their trajectory for both them and their families," Pryor said.
The Louisville Urban League also focuses on ensuring children receive a quality education that prepares them for successful, debt-free professional life after school.
"We've got programs that run from early childhood through high school, serving families and individual students in a variety of different ways, both in school and out of school, building in buffers and services," Pryor said.
Another way the Louisville Urban League supports employment is through policy advocacy and legal services to ensure justice and opportunity. One of its most significant contributions is helping eligible individuals expunge qualifying transgressions from their criminal records, making it easier for them to find employment.
"We get that done free of charge, completely shredding away all of the red tape and the bureaucracy around that service for hundreds of people each year," Pryor said.
All of that feeds into Louisville Urban League's community health program, which takes a holistic approach to wellness.
"We think about health in a holistic way," Pryor said. "It is not just about your physical being and when was the last time you went to the doctor. Are you able to feed yourself? Is your housing stable? Are you dealing with bouts of trauma, or racism, or any other thing that may be hindering you from being able to thrive and achieve your dreams? We've got certified community health workers who ensure that people are successful in whatever it is that they are striving for."
Louisville Urban League: Creating Opportunities through Financial Stability
When people come to the Louisville Urban League, their goal may be to have a yard for their children to play in. Or, it could be starting a business to increase income, pay off debt, and purchase a home. Whatever the case, productively advancing toward those goals is a powerful tool.
"They can do so many other things because of the education and the services that we provide them along the way," Pryor said.
Each accomplishment serves as a stepping stone to the next. Homeowners who diligently pay their mortgage are more likely to qualify for a small business loan. The increased revenue from that business can help them pay down their mortgage debt faster, and they can invest the money they save into retirement or set it aside for a college fund.
That demonstrates how effective the Louisville Urban League's efforts to help consumers obtain equality and empowerment. No matter where someone starts, they can open up new opportunities for achieving overall financial and social wellness.
"Wherever you are in your financial situation, don't give up," Thompson said, speaking of the effects of the COVID-19 pandemic. "We've purposely been isolated. Now we're going to have to relearn how to reach out of ourselves and talk. Back in the last great crisis, the Great Recession, there was a good bit of evidence that neighbors didn't know their neighbors were in trouble until the foreclosure sign went up. We are proud people, and we don't like to talk about money, and then we get very alone. No matter where you are or what's facing you, there's a way through this."
Advertiser Disclosure
BadCredit.org is a free online resource that offers valuable content and comparison services to users. To keep this resource 100% free for users, we receive advertising compensation from the financial products listed on this page. Along with key review factors, this compensation may impact how and where products appear on the page (including, for example, the order in which they appear). BadCredit.org does not include listings for all financial products.
Our Editorial Review Policy
Our site is committed to publishing independent, accurate content guided by strict editorial guidelines. Before articles and reviews are published on our site, they undergo a thorough review process performed by a team of independent editors and subject-matter experts to ensure the content's accuracy, timeliness, and impartiality. Our editorial team is separate and independent of our site's advertisers, and the opinions they express on our site are their own. To read more about our team members and their editorial backgrounds, please visit our site's About page.