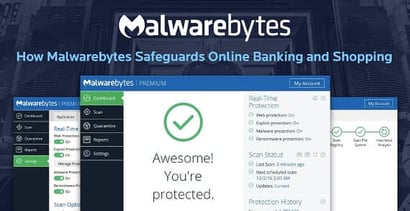 In a Nutshell: Until it happens to you, it's just another news story. Cybercrime affects millions of people around the world every day. New threats are constantly emerging, but the goal is always to steal consumer or business information and monetize it. With the popularity of e-commerce and online banking comes new opportunities for cybercriminals to cause harm. Security companies, like Malwarebytes, are leading the fight against breaches with the latest techniques and exhaustive research methods based on customer telemetry data to provide products that safeguard consumers and businesses alike.
It's an unpleasant truth to our always-connected lives, but a fact nonetheless: Every time we're online, we're at risk of becoming victims of cyberattacks. Whether you're on a personal computer or laptop, a smart phone or a tablet, a Windows machine or a Mac — the threats are everywhere, with 3.8 billion internet users affected in 2017. That's over half of the world's population.
2017 was a particularly busy year for cybercriminals with high-profile attacks, like WannaCry, which wreaked havoc on the UK's National Health Service last May. The Equifax data breach that released the personal information of over 143 million Americans was another frightening example of the breadth and scope of the ability of today's cybercriminals to penetrate even the most fortified systems.
These attacks on large entities were all large-scale (successful) attempts by cybercriminal groups to gain access to personal consumer information — passwords, Social Security numbers, addresses, etc. However, enterprises are certainly not the only target. Individual consumers are being singled out on a daily basis all over the world. As we continue to conduct financial transactions and other business online, the consequences of cyberattacks become increasingly severe. The kinds of attacks range in sophistication and scope, but the consequences are serious.
On the frontlines against cybercrime are a number of security firms that are doing their part to thwart malicious online activity. One example is Malwarebytes, which specializes in technology to protect home computers, smartphones, and business assets. Millions of consumers and business owners all over the world trust Malwarebytes for its effectiveness, versatility, and ease of use. As cyberthreats have increased, so has the company's profile.


We recently spoke with Adam Kujawa, Director of Malware Intelligence at Malwarebytes, who shared more information on the company's growth and how it's working to stay ahead of threats.
"We've been consistently growing strong," Kujawa said. "I joined the company about six years ago, and when I came on, there were about 50 people here. Now, there are around 600. We're used all over the world and trusted by millions of people."
Malwarebytes differentiates itself from the competition by employing various proprietary technologies that work to drastically disrupt the chain of attack in real time. Its free software provides a scanner that detects and removes malware from both Windows and Mac machines in seconds, helping users find threats before they become more serious problems.
A Software Suite for an Increasing Number of Cyberthreats
As with anything, you need the right tools for the job. And in Malwarebytes' case, it's got the tools necessary to protect systems against a whole host of threats, especially the slew of malicious software collectively known as malware. Malware refers to most forms of harmful software that help attackers gain a foothold in users' computers and proceed with whatever nefarious actions they intend.
Malwarebytes' principal scanner is employed on both the free and premium versions and serves to protect systems from malware, both before and after it's introduced to the system.
"Malwarebytes' anti-malware scanner detects malware — both in real time and after the fact — that's attempting to execute on the system or is already located there," Kujawa said. "It includes a protection component that blocks known malicious URLs leading to exploit kits or phishing sites. Our anti-exploit technology shields internet-based applications that could potentially be exploited — Java, the browser, things like that — but it also works to prevent exploits from Office documents or PDFs that might come through."
As we mentioned, 2017 was an unusually busy year for cybercriminals. Their favorite method of attack? Ransomware, a kind of malware that prevents users from accessing entire systems unless they pay a ransom. Because most people keep so much of their sensitive personal and financial information on their devices, they see no choice but to pay up.


Newsweek reported that ransomware attacks last year rose 250%, hitting the US harder than any other country.
"Ransomware has been a huge deal for the last several years, especially last year, in terms of attack prevalence. But this has been going on for years," Kujawa said. "Now, more users are aware of what to do when they encounter ransomware and have access to tools, like anti-ransomware technology, to stop it from actually doing damage. But just because we've seen a slight decline recently doesn't mean the threat is gone.
"The main actors and players in the ransomware world might just be going underground for a little while to evolve their attacks and find a new approach. I'm pretty sure at this point, with what we've seen with modern-day ransomware, they're pushing the limits with what kinds of capabilities they could possibly execute. But as they evolve, so will we."
Ransomware attacks on everyday individuals are damaging, to be sure. However, when cybercriminals target businesses, the stakes are much higher. Not only is a brand's data at risk, but its reputation and level of consumer trust are in jeopardy. Malwarebytes' anti-ransomware technology features endpoint protections that work to block the delivery of the malware altogether.
Malwarebytes' robust suite of security products help to not only keep bugs, like ransomware, from infecting your systems but act to minimize the effects. For example, the company's incident response service automates the threat retaliation process to drastically reduce the time malware dwells in your system. Its solutions are offered either cloud-based or on-premises, come with free trial offers, and as always, protect both Windows and Mac devices.
Malwarebytes Leverages Internal Research and Anonymous Customer Telemetry to Stay One Step Ahead
Malwarebytes employs teams around the world to exhaustively research every active threat, no matter how large or small. One of its most powerful sources of insights comes from the front lines of the fight against cybercrime — its customers. Malwarebytes maintains an online forum, which serves two purposes. It allows users to post and discuss the latest threats, and it allows Malwarebytes' experts to have immediate access to the threat samples. This information is then used to bolster the company's products.
Malwarebytes benefits from its popularity, in that it has that much more data to work from. The millions of machines protected by the company's software provide a stream of telemetry data used to deliver better protection against threats. The data that Malwarebytes collects, however, only contains details on the attack and general location and does not include any personal information about customers.
"This is really valuable information in terms of telling us what kind of attack occurred," Kujawa said. "If there's an exploit that's been encountered, and our product blocks it, the URL from that exploit is sent back to our systems, where we feed it into our databases so we can collect any samples or malware from that URL and use it to make sure our clients are protected from it in the future."
Watch on
The nature of cybercrime is very human. That is to say, the reason these attacks evolve over time and become more sophisticated is because there are intelligent human beings behind them, changing their methods, and plotting their next moves.
"We're not dealing with a static adversary," Kujawa said. "We're not dealing with a bunch of robots in a room somewhere trying to build malware for fun. We're dealing with human beings doing this for the purpose of making money from innocent people. Human beings are dynamic, and they pivot and adapt with new innovations. Being able to pivot when they do and face a different attack vector is key to keeping people's data safe."
Free Support and News Keep Users Informed of Threats
When it comes to data security issues, it pays to have someone in your corner ready to help with whatever comes at you. Malwarebytes makes sure its users have access to robust expert support, no matter the issue. The first layer of help comes in the form of easy-to-navigate categories broken down by FAQs, troubleshooting, billing questions, and updates.
Users also have the option of connecting with the Malwarebytes community forum, which is made up of Malwarebytes users and experts ready to offer help on any issue. Can't find what you're looking for on your own? You can submit a ticket for someone to reach out to you. Best of all, every form of support Malwarebytes offers is free.
"Our customer support has and will always be free for our users or anyone who comes to us for help," Kujawa said. "On our forums, we have malware removal specialists and customer support representatives available to help people out with anything. Our customer support team does a really great job of keeping up with tickets and responding as quickly as possible to issues.."
There is no shortage of topics to address in the world of cybersecurity, and Malwarebytes also maintains an active blog. Of course, the blog is full of the latest threats discovered "in the wild" as Kujawa puts it, as well as tips on how to stay safe, and guides on how to use the latest technologies to protect your data. It also features other issues important to consumers, like how to fight robocalls and the latest cybersecurity news from around the globe. The blog is yet another resource Malwarebytes offers to help the good guys win the fight against cybercrime.
Award-Winning Service Keeps Millions of Users' Information Out of the Wrong Hands
In the current climate of brazen cybercriminals willing to pull out all the stops to gain access to your data, there is no room for complacency. Whether you're a small business or an everyday online banking customer, protecting yourself is critical as you transmit your personal information across the internet.
Malwarebytes detects or blocks 15 million threats every day, making it one of the most successful companies of its kind.
"My entire department's sole purpose is to know what's out there and what's coming around the bend so that we can tell our researchers and engineers to prepare accordingly to be able to stop the threat in its tracks," Kujawa said. "We're passionate about what we do because stopping the bad guys from hurting good people is just the right thing to do."
Advertiser Disclosure
BadCredit.org is a free online resource that offers valuable content and comparison services to users. To keep this resource 100% free for users, we receive advertising compensation from the financial products listed on this page. Along with key review factors, this compensation may impact how and where products appear on the page (including, for example, the order in which they appear). BadCredit.org does not include listings for all financial products.
Our Editorial Review Policy
Our site is committed to publishing independent, accurate content guided by strict editorial guidelines. Before articles and reviews are published on our site, they undergo a thorough review process performed by a team of independent editors and subject-matter experts to ensure the content's accuracy, timeliness, and impartiality. Our editorial team is separate and independent of our site's advertisers, and the opinions they express on our site are their own. To read more about our team members and their editorial backgrounds, please visit our site's About page.