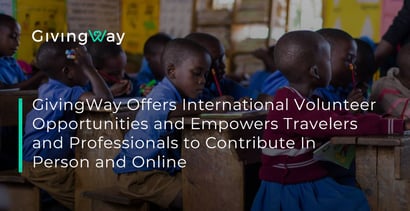 In a Nutshell: Volunteering abroad is a great way to travel the world while improving the lives of those in need. GivingWay helps volunteers bypass the middlemen and directly connect with NGOs in need of on-site support, enabling people to travel and do good work at a reduced cost. And for those who can't or don't want to travel, the platform also offers virtual opportunities that allow volunteers to contribute their professional skills remotely while also building their résumés and portfolios.
Orit Strauss Raz volunteered at the border of Burma and Thailand as a young woman. It was a profound experience, and over the next two decades of her career as a corporate lawyer, she knew that someday she would return to volunteerism. And when she did, she was shocked at the two key shifts in volunteering abroad: its increased popularity and its widespread commercialization.
"When I volunteered 20 years ago, I knew someone who knew someone, and I ended up in the jungle at a refugee camp," said Raz, Founder and CEO of GivingWay, an online platform that connects volunteers directly with NGOs for opportunities abroad. "Today, it's become an industry."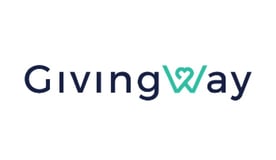 GivingWay was built to solve the problems Raz discovered in the industry. Volunteers and NGOs can connect directly through the platform, which facilitates rather than brokers engagement. Volunteers can browse both in-person and virtual opportunities to put their skills and experience to good use, and they can also make financial contributions.
Virtual options empower volunteers and donors to find causes they're passionate about and support them either monetarily or with professional skills that will help the organizations grow. On the other hand, traditional in-person volunteer work offers an opportunity to travel the world at a reduced cost while making a social difference.
GivingWay's business model is funded by commissions from transactions that go through the platform, including donations and fees for on-site volunteering.
"We are a for-profit tech startup with a built-in social agenda. Our company is funded by VCs and angel investors from around the world," Raz said. "It's just that we have a social mission behind that, as well."
Bridging the Digital Divide Between Volunteers and NGOs
When Raz returned to the prospect of volunteering abroad, she was struck by the fundamental changes that had emerged over the previous 20 years. The popularity of volunteering abroad, Raz said, fits into a broader trend of travelers seeking authentic, immersive experiences.
"You don't want to just take a picture of the Eiffel tower from far away," Raz said. "You want to feel the place. You want to feel the community."
The second significant change she noticed was that overseas volunteerism had become an industry unto itself. On one side of the industry, people who want to travel to exotic places (often developing nations) and contribute to the greater global good. On the other side are the small NGOs that need all the help they can muster but have difficulty due to their physical and digital isolation.
Watch on
"This gap emerged between the two sides of the market that found it hard to connect," Raz said. "And over the years, the gap was taken over by travel companies that realized the potential and put themselves in the middle and connected volunteers and these NGOs."
And those travel agencies typically charge thousands of dollars, which goes into their own coffers. The added cost can make volunteering a financial burden, and it draws money and labor away from the NGOs that need support.
The travel industry trend also tends to dilute social impact because those companies don't effectively match volunteer skills to community needs.
"The process is managed by a third party who's not on the ground in that village in Cambodia, sitting with the headmaster, trying to understand what they need. So you see volunteers whose skills actually have nothing to do with what was needed on the ground," Raz said. "That was why we started GivingWay. We said, 'Let's create a marketplace that democratizes the industry and allows the two sides of the market to connect directly.'"
Our goal was to turn this industry on its head – instead of the process being managed and run by third parties, our platform provides NGOs all the tools they need to manage the process from A to Z as they see fit," Raz continued. "For example, by defining what skills are needed, when and for how long they need volunteers, and whether or not they charge fees from volunteers for things like accommodation and meals. This maximizes financial and human capital for NGOs rather than diluting it through the current system."
Global Interconnectivity Facilitates Meaningful Travel
GivingWay enables volunteers to research a variety of NGOs and find ones that are a good fit for their own motivations and skills. The platform hosts more than 5,000 organizations based in 130 countries, and each NGO is vetted by GivingWay to ensure it's a legitimate, worthy cause.
"It's not just a Craigslist kind of site," Raz said. "We ensure that each NGO wishing to join the platform certifies that is a legally registered, bona fide charity operating in and for the benefit of its local community. We are strongly focused on serving the most boots-on-the-ground, local organizations that in many respects are practically invisible. Having this network of grassroots-level organization is extremely unique."
That is where online volunteers can provide tremendous value to organizations that can't afford to obtain digital services; and indeed, there are many inspiring stories of NGOs that received incredible services from online volunteers and that helped them elevate their online presence and receive more support for their causes."
When volunteers log onto the platform, they can filter offerings by where they'd like to visit or the type of cause they're interested in. Opportunities that fit their criteria show up in a marketplace-style format. Each cause has a description of the sort of support it needs and additional details about the volunteer experience.
These include the time frame of the work, a volunteer's minimum commitment, and the accommodations and amenities provided.
Additionally, each page includes other media and testimonials from prior volunteers. Users can also contact people who've worked with the organization before as well as the NGO's representative. That type of direct access enables them to glean more information and insight before committing their time, money, and effort.
"In a way, it's a bit like a social network," Raz said. "We try to provide the best tools possible so people can make informed decisions."
Professionals Give Back and Advance Their Careers Through Online Volunteerism
For those who prefer not to travel, or can't, GivingWay also facilitates online volunteering and fundraising. Instead of traveling and volunteering in-person, individuals can support NGOs through financial contributions or donate their time and skills to help further the cause.
"In today's digital era, with a laptop, a few hours, and some good intentions, a person can provide a lot of value before getting on a plane to Africa," Raz said. "Things like content writing, proofreading, video editing, social media, setting up a Facebook page for an NGO. We expanded our platform to volunteering online, and we pioneered this."
One of the most essential means of virtual volunteerism is helping NGOs establish themselves online — particularly on social media platforms. With a fully developed website and a prominent social media presence, organizations can raise their profile and connect with more donors and volunteers.
"If you don't have a strong presence in digital media, you're not going to meet donors. You're not going to meet volunteers," Raz said. "Everyone has to up their game, and it applies to NGOs in these areas as well."
Aside from the satisfaction of helping those in need, online volunteer work holds additional value for young and upcoming professionals. Building websites, designing logos, and writing copy for pages and social media posts is an excellent way to build a résumé or portfolio, get work seen by a larger audience, and advance a career while contributing to worthy causes.
Since the COVID-19 pandemic has also taken a serious toll on many organizations around the world, especially financially.
"Many of the organizations that we work with are heavily dependent on international volunteers for practical as well as financial help," Raz said. "With borders closed down, their main funding sources have stopped. As a result, we are seeing a great spike in donations to organizations on our platform
GivingWay has made it easier for people to donate to those organizations by offering a searchable database of their fundraising projects.
GivingWay Offers Travelers More Rewarding Experiences
Raz has plenty of reservations about the modern voluntourism industry. But at the same time, she understands that it fits a specific need for a particular type of traveler.
"The way these companies or these middlemen usually work, I think they are geared to less independent travelers," Raz said. "If a traveler is younger, or wants to feel like they have a support system around them, they'll go to a company because they know they're taken care of."
At the other end of the spectrum, independent travel has become more common thanks to the availability of online resources. Travelers who want to go it alone can use free services and apps to learn or translate languages, navigate in foreign lands, and perform for themselves many of the tasks that were once the specialized purview of professional travel guides.
The internet also enables them to find and purchase transit and accommodations at lower costs, thanks to online booking platforms and rental services, including Airbnb and HomeAway. Those resources have cultivated a new breed of travelers who are more comfortable with traveling abroad without the support of a large travel agency.
"People today are more travel-savvy, and they know how to fend for themselves," Raz said. "It's a different model."
GivingWay's on-site volunteer opportunities cater to independent travelers who are motivated to get off the beaten path and have a unique experience while helping those in need.
But it also accommodates volunteers who would rather lend professional or financial support if they can't travel. No matter their preferences or skill sets, GivingWay offers new ways to volunteer, whether it is in Uganda or from the comfort of your own couch.
Advertiser Disclosure
BadCredit.org is a free online resource that offers valuable content and comparison services to users. To keep this resource 100% free for users, we receive advertising compensation from the financial products listed on this page. Along with key review factors, this compensation may impact how and where products appear on the page (including, for example, the order in which they appear). BadCredit.org does not include listings for all financial products.
Our Editorial Review Policy
Our site is committed to publishing independent, accurate content guided by strict editorial guidelines. Before articles and reviews are published on our site, they undergo a thorough review process performed by a team of independent editors and subject-matter experts to ensure the content's accuracy, timeliness, and impartiality. Our editorial team is separate and independent of our site's advertisers, and the opinions they express on our site are their own. To read more about our team members and their editorial backgrounds, please visit our site's About page.