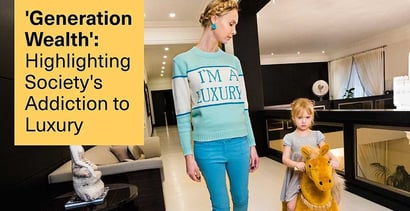 In a Nutshell: Lauren Greenfield's 2012 documentary "Queen of Versailles" was hailed for its close-up look at the excesses of American consumerism. Greenfield's latest work — "Generation Wealth" — continues down this path with a film, book, and exhibition that encompass the artist's observations on — and interactions with — modern culture's obsession with wealth, luxury, and the desire for more. Greenfield traces these trends from image-obsessed strongholds like L.A. to the rest of the world. The film is an eye-opening look at how materialism and consumerism have reached unprecedented levels in recent years and ponders what happens next.
Early in her career, Lauren Greenfield combined her passion for visual storytelling with her academic interest in social studies and anthropology. She focused her lens — both photographic and film — on the culture surrounding her in the U.S. and what emerged were themes of obsession, greed, and addiction. Her 2012 documentary, "The Queen of Versailles," focused on a wealthy family that reached beyond their means in attempting to build one of the largest homes in America, only to crash along with the economy in 2008.
The film was well-received by critics and audiences for the way it captured the story of the Siegel family's pursuit of their version of the American Dream. "The Queen of Versailles" comes off as a kind of modern cautionary tale on the danger of greed and materialism. It won a number of awards, including the U.S. Director award at the Sundance Film Festival and the Cine Sparks Jury Award at the Brisbane International Film Festival.
In her latest work — "Generation Wealth" — Greenfield expands her focus rather than zeroing in on one family. "Generation Wealth" is a multimedia project featuring three primary components — a film, a book, and an art exhibition.
We recently sat down with Greenfield to discuss her latest film, which is available to stream via Amazon, and discussed how overspending and the desire for more have come to define a significant part of not only American culture but the culture of the developed world.
'Generation Wealth' Reveals an Unsustainable Culture Based on a Perpetual Desire for More
In the film, Generation Wealth, Greenfield explores the notion of the new American Dream that has been emerging in recent decades and in some ways has spread across the world.
The topic is examined through a combination of photographs, news footage, and Greenfield's interviews. She dives into her own past work, revisiting some of her earlier photographic subjects, including grown-up versions of the teens included in her book, "Fast Forward," that looked at '90s youth culture in L.A.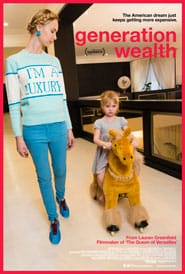 Greenfield also speaks with author Bret Easton Ellis, whose own novel — "Less Than Zero" — was one of Greenfield's earliest inspiration because of the way it skewered L.A. for its culture of excess and desire in the 1980s.
Through this combination of documentary reporting and commentary, Greenfield weaves her way through a number of subjects throughout the course of the film. Some of the main characters include a former investment banker in exile due to U.S. fraud charges, a former porn star, the self-proclaimed "Limo King," and a plastic surgery-obsessed single mother.
Each segment is part of a larger story about a culture increasingly obsessed with wealth, status, materialism, and, ultimately, emptiness. Greenfield has a way of portraying her subjects in a stark and brutally honest light. While some of her subjects acknowledge the vacuous nature of their pursuits, it's clear that they aren't all about to change their ways.
Greenfield also turns the camera on herself and her family. With a career that has focused a scrutinizing lens on the most wealthy and those who aspire to be like the most wealth, she wonders if she is obsessed with obsession.
Like "The Queen of Versailles," "Generation Wealth" ponders whether our materialistic culture has reached its apex and how long it will take for things to come crashing down around us.
Greenfield on Wealth and Consumerism as Addictions
Early in her career while on assignment in Mexico for National Geographic, Greenfield said there was a point when she realized she was out of her element. She did not understand the culture well enough to add anything of substance to the assignment.
Around that same time, she re-read Ellis' "Less Than Zero."
"I was thinking about this crazy world of L.A. and celebrity and image and materialism, as well as some of the stuff I had seen in high school in Santa Monica," she said. "I started thinking that I wanted to go back home and document my own culture. So, that's where 'Generation Wealth' begins."
Greenfield said "Generation Wealth" is essentially a 25-year project that really began with her early work in L.A. Eventually, she visited places like China and Russia and saw the same types of materialistic values taking hold.
It looked strikingly similar to what she had seen in L.A., she said.
And of course, back home in the U.S., what Greenfield had once considered Hollywood culture had spread across the country. But for most Americans, living a lifestyle on par with the wealthy elites they saw on TV and in the news was unrealistic, yet many still aspired to it.
"In the 2000s, people were able to get what seemed like free money that came in this boom that allowed people to indulge these fantasies," Greenfield said.
Because the popular media had given so many people the notion that they too could become rich — whether they were working poor or middle class — a lot of people felt the impacts of the 2008 economic crash as the bubble burst, she said.
"When these brands and material aspirations start to define us, then we get into the cycle of emptiness and addiction that doesn't lead us to happiness or satisfaction," Greenfield said. "It leads to endless dissatisfaction and eventual crash."
And that's just what she saw in "Generation Wealth," she said. Although many people were hurt by the 2008 crash, society doesn't seem to have learned its lesson because the same materialism and aspiration to wealth has returned in full force, if not stronger, Greenfield said.
The Proliferation of Media and Social Media Leads Consumers to Aspire to Unrealistic Standards
Greenfield said as she was making "Generation Wealth," she considered how a lot of today's values of wealth and consumerism began in L.A. with the media export of shows like "Beverly Hills 90210," then "MTV Cribs," and more recently, "Keeping Up with the Kardashians."
"These values were exported and blew up around the world," she said.
She said she found it very interesting to see how a communist country like China — or Russia with its communist history — had embraced brands and materialism even more fervently because that tendency had been pushed down for so long by the government.
"I think the only reason I did this project was that I saw these common threads that I had seen in the '90s, but on steroids," Greenfield said.
Watch on
She said the way we consume media has amplified the desire for wealth and luxury in our culture. The beginning of 24-hour cable, MTV, the materialism presented in hip-hop, and reality television have helped get us here and social media has helped launch it all to a whole new level, she said.
"With social media, we're living in this collective, perpetual state of FOMO and this constant comparison with others," Greenfield said.
In her book, she quoted Pulitzer Prize-winning journalist Chris Hedges, who said social media is the end of friendship. Where real-life friendship is about vulnerability and breaking down boundaries, social media is simply about outward presentation and comparison.
Greenfield said she was influenced by economist and sociologist Juliet Schor, whose research shows how people used to compare themselves to people they knew. But as media consumption has increased, people compare themselves to celebrities.
"It used to be whether the person down the road had a little bit nicer house or a better car, but people began feeling like they know the characters on TV better than their neighbors," Greenfield said. "Keeping up with the Joneses literally became keeping up with the Kardashians."
She said this state of constant comparison leads people to want more and more whether they can afford it or not.
Greenfield's Film Ponders the Hope of Recovery
"Unlike the book and exhibition, the film version of "Generation Wealth" ends on a more hopeful note," Greenfield said.
In the film, she puts forth two potential paths where our culture could be headed. On one path, she paraphrased Hedges, who predicted that the next time the U.S. falls we are going to bring the whole world down with us. She said, on the other hand, there is the possibility of waking up to what's important and making the changes we need.
"In addiction, there is hope for recovery when you hit rock bottom," Greenfield said.
Cover image by Lauren Greenfield, © Lauren Greenfield. 
Advertiser Disclosure
BadCredit.org is a free online resource that offers valuable content and comparison services to users. To keep this resource 100% free for users, we receive advertising compensation from the financial products listed on this page. Along with key review factors, this compensation may impact how and where products appear on the page (including, for example, the order in which they appear). BadCredit.org does not include listings for all financial products.
Our Editorial Review Policy
Our site is committed to publishing independent, accurate content guided by strict editorial guidelines. Before articles and reviews are published on our site, they undergo a thorough review process performed by a team of independent editors and subject-matter experts to ensure the content's accuracy, timeliness, and impartiality. Our editorial team is separate and independent of our site's advertisers, and the opinions they express on our site are their own. To read more about our team members and their editorial backgrounds, please visit our site's About page.