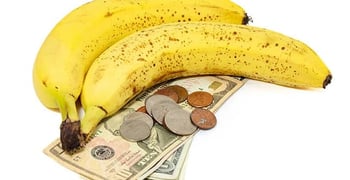 Experts share their tips and advice on BadCredit.org, with the goal of helping subprime consumers. Our articles follow strict
editorial guidelines
.
Nature has an interesting way of teaching and inspiring, which can often apply to our finances.
Consider how bananas could teach us how to expand our way of looking at things. When you grab that banana for your quick potassium energy fix, do you only see a tasty, healthy snack and discard the banana peeling?  This may just be a "rather limited and uncreative way of looking at a situation" as Johnny Depp so poignantly said.
Let's look at a more expansive and creative view of the humble banana plant and then explore ways to be more creative with your finances.
A quick search for ways to use a banana will pull up an enormous variety of "20 uses for a banana" type websites –  things like face masks, leather shoe shiners, roast tenderizers, polish for silverware or even cures for warts.
What about those banana peelings you've been tossing in the garbage for years? Would you ever associate those peelings with bioplastic?
Elif Bilgin, a 16-year-old Turkish girl, won $50,000 and Google's 2013 Science in Action award for developing a method for making bioplastic out of banana peelings.
Can you imagine the new possibility of having cosmetic prostheses or insulation for electrical cables coming from an inexpensive and nontoxic plastic made from bananas?
How's that for creative and expanded thinking?
Below are a few budgeting strategies to help you expand your own way of handling your personal finances.
1. Find some financial literature
If you're a hands-on person, find financial help books that speak your language and make sense to you. Be sure they are also practical and have worksheets already in the book to prompt you to get started right away. 
Libraries and bookstores offer many examples of great personal finance books. My personal recommendation is my book "The Budget Kit," which already includes dozens of worksheets.
2. Keep your money where you can see it
Envelopes or jars are other tangible tools for driving home how much money is still available for each of your main spending categories. One look at your jars or in the envelopes and you'll know immediately if your grocery, gas or entertainment money is running low.
3. Use every tool
Many software packages exist and have tons of bells and whistles. If you're going to pay for these packages, be sure to take the time to really utilize all their tools.
4. Automate your budgets
Take advantage of free programs from your own bank or online programs like Mint  or Vertex — both great options if you're using the snowball method.  These tools will help you see immediately how long it will take to pay off your debt.
5. Stay up to date on the go
If you live mostly with your mobile device, then explore personal finance apps to track your spending, outline your expenses and remind you of upcoming bills.
6. Plan for what's ahead
Whatever strategy you use, be sure to take the time to outline your periodic expenses throughout the year, such as oil changes, gifts, annual fees, child activities, school expenses and so on.
Next be proactive and prepare for future expenses by tracking your past expenses.
7. Don't spend it all in one place
If your checking account is flush, sweep more of that money into your emergency savings.
Avoid giving yourself a false sense of financial security, splurging and forgetting there's a big bill due in two months.
Just as you pick up a banana to eat for your health, pick out a new tool or strategy that will improve your own financial health. Every little bit, including the garbage peel, can make a difference.
Photo credits: http://blogs.biss.com.cn/, http://uzuncorap.com/, Flickr/San Sharma