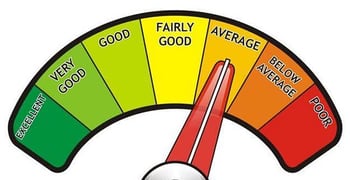 No one wants a bad credit score. We all know it affects what we pay for insurance and our ability to borrow money, land a job, or rent a house. Avoiding a bad credit score is just the smart thing to do.
But what's considered a bad credit score? Is there a magic number that is seen as a risk? Actually, there is — but it's a little complicated.
Anything Below 660, Theoretically Speaking.
Everyone who has ever gotten a loan, charged something on a credit card, or paid a bill has a credit score. The scoring system the major credit rating agencies use is called the FICO system, and it has a range of between 300 and 850 points.
Using this system, a score of 850 is the best you can be assigned.
Depending on the credit rating agency you ask and what region of the country you're in, the average credit score in the U.S. is between 660 and 700. Theoretically, this means a credit score below 660 is considered a bad credit score.
However, FICO itself considers a score of between 625 and 659 to be a "standard" rating. The score range they reserve for "subprime" is 624 and below.
If your credit score is above 700, you can be pretty sure banks and lenders will see you positively. Below 650 points or so and it's a gamble.
If you are one of those unfortunate enough to have a score in the subprime category, there are things you can do to improve your credit score.
Lexington Law Credit Repair Can Help
By paying your bills when they're due, you receive a positive weighting on your credit score. The more you meet your obligations and pay your debts, the better your credit score is likely to be. But if you should fall behind in your payments or default on a loan, your credit score will take a hit. And it doesn't take too many of these hits to bring your credit score crashing down to earth.
A credit repair service can remove negative items from your credit reports. Lexington Law's past clients have seen an average of 10.2 negative items removed from their credit reports within four months. It's definitely worth it if you've got some things on your report dragging your score down.
Free consultation: 1-855-200-2394
Most results of any credit repair law firm
Clients saw over 9 million negative items removed from their credit reports in 2016
More than 500,000 credit repair clients helped since 2004
Cancel anytime
| Better Business Bureau | In Business Since | Monthly Cost | Reputation Score |
| --- | --- | --- | --- |
| See BBB Listing | 2004 | $89.95 | 10/10 |
Consultations are free and there's never any obligation. Lexington Law also has a good reputation, sporting 4.5 stars with Consumer Affairs.
A Secured Credit Card is Another Good Option
A secured credit card can actually help boost your score when you use it responsibly. By responsibly, we mean always paying your monthly bills on time, never missing a payment, and keeping your credit utilization ratio low. Here are the top-rated secured cards for folks looking to rebuild their credit as reviewed by our experts:
Easy application! Get a credit decision in seconds.
Build your credit history – Fingerhut reports to all 3 major credit bureaus
Use your line of credit to shop thousands of items from great brands like Samsung, KitchenAid, and DeWalt
Not an access card
| Application Length | Interest Rate | Reports Monthly | Reputation Score |
| --- | --- | --- | --- |
| 5 Minutes | See issuer website | Yes | 9.0/10 |
Checking account required
Fast and easy application process; response provided in seconds
A genuine Visa card accepted by merchants nationwide across the USA and online
Manageable monthly payments
If approved, simply pay a program fee to open your account and access your available credit
Reports monthly to all three major credit bureaus
| Application Length | Interest Rate | Reports Monthly | Reputation Score |
| --- | --- | --- | --- |
| 9 Minutes | See terms | Yes | 8.5/10 |
Get the security and convenience of a full-feature, unsecured Visa® Credit Card – accepted at millions of merchant and ATM locations nationwide and online
Reporting monthly to all three major credit reporting agencies
Perfect credit not required for approval; we may approve you when others won't
Easy and secure online application
If approved, pay a Program Fee and you can access the $300 credit limit (subject to available credit)
| Application Length | Interest Rate | Reports Monthly | Reputation Score |
| --- | --- | --- | --- |
| 10 Minutes | See Terms | Yes | 8.0/10 |
A secured credit card works the same as an unsecured card — the only difference is that it requires a deposit to secure your line of credit.
Remember, nothing is permanent. Our credit scores are being recalculated all the time. With a little help, you can quickly improve yours. And whether you're carrying a secured or unsecured credit card, paying your monthly bill on time is one of the most important factors when it comes to determining your credit score.
Photo source: bobrutledge.com.