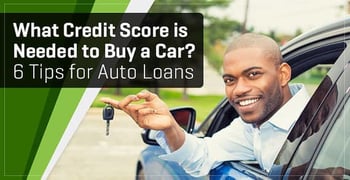 My old roommate Chris found himself in a vicious cycle in which he wondered what credit score is needed to buy a car. His beat-up truck finally met its maker, and, with not much in his savings account and a maxed-out credit card, he couldn't afford another car. He began relying on friends for rides to work. One day, he missed his shift and lost his job.
Now he was in a worse situation with no income. Chris found another job shortly after, but he needed transportation. He knew his credit was in bad shape, but he had to try to get a car loan to start reversing the cycle. Fortunately, he found an online auto finance company that specialized in working with people with credit issues.
If you're ever in a similar situation, the important thing to remember is that all hope is not lost. There are resources available, and if you're willing to make the effort, you can do a lot to improve your financial standing. So, if you're also wondering about what credit score is needed to buy a car, keep reading as we take a look at information about scores, the best lenders, leasing considerations, and much more.
Minimum Score | Best Lenders (3) | Leasing a Car
Loan Terms | Improving Credit | Beware 'No Credit Check'
1. A Minimum Credit Score for a Car Loan Doesn't Exist
The simple answer to "What Credit Score is Needed to Buy a Car" is that there is no simple answer. A bad credit score is usually not prohibitive in getting a car financed, but lower APRs will only be available for people with better credit.
Minimum acceptable credit scores will often depend on the lender, but dealerships typically hover around the 620 mark. However, many lenders are willing to work with people with lower-than-average credit scores.
While free credit scores can be an educational tool, the vast majority of lenders look at FICO scores when determining whether to approve loans.
The first step is finding out your FICO score. Knowledge is power. When you're starting the process of purchasing a vehicle, know what a good APR is for your credit range, and what steps you can take before seeking out a car loan. If you're unsure how to check your FICO score, we have a helpful guide on the subject.
If you find that your FICO score is lower than you thought, don't despair. With the available resources these days, it's easier than ever to get a loan.
2. Best Auto Lenders for Bad Credit
If you've already discovered that your credit score is in the subprime range (less than 620), you're likely better off starting with companies that specialize in approving these types of car loans. Here are our three best bets for companies that are more likely to approve subprime car loans:
Network of dealer partners has closed $1 billion in bad credit auto loans
Specializes in bad credit, no credit, bankruptcy and repossession
In business since 1999
Easy, 30-second pre-qualification form
Bad credit applicants must have $1500/month income to qualify
| Interest Rate | In Business Since | Application Length | Reputation Score |
| --- | --- | --- | --- |
| 3.99% - 29.99% | 1999 | 3 minutes | 9.5/10 |
Free, no-obligation application
Specializes in auto loans for bankruptcy, bad credit, first-time buyer, and subprime
Affordable payments and no application fees
Same-day approval available
Connects 1000's of car buyers a day with auto financing
| Interest Rate | In Business Since | Application Length | Reputation Score |
| --- | --- | --- | --- |
| Varies | 1994 | 3 minutes | 9.0/10 |
Loans for new, used, and refinancing
Queries a national network of lenders
Bad credit OK
Get up to 4 offers in minutes
Receive online loan certificate or check within 24 hours
| Interest Rate | In Business Since | Application Length | Reputation Score |
| --- | --- | --- | --- |
| Varies | 2003 | 2 minutes | 7.5/10 |
These three companies have plenty of experience getting financing for people with bad credit, no credit, or in bankruptcy.
3. A Lease with Bad Credit isn't Likely
A lease usually involves lower monthly payments and might seem like an attractive option, but, particularly for people with bad credit, this arrangement sometimes has more downsides than benefits.
It can be more difficult to qualify for a lease than for a loan. Many lenders prefer not to lease vehicles to people with bad credit, so they are likely to ask for large down payments and charge high interest rates.
Some might even require more frequent payments. Instead of monthly payments, they may want you to make payments every week or every other week. Leases also don't provide any equity and often involve mileage limits.
4. How Credit Score Affects the Terms of Your Auto Loan
The general rule of thumb here is the lower your credit score, the higher the interest on your auto loan, which means that new car will ultimately cost you more in the long run.
People with excellent FICO scores (720-850) paid an average 3.336% interest rate for a 60-month new car loan starting in August 2016, according to GoBankingRates.com, while people with low FICO scores (500-589) were charged 14.806% in interest over the same term.
So if a car is going for $18,000, it will cost people with excellent credit $326 a month for a total of $19,568 over five years at 3.336% interest. Meanwhile, someone paying that 14.806% interest rate without a down payment will shell out $426 a month and end up spending $25,583 for the same car. That's more than a $6,000 difference.
Most people won't fall in the highest or lowest category, so here's a breakdown of how a wide range of FICO scores can affect the total amount paid over the course of a five-year loan:
| FICO Range | APR | Monthly Payment | Total Interest Paid | Total Cost |
| --- | --- | --- | --- | --- |
| 720-850 | 3.336 % | $326 | $1,568 | $19,568 |
| 690-719 | 4.66 % | $337 | $2,213 | $20,213 |
| 660-689 | 6.753 % | $354 | $3,260 | $21,260 |
| 620-659 | 9.399 % | $377 | $4,629 | $22,629 |
| 590-619 | 13.719 % | $416 | $6,973 | $24,973 |
| 500-589 | 14.806 % | $426 | $7,583 | $25,583 |
The leap from a low credit score to an excellent one is significant and would take a long time to accomplish, but even slight improvements in your credit score can save a lot of money over the life of a car loan. Getting your FICO score up to 620 would get you to around a 9.399% rate and save you close to $3,000.
When possible, it's a good idea to save up for a down payment, particularly if your credit is bad. A smaller loan amount translates to a shorter term loan, and if you're being charged a high APR, it's important to pay off the loan as quickly as you can afford to.
5. Find Ways to Improve Your Credit Score
You've seen how much money you can save in interest rates with a higher credit score, but many people can't wait the time it takes to improve their scores before they need to get back on the road. In today's world, having a personal mode of transportation is all but a necessity for day-to-day life, particularly for folks who don't live in a big city with access to public transportation.
A great shortcut to improving your credit score and getting a lower rate on a car loan is using a credit repair service.
AnnualCreditReport.com is a free government resource you can use once a year to get your credit reports from the three major credit reporting bureaus (Experian, TransUnion, and Equifax). You might find issues on your credit reports that don't belong there, and with the help of our most trusted credit repair services, you can dispute those items.
Consultations are always free. Here are three best bets for credit repair services:
Free consultation: 1-855-200-2394
Most results of any credit repair law firm
Clients saw over 9 million negative items removed from their credit reports in 2016
More than 500,000 credit repair clients helped since 2004
Cancel anytime
| Better Business Bureau | In Business Since | Monthly Cost | Reputation Score |
| --- | --- | --- | --- |
| See BBB Listing | 2004 | $89.95 | 10/10 |
Free consultation: 1-855-200-2393
Average 40-point increase in Transunion credit score during first four months
Free access to your credit report summary
Three-step plan for checking, challenging and changing your credit report
Online tools to help clients track results
| Better Business Bureau | In Business Since | Monthly Cost | Reputation Score |
| --- | --- | --- | --- |
| See BBB Listing | 1997 | $99 | 9.5/10 |
Free consultation:

1-888-805-4944

In business since 1989
Quick pace: Sky Blue disputes 15 items monthly, track your progress 24/7
90-Day 100% Money-Back Guarantee
Low $79 cost to get started, cancel or pause your membership anytime
| Better Business Bureau | In Business Since | Monthly Cost | Reputation Score |
| --- | --- | --- | --- |
| See BBB Listing | 1989 | $79 | 9.5/10 |
6. Beware of "No Credit Check" Car Dealers
If you have bad credit, you might be tempted by dealerships advertising no credit checks on their sales. These dealers finance the cars they sell themselves, so they are taking on a great risk. This translates into high rewards for them, and exorbitant interest rates for you.
When you know your credit score is in bad shape, this may seem like an option. But these arrangements often don't include standard additions, like extended vehicle warranties, which can be detrimental to consumers.
If something goes wrong with your car, you could be on the hook for paying for your repairs and your high-interest car loan.
Buy a Car with No Credit, Bad Credit, or Fair Credit
Chris was in a tough situation, but he got back on the road by using resources available to those with bad credit. After all, how was he ever going to improve his financial standing if he couldn't get to work?
With no transportation to his job and no income, his credit card bills would keep piling up. Fortunately, he took action. Using one of our three top choices for online lenders that specialize in subprime auto loan approvals, you can also get back on the road to improving your credit.