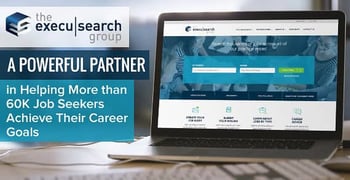 Experts share their tips and advice on BadCredit.org, with the goal of helping subprime consumers. Our articles follow strict
editorial guidelines
.
In a Nutshell: In spite of high job availability and an explosion of online job boards, today's ever-changing job market is still difficult to tackle without the right resources and expert guidance. If you're starting to feel defeated in your quest for the ideal job that fits your skills, career goals, and financial needs, The Execu|Search Group can help. Launched in 1985 as a one-man recruiting agency for the accounting and finance industries, The Execu|Search Group has grown into a leader in recruitment, temp staffing, and workforce management solutions. Over the last few years, it has moved beyond recruiting into educating and equipping the public for the challenges of the modern job market. With customized career-search tools, a staff of industry-expert recruiters, a wealth of education resources, and training courses catered to the healthcare field, The Execu|Search Group has already helped more than 60,000 people navigate the job market and land a career that brings lasting financial success.
According to Bureau of Labor statistics, right now is the best time to find a job in 15 years. But, if you're one of those doing the searching, it certainly doesn't seem like it's gotten any easier. In spite of a proliferation of online job boards and search tools, searching for the perfect fit can feel like blindly aiming at a target you can't see. Job coaches say it can take three to six months to find a job — sometimes as long as two years! Meanwhile, there are bills to pay and mouths to feed.
After months of filling out countless job applications and sitting through stressful interviews but still not finding the job you're looking for, it's tempting to just settle for whatever you can find. It's easy to feel like you're doing something wrong, or there's something wrong with you. Either you're not qualified enough or there's just not a job available in the niche you're looking for.
Neither of these is necessarily true. Maybe the problem isn't your education or job skills, but a lack of knowledge about how to showcase them in a way — and in a place — they'll be recognized by the right employer.
"The job market is constantly changing," said Hannah DeGiovanni, Chief Marketing Officer for The Execu|Search Group. "Today's job market is different than it was five years ago, or 20 years ago."
To navigate this job market, it takes education and the help of people with the inside scoop.
The Execu|Search Group offers both. Launched in 1985 as a recruiting firm for the accounting and finance industries, it now works with both job seekers and employers in 11 key industries. With the dynamic duo of educational resources and industry recruitment experts, The Execu|Search Group has already helped more than 60,000 people connect with more than 26,000 companies over the years.
"I think that our resources are especially important for people who haven't been job searching in a while because the process has changed a lot," Hannah said.
Among the best resources The Execu|Search Group provides are the people — industry experts who can help guide job seekers through that process with their own inside knowledge and experience.
Take Control of Your Career with In-the-Know Job Coaches
The Execu|Search Group has pages to register for job alerts and search for jobs in specific fields on your own, but you can also submit your resume and let one of its expert recruiters find those invisible connections and jobs you won't find anywhere else. Its extended network includes industry experts in the 11 practice areas they help make placements in: accounting/finance, creative and digital, engineering, financial services, health services, human resources, information technology, legal services, life sciences, nonprofit, and office support.
Watch this video to see how one of The Execu|Search Group's experts can help you zero in on your target job and take control of your career.
These experts know their fields from the inside-out — from the basics of what employers are looking for on a resume to current hiring trends within the given industry. Their goal is to fine-tune what you already have going for so you can stand out from the rest. This includes:
Developing a customized search strategy based on your skills, expertise, and desire for either short-term/temporary employment, or full-time employment
Tweaking your resume to best showcase your skills and career focus
Interview coaching
Salary negotiation
Continuing support and career advice, even after you get hired
A commitment to building relationships with job-seekers helps The Execu|Search Group stand out from other employment matching services. Hopefully, your new job will be so perfect that you never want to leave, but it's nice to know you have an industry expert on your side if you are ever looking for a new opportunity elsewhere.
Helpful Career Resources, Blog Posts, Infographics & Videos
About four years ago, The Execu|Search Group decided to expand its focus. Now, it not only connects job seekers and hiring managers, it also equips both sides with the vital educational resources they need to find the right jobs and employees.
"We know job seekers have a lot of resources and places they can go to find jobs, so we wanted to do something to stand out," Hannah said. "We believe education is key to building trust and credibility with our audience."
Due to their wealth of insight, The Execu|Search Group's seven-person marketing team is able to create the majority of its educational resources, ranging from general career advice like how to prepare for tough interview questions or format a resume, to the field-specific needs of one of its 11 practice areas.
Its resource page includes extensive whitepapers and e-books like the "Job Search Survival Guide," compelling infographics like the "7 Step Guide to Acing an Interview," blog posts like "5 Soft Skills Millennials Can Prove on Their Resumes," as well as several case studies and videos.
HEDIS Classes Bolster Resumes for Healthcare Professionals
In response to growth within the healthcare industry in the last decade, The Execu|Search Group provides not only job search resources but also more in-depth training for nurses and therapists through accredited courses that follow national guidelines for the development, quality, and delivery of continuing education.
"Continuing education is something that's very important in many industries, but it's something we're trying to specifically provide for our healthcare candidates," Hannah said.
Utilizing both outside and in-house subject matter experts, The Execu|Search Group offers Healthcare Effectiveness and Information Set (HEDIS) courses and Quality Assurance Reporting Requirements (QARR) training sessions, both online and in their East Coast offices. The classes are designed for both non-clinical health professionals and clinical Registered Nurses (RNs), Licensed Practical Nurses (LPNs), and Foreign MDs.
Finding the Perfect Job is the Fastest Pathway to Success
The shortest distance between two points may be a straight line, but without the right job tools, resources, and an expert guidance system, finding your way from where you are now in your career and financial outlook to where you want to be (your dream job) is hardly ever that easy — especially in today's overwhelming and complex job market.
"For all our audiences, education is so important," Hannah said.
The expert team at The Execu|Search Group can help you get that education, and what's more, walk with you to make sure you reach your goal, without shooting blindly or settling for a job that's just OK.
With the perfect job, you'll be ready to take that straight-line journey to long-term career and financial success.