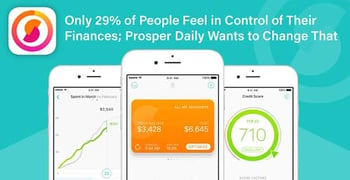 Experts share their tips and advice on BadCredit.org, with the goal of helping subprime consumers. Our articles follow strict
editorial guidelines
.
In a Nutshell: The new Prosper Daily app is the reinvention of the former 5-star rated BillGuard app, now with credit monitoring, a free TransUnion credit score, and enhanced functionality for consumers to track spending across all accounts. By categorizing purchases, users of the app can see money coming in and money going out, showing how much is spent in each over time to help better manage finances. Prosper, the original marketplace lender, is now the only marketplace lender with a financial wellness app for consumers, further demonstrating its commitment to ingenuity in fintech.
I have a grossly expensive coffee addiction. Well, I assume it's expensive. To be honest, I don't know the exact amount I spend on coffee, but I know it's enough to make my Folgers-drinking grandfather cringe. I haven't done the math because I choose to live in ignorant latte bliss.
I'm not exactly a minority here — the average millennial spends $25 a week, $100 a month, or $1,200 a year on coffee — equal to the cost of my monthly phone bill, car insurance, or prescription asthma and allergy medication; you know, things some would say are a little more essential than coffee. This is the norm for a generation of coffee snobs, to which I belong.
I can't imagine a morning where I functioned properly without my caffeine fix. I know a few people who avoid caffeine, and I haven't decided if I envy or pity them, but I'm leaning toward the latter.
Alas, today is the day my coffee cup runneth over. The new Prosper Daily app is going to show me the cost of my two-, sometimes three- if I'm having a rough afternoon, cup-a-day addiction.
Prosper Daily is the culmination of BillGuard, the fastest growing personal finance app in the U.S., and Prosper, the original marketplace lender and one of America's fastest growing private companies, "joining forces to create the ultimate financial well-being platform."
Prosper Daily Carries Out BillGuard's Mission: Empower Consumers to Control, Protect, & Do More with Their Money
The Prosper Daily app is the reimagination of the former five-star rated BillGuard app, which has flagged over $70 million in unauthorized charges to date and was named Best App of 2014 by Google. Prosper is now the only marketplace lender with a financial wellness app for consumers, further demonstrating its continued commitment to ingenuity in fintech.
Prosper conducted a survey that found "only 29% of people feel very strongly that they are in control of their finances, and nearly 50% live paycheck to paycheck." The findings also found that Americans are eager to use technology to regain control of their financial lives, and the Prosper Daily app can help consumers do just that by carrying out BillGuard's founding mission to empower consumers to control, protect, and do more with their money.
The acquisition means more resources to further implement this mission and make the app better than ever, says Bill Heye, General Manager of Personal Finance at Prosper Marketplace.
"Since the acquisition last September, the BillGuard team has grown. We have new product and marketing team members and have benefited enormously from working more closely with Prosper's business development, marketing, and product teams. As a result, we launched Prosper Daily within six months of acquisition, and we now have more resources than ever before to make a great product even better."
See How Much You're Spending in Specific Categories Across All of Your Accounts
The app can track categories such as clothing, eating out, transportation, groceries, coffee, and really anything you want to mark as a specific category to show you how much you're spending in each.
"The main use of the app is to have people track their spending across all accounts to see the money that's coming in and the money that's going out. You can categorize purchases and see what's essential and non-essential spending. This is a great start to getting on top of your finances," says Jennifer Clark, Director of Consumer PR at Prosper.
"You realize, 'Gosh, I'm spending $200 on Ubers this month or spending $100 on Starbucks lattes a month (ahem), maybe there's a way I can cut back; brew my own coffee or walk a little more,'" she continued.
This is also the point of our conversation where I began to feel personally victimized.
Additionally, the app will send you an email each week to show if your spending has increased or decreased from the previous week, as well as your expenses over time.
"If it's the 15th of the month and my spending is increasing, I probably need to cut back so I can cover all of my expenses that are due on the 1st," Jennifer explained of her personal use with the app. "That really quick snapshot each week helps to calibrate me, personally. 'Am I doing good? Do I need to scale back a little bit?'"
Track APR Changes So You Always Know What You're Paying in Interest
Another way the Prosper Daily app helps track expenses is by showing you your credit card's APRs, so you know exactly what you're paying in interest at all times.
"You can upload all of your cards, and we track your APR and make sure that it's prominently shown because a lot of people tend to not know what their APR is because they change over time. We make sure that from a visual standpoint it's prominent so you know how much you're paying annually in interest," says Jennifer.
By showing you your APR, the app can also let you know if you qualify for a better one – another way Prosper helps support healthier spending.
"If there's an opportunity where we can offer you a better rate, we will. If you're carrying a $5,000 or $10,000 balance and you can get a loan from us to consolidate that debt, it'll be much cheaper for you in the long run," she further explained. Users already have the option to "optimize" their credit through a button in the app that links to Prosper.
Free TransUnion Credit Score & Identity Theft Protection
"The goal of the app is to make sure that people are on top of their money, identity, and credit," Jennifer added. "That's why you can check your monthly credit score for free on the app."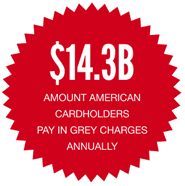 Prosper Daily offers a free TransUnion credit score and identity theft protection to help keep your accounts safe and secure. The app flags grey charges that impact one in three Americans each year and sends a notification each time one is detected.
The app also offers a premium version for $9.99/month, or save 30% by paying for the year upfront. The premium version includes additional identity protection, 3-bureau credit monitoring, and 24/7 live support.
Additionally, premium app users can call Prosper in the event their wallets are lost or stolen, and customer support will help contact the different organizations required to cancel and replace the contents of their wallets.
The Not-So-Surprising Results of My Coffee Addiction
I said I was going to begrudgingly find out and share with you how much I spend on coffee per the app, and as promised, I've charted the totals below. For the sake of my sanity, I only looked at the results for this year, beginning January 1 to mid-May.
| MONTH | SPENT |
| --- | --- |
| January | $110.00 |
| February | $85.39 |
| March | $77.00 |
| April | $126.25 |
| May | $7.50* |
*The only reason May is as low as it is is because I won a Starbucks gift card from work and was also gifted one recently. But if you must know, and for the sake of accuracy and journalistic integrity or whatever, the Starbucks app shows I've used $27.06 of my gift card balance this month; therefore I've really spent $34.56 on coffee as of May 16, meaning I've spent $433.20 so far this year.
Granted, none of this takes into account my K-cup purchases for my Keurig at home because that would take digging into old grocery receipts and ain't nobody got time for that. If I had to guesstimate, I'd say two boxes a month at around $10 each, which means adding another $100 to the previous total.
The Good News
I've spent an estimated grand total of $533.20 on coffee so far in 2016, a little less than halfway through the year. This means I've spent more than most millennials (as expected), but not if you don't count the K-cup purchases, in which case I'm actually about $20 shy of the majority at this point in the year.
This was a happy surprise and I'm considering it a win, again, for my own sanity.
The Bad News
By entering all of my account information I was forced to look at ALL of my spending, not just my coffee purchases. Turns out I have other areas of blatant concern, but that's for another article.
Of course, this is what the app is supposed to do — show you what's coming in and what's going out so you can begin to manage your spending and finances accordingly.
Future Improvements Include Functionality for Prosper Borrowers & Investors
Prosper Daily has future enhancement plans that include allowing Prosper borrowers and investors to manage their accounts from within the app. Borrowers will be able to see their loan progress and make payments, while investors will be able to view their investment portfolios and process transactions.

As for my coffee addiction, while I discovered my bill is mostly on par with that of other millennials, spending that much on a beverage each year is still concerning. There are a lot of really nice things $1,200 saved could buy. Better yet, I could throw it into an investment account and have $40,000 in 40 years!
Now, I'm not giving coffee up, that's just absurd. But thankfully my office, where the majority of my coffee drinking ensues, just got an ice maker, and I'm now encouraged to make my delicious iced coffee at work and begin saving a few dollars. In a month's time, I'll be the office barista and my Prosper Daily "Coffee" category will be much more forgiving, as will my grandfather.