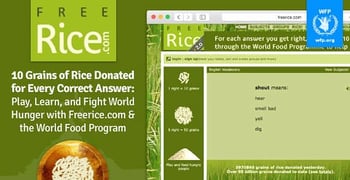 Experts share their tips and advice on BadCredit.org, with the goal of helping subprime consumers. Our articles follow strict
editorial guidelines
.
In a Nutshell: For many, making a difference by helping those in need is not only something we should do, but something we want to do. Unfortunately, not everyone has the same resources to offer — and some, none at all. When you have an empty wallet but a full heart, there's Freerice.com. A part of the United Nations' World Food Program, Freerice offers users the chance to play a fun trivia game, increase their literacy in more than 21 categories, and help fight world hunger — all at the same time. Through the use of sponsored ads that generate a donation of 10 grains of rice for every correct answer, Freerice users have collectively donated more than 100 billion grains of rice since 2007.
As a long-time resident of Florida, I know all too well the impact a major natural disaster can have on a populated area; the destructive power of Mother Nature is profound. For countries without the comprehensive resources and infrastructure of the U.S., major forces of nature such as hurricanes and earthquakes can be catastrophic.
During times of crisis, we naturally want to reach out to those affected; often, we're taught that the best way to make a difference is to give our money to a worthy cause. When struggling with a heavy debt burden, though, more often than not, our coffers are bare.
For a society that donates an average of around $300 billion to charitable organizations every year, not having the ability to contribute to important social causes can have a negative impact on personal morale. What people tend to forget, however, is there are many ways to help out — like using Freerice.com to help provide food to those in need.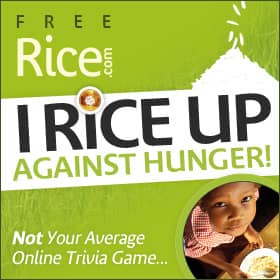 Started in 2007 by philanthropist John Breen, who donated the site to the United Nations' (UN) World Food Program (WFP) in 2009, Freerice.com donates 10 grains of rice every time a user correctly answers multiple-choice questions on a variety of topics.
While 10 grains a pop may not seem like a lot at first, it adds up quickly — especially with more than 806,000 people playing each month. In fact, Freerice users donate an average of 5 million grains of rice (approximately 185 pounds) through WFP every day.
"The dimensions of hunger and poverty are complicated and, I think, sometimes hard for people to wrap their minds around," said Steve Taravella, the Senior Spokesperson in Washington for WFP. "Something like Freerice, which is easy to understand for most people, easy to use, has an element of fun, and generates learning — it's win-win-win-win."
Increase Literacy in Over 21 Different Subjects While Helping Someone in Need
When it comes to mindlessly addicting distractions, the internet has the gambit; between an infinite number of cat videos and the never-ending survey stream, there are plenty of things to click on online. But, why waste time watching Mittens play piano when you could be feeding the masses — and learning French?
Freerice has over 21 subject areas, including chemistry and math as well as English vocabulary or foreign language skills. From geography to famous paintings, there's a Freerice category for everyone to learn. The wide variety of educational resources has even made Freerice a popular website in the classroom.
"71% of Freerice users are in the 11- to 17-year-old age range," said Taravella. "Many of them have played Freerice at school; a lot of teachers use the site to build student literacy. We hear from teachers from all over."
Don't let its popularity among the younger demographic fool you into thinking it's just for kids, though; Freerice has dozens of difficulty levels in each category that will prove an educational challenge to just about anyone. (For instance, do you know the meaning of "imprecation"? I didn't!)
So who actually funds all this learning and giving? Why, the eternal Ad, of course — sponsored advertisements. "The rice is contributed by the corporations who advertise on the page that appears when a user picks the right answer," Taravella explained.
The sponsor donates directly to WFP, who uses all of the proceeds to fight hunger. "WFP doesn't make any money off it; we use all of the funds from the corporate supporters to purchase the rice."
Providing Food for Victims of Famine, Political Conflict, and Natural Disasters
When it comes to fighting world hunger, WFP is home to many of the experts; they've been helping feed those who can't feed themselves for over 50 years. "We're the folks who go in times of natural disaster or political conflict," described Taravella. "Any kind of dramatic disruption in food distribution or access is a trigger for us to bring in emergency food."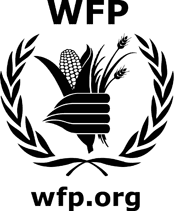 The donated food is transported at any given time to the areas in greatest need, like Haiti, where Hurricane Matthew destroyed broad areas of the country in October, or those affected by the Ebola outbreak in West Africa. WFP also responds to political upheavals such as the violent war in Syria or the South Sudan.
"Where the resources go just depends on where, at that moment, the greatest need exists," said Taravella. "It's never just one country, or the same country all the time."
The WFP is more than just disaster relief, though. "A huge amount of WFP's work is our regular, ongoing, daily food distributions for people who live where there is insufficient food," said Taravella. "We provide school meals for classrooms, where children will get one meal a day through WFP, and often, that's the only food that child will get all day."
WFP's program has been especially helpful in encouraging families to send their female children to school. "Many families are more inclined to send the boys to school if they can only afford to send one child, or a few children, and keep the girls at home to work," explained Taravella. "But, if they know sending the girl to school will give her a meal a day, they're much more inclined to send her."
Improve Someone's Life, One Grain at a Time
To date in 2016, Freerice users have helped contribute more than 2.9 billion grains of rice, which equals about 108,885 pounds of rice to those in need. If that doesn't sound impressive enough, since its conception in 2007, Freerice.com has helped users donate over 100 billion grains of rice around the world — all while improving their own literacy in a variety of subjects, including hunger itself.
"For us, part of the benefit of this site is it helps people learn more about hunger, while raising their own engagement level," said Taravella. "Hopefully, it will encourage them to maybe stay abreast of news around global hunger, or get involved in other ways."
For all of our faults, one of humanity's defining characteristics is the way we band together in times of crisis. When natural disasters — or man-made ones — strike, we feel compelled to contribute, whether we have the means or not. Thanks to venues like Freerice.com and the World Food Program, anyone can help make a difference for someone in need — regardless of age, employment, or financial ability.