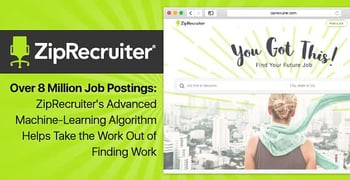 Experts share their tips and advice on BadCredit.org, with the goal of helping subprime consumers. Our articles follow strict
editorial guidelines
.
In a Nutshell: Finding the right job can sometimes seem as difficult as identifying a habitable exoplanet. In a sea of possibilities, separating the relevant openings from the millions of other listings can feel like a job in itself. Online job search site ZipRecruiter is taking the work out of finding work with its automated job-hunting features and advanced relevancy algorithm. Job seekers can receive instant alerts when new jobs are posted — and apply with a single button click. Or let employers find you by joining the résumé database used by hundreds of companies. Instead of suffering through pages of irrelevant jobs to find the one, millions of job seekers and employers are making ZipRecruiter the fastest-growing online employment marketplace.
Regardless of your background, something about a job search can really make you feel like a teenager again — in all the wrong ways. For many, the hunt for that perfect job posting is worse than trying to find a date to the big dance, full of fear that you'll never find the one (and a pile of bills saying you'd better keep looking).
Of course, even if you do manage to track down your dream job, you still have to metaphorically ask them to the prom — by sending in your résumé. So, you spend days crafting perfect prose and succulent stats, making yourself look your best for your potential employer. Then the waiting begins.
You spend your afternoons sitting by the phone, attempting to harness the Force so you can will it to ring. You've checked your email so frequently your provider wants to start seeing other people, and your pacing has worn a second Grand Canyon in your living room carpet. If only they would just say "yes!"
Good news: it doesn't have to be this way anymore. You can join the millions of people using ZipRecruiter to help take the work out of finding work.
"ZipRecruiter is actually the fastest-growing online employment marketplace," said Scott Garner, Corporate Communications Manager for ZipRecruiter. "We connect millions of job seekers and employers, through a number of different channels, including email, desktop search, mobile search, and our mobile app."
Rather than wade through every job posting on the web, or spend hours getting cozy with the page refresh button, ZipRecruiter users can enjoy a more low-maintenance job-hunting experience.
"I think there are a couple of things that make us different, but I think the user experience for the job seeker is what really sets us apart from the rest," Scott explained. "If you come to ZipRecruiter and you download our app, you can then enter your search terms — whatever job you're looking for — and you just let us do the work for you."
Find Jobs from Over 500 Sources & Apply Instantly
While ZipRecruiter may have been initially inspired as an easier way for employers to find great candidates in 2010, it quickly exploded into a full-on marketplace for both applicants and employers. With over 8 million active jobs at any given time, just about anyone can find a fitting posting — and apply almost instantly.
"We just want to remove the friction from what's kind of a tough process," said Scott. "Finding a job is difficult enough as it is without having to fight the system. We wanted to eliminate that. People post the job, then a job seeker can hit one button and apply to the job — and everybody just moves on with their day."
Seekers can sign up for a free account, upload their résumé, and, in only minutes, start applying to jobs from over 500 sources across the web. With so many available jobs, part of ZipRecruiter's ease of use comes down to its behind-the-scenes action. Users won't need to slog through every job posting on the site to find the ones important to them.
"One differentiator for us is the relevance of the jobs that you get. With some other platforms, you get a lot of stuff that just really isn't' right for you," Scott described. "We have a machine-learning algorithm that matches the relevancy of your skills to the required skills in the job. Our algorithm works really hard to furnish the most relevant jobs to you."
For example? If you have killer management skills, with some solid sales thrown in, you're more likely to see jobs for the position of "Sales Manager" — not people looking for a new "Head Baker."
Not only does skill-matching help you find the most relevant jobs in your current industry or field, but it can also help people transition into new fields. The team at ZipRecruiter believes this can be especially useful for those working in declining industries.
"If you have a set of skills in an industry that, for whatever reason, is starting to shift — maybe it's manufacturing or fossil fuels — why can't we match you, by skills, to other industries that are growing?" posited Scott. "For instance, if you work in fossil fuels, you probably have some skills that would be good for green energy. So, why don't we connect you with those jobs? I think that's one of the challenges that we'll see going forward, and one that ZipRecruiter is working to address."
Enjoy Set-It-and-Forget-It Job Searching
In addition to saving you time and energy with an algorithm specializing in finding the most relevant jobs, the ZipRecruiter team made job searching easier in a number of other ways. This includes a variety of hands-free features that eliminate a lot of the digital legwork involved in the modern job hunt.
"I think that sort of set-it-and-forget-it experience is pretty powerful for job seekers, especially people who are still working," Scott described. "They're looking for another job, they don't have time to constantly check in and keep searching. We'll do it for you."
One example of the time save is the résumé database. This optional feature allows users to include their résumé in a searchable database so recruiters and employers can proactively search through potential candidates. Employers can then take advantage of ZipRecruiter's matching algorithm to find the perfect fit.
For those who don't want to leave it to the employer (or fate, depending on your view), ZipRecruiter's job alerts feature can still eliminate the hunt. That's right, you can stop the endless page refreshes and new searches by having the latest posts delivered to you.
"Our algorithm will go out there and scour the web — and jobs posted to our site as well — to find the best jobs for you. When a job that's right for you gets posted nearby, we'll actually send you a push notification asking if you want to apply for it," explained Scott. "And you can actually just reply to the text, 'Yes, I want to apply for this job,' and then you're done — you go on about your day."
Scott stressed that the functionality was an opt-in, as some people still prefer manual searches. But, he added, job alerts can give you an edge over the competition. "We know that the sooner you apply to a job, the more likely your application is to be viewed."
ZipRecruiter: Experience the Fastest-Growing Online Employment Marketplace
While it's not uncommon to hear adults lamenting their youth, I don't think the anxiety-filled teenage flashbacks that can come with job searching are quite what they have in mind. Instead of suffering through the regression of confidence to prepubescent levels, take some of the work — and worry — out of finding work, with ZipRecruiter.

"It's always hard to find that job that's right for you. Employment is low right now, that's true, but honestly, I think it comes down to skills. That's one of the things we're working on here," said Scott. "I think you're going to see a lot of exciting stuff from us in 2017, in continuing to improve the job-seeker experience."