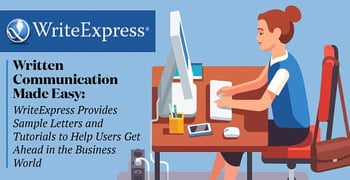 Experts share their tips and advice on BadCredit.org, with the goal of helping subprime consumers. Our articles follow strict
editorial guidelines
.
In a Nutshell: Written communication, whether in the form of an email, business letter, or online post can tell the recipient a lot about you. Was your message clear and easily understood? Did your grammar, structure, and choice of words reflect a high degree of education? All of these things leave an impression on readers that can cause them to consider your message or discount it. For those looking to improve their written communication skills to better their prospects in the business world, WriteExpress is an online resource that provides templates, guides, and tools that can save time on correspondence and teach writing skills along the way. WriteExpress can help anyone become a more skilled writer, which is why we're recognizing the company as one of our Editor's Choice™ recommended resources.
Written communication can say a lot about someone — especially in the business world.
When it comes time to write a cover letter for a job application or an admissions letter to an institution of higher learning, there's simply no substitute for an appropriately formatted and well-written letter. While not everyone has mastered the written word, these skills can be learned, and we've found a helpful resource for doing so.
WriteExpress offers high-quality business writing templates, articles, and advice on improving your writing, as well as guides and tools for all types of correspondence. Since 1995, WriteExpress has been providing free access to many of the resources it offers and reasonably priced access to its entire catalog of business, sales, and personal letter templates.
For its valuable contribution to helping improve written communication skills, we've chosen to recognize WriteExpress as one of our Editor's Choice™ recommended resources for anyone looking to advance their writing skills. We recently spoke with Robert Stevens, CEO and Co-Founder of WriteExpress. Stevens shared the story behind his company's founding and just what they set out to achieve.
"We started WriteExpress because there was a need for actual writing samples in a variety of categories," he said. "There were sample letters and templates available, but what if they didn't fit your need?
"And with the templates, after you use them, have you learned anything? That's when we decided to build both: sample letters, along with tips and step-by-step instructions on how to write them yourself."
Writing Tips — Teaching the Lost Art of Letter Writing
While letter writing today may seem outdated or appear to have been superseded by emails and other electronic forms of communication, the skills needed to craft a well-written letter are as invaluable today as they ever have been.
A skill, like writing a cover letter for a job application, can mean the difference between getting noticed or ending up in a stack of discarded résumés. Even within the work environment, being able to write reports and other business communications can mean faster advancement and better pay.
Stevens pointed out that many advances in technology, such as text messaging and social media communications, have led to a breakdown in real writing skills.
"With the type of communication we have today — texting, social media, and other shorthand ways of expressing ourselves — people are often embarrassed by the feedback that they get on their communication skills," he said.
WriteExpress step-by-step tutorials are all designed to help people learn to write. They include expert tips, and sample phrases and sentences for each step.
For those serious about becoming better communicators, WriteExpress has letter template software available for purchase and download that has up to 4,001 business, sales, and personal letter examples on more than 1,200 topics.
How to Interview and Other Free Tips to Get You Ahead
In addition to its letter-writing templates and tutorials, WriteExpress has free articles, like how to interview for a job, how to write an application letter, and even how to write a credit letter. These easy-to-follow tips can help anyone learn the basics for making a good impression and having the best chance at landing a job.
Some of the practical advice you'll see in the "how to interview" tip section include:
Preparing for the interview with 20 questions you want to ask. According to WriteExpress, the more questions you ask, the more likely you'll be successful.
Answering questions with three sentences at the most. The more you let the interviewer talk, the better they will feel about you.
Saying the interviewer's name. People love hearing their name, and if there is more than one interviewer, address each by name when they ask you a question.
These are just a few of the hundreds of tips offered for free on the WriteExpress website. Others include résumé tips, writing letters of recommendation, writing effective follow-up letters, and dozens more. This free resource is intended to help people who have an immediate need for writing a particular style of letter and also to help them learn how to write more effectively in the future.
"When we started this service, we soon came to realize there was a need for more education," Stevens said. "With our software, if you can't find a letter that is exactly what you need or one that's close, then click on a tutorial to craft your own letter."
Expanding to Serve the Business Needs of Spanish Speakers
One of the newer initiatives at WriteExpress has been realizing the opportunity to meet the needs of a growing Spanish-speaking audience.
When WriteExpress first got off the ground, it hired experts in other fields to write sample letters and tutorials in English. More recently, the company hired Spanish-speaking college students to translate business and other letters in their language. Later, those letters will be proof-read by native speakers.
"The rule is that whenever you do a foreign translation, you really want to get people who are native and living in the country where the language is spoken," Stevens said.
He went on to explain that much of the current focus is in translating business letters and tutorials into Spanish for this thriving audience. With Spanish-speaking workers among the fastest-growing demographic in the US, the demand for writing templates and tutorials in this language is increasing.
No matter whether you're a native English speaker or not, one thing became clear in researching this article; as a society, our ability to communicate effectively through writing is declining. Learning to communicate professionally and effectively can set you apart from the majority, which may open doors to brighten your future.