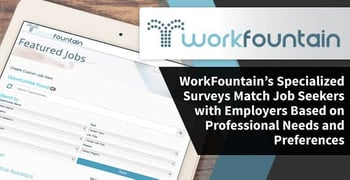 Experts share their tips and advice on BadCredit.org, with the goal of helping subprime consumers. Our articles follow strict
editorial guidelines
.
In a Nutshell: One of the biggest challenges with online employment searches is that job seekers must sift through boards and postings hoping to find an opening that's a good fit. WorkFountain eases this dilemma with its survey-based approach to matching candidates with employers and assessing how well each meets the other's expectations and needs. A variety of industries and organizations are represented on WorkFountain, creating a substantial job pool for candidates. The platform also helps employers focus on the qualities they value most in prospective employees, ensuring the best possible matches. Postings on WorkFountain expire after 30 days, which means that job seekers and employers enjoy a fresh stream of ideal opportunities.
Job seekers frequently comb through listings on employment boards looking for potential opportunities and then send off applications with the hope of receiving at least one call back. Often, they never do. The same is true of posting résumés; there is no guarantee an employer will look at it, let alone get in touch with a candidate.
Digerati saw the need for a platform that lets users create a profile, post a résumé, answer a few questions, and then immediately see job openings that best match their professional needs and interests. The company also wanted to enable employers to post openings and see a list of job seekers who match their institutional values and goals.
Those goals led Digerati to launch WorkFountain. Using surveys and questionnaires rather than keywords, WorkFountain connects qualified candidates with potential employers. The platform goes beyond basic matching and provides users with a fit assessment that indicates how well a candidate meets a given position's requirements.
"We provide both parties information at the same time, so there's a level playing field and not just a black hole that you're throwing your résumé into," said Brian Balasia, CEO of Digerati. "You actually get feedback in real time about how the position aligns with your own interests and aspirations."
The process is as easy as signing up and completing a questionnaire about your profession. "Within seconds of answering the survey or applying for a job, you get feedback about how you stand with that job," Balasia said.
In short, WorkFountain does more than just help candidates find a job; it helps identify the job that best lines up with their skills and experience.
Apply to Jobs in Minutes Thanks to Simplified Setup and Innovative Matching
Job candidates can get started on WorkFountain in two ways. The first is to apply directly to a particular posting. Or job seekers can create a profile, after which the system will automatically show appropriate matches.
Creating a profile takes less than 10 minutes. "If you have a résumé, we can use that as a base, but you don't need a résumé to create a profile," Balasia said. Users can also specify their professional and educational experience — but that information isn't required.
WorkFountain's real advantage is in its surveys. Once users select a job category, they answer questions about their experiences and preferences. Users can broaden their employment compatibility by answering questions for multiple categories. After that, users can review their matches and apply for the positions that interest them. "Once you have a profile, it's one click to apply to any job on the platform," Balasia said.
When posting a job opening, employers answer similar survey questions to create a profile of their ideal candidate. WorkFountain matches users to positions by comparing job seekers' answers to those of employers. "Instead of just relying on traditional résumés, which can be limited in depth of information, the system has about 1,400 job titles and 100,000 question sets," Balasia said. "It uses these to dynamically survey candidates and employers to understand the candidate's skills, abilities, and interests, as well as the companies' needs and opportunities."
The system also compares user profiles to recently posted job postings, alerting them to new opportunities. For every match, the system automatically generates a fit assessment for the candidate and employer. "From a candidate perspective, it shows where the job is aligned to their own interests and abilities, and where the job might not be aligned to their own aspirations," Balasia said.
This immediate feedback is vital for candidates as they approach a potential employer. "We want to make sure that the job is a fit for the candidate and that we equip them with the information to put their best foot forward in an interview," Balasia said. "When you're going into an interview, you're able to have a balanced conversation with the employer."
Sophistication and Scope of Industries Help Candidates Find Prime Positions
More than 25,000 businesses use WorkFountain to connect with candidates, and the system has produced 1.6 million matches in a wide range of fields, according to Balasia. "We tend to have a lot of middle and high-skill jobs — skilled trades through jobs requiring advanced degrees," he said. "We've placed everybody from day laborers to CEOs."
Big brands, including Target, Mercedes-Benz, and Whirlpool turn to WorkFountain to fill openings, but the platform isn't limited to large-scale operations. "We have tens of thousands of smaller and mid-size businesses that use the platform.
"And we partner with trade organizations, chambers of commerce, and government agencies to help them support the businesses in their communities," Balasia said. Jobs based in Minnesota, Texas, Illinois, Michigan, and Ohio, in particular, are prevalent on WorkFountain, but the platform also features positions from across the US.
When a job seeker applies to a position, WorkFountain will highlight them for other openings in the company as well.
Balasia used the example of someone looking for a position as a warehouse associate; one company may have over 100 openings, but they use a dozen different titles that a user may not recognize as describing a warehouse associate.
"And so what typically happens is a candidate might apply to Job A, but they might not apply to Jobs B, C, D, and on down the line," Balasia said. WorkFountain's matching system ensures that a candidate will be presented as a fit candidate for those jobs, as well. "A candidate who might not be a good fit for an employer for Job A but might be a great fit for Job M is now considered. And that's a benefit to both the candidate and the employer," Balasia said.
Ease of Use Benefits Employers and Job Seekers
WorkFountain's goal is to provide transparency for both candidates and employers. For job seekers, the value is clear. But the transparency WorkFountain provides to employers is just as beneficial to candidates.
WorkFountain surveys help define what an employer wants from a new hire. "We use these questions to help articulate their specific needs," Balasia said. "Often, that can be pretty difficult to do when you have a blank piece of paper in front of you, trying to write a job description."
By helping employers focus on the qualities they most value in a candidate, WorkFountain minimizes potential bias and maximizes employers' candidate pools. "We help them see candidates that they might not have otherwise noticed," Balasia said. And that, of course, is beneficial to both parties.
Job postings are created in much the same way as job seekers create and post profiles. Once an employer posts a job listing, they'll see a ranked short list of well-suited candidates and receive notifications when strong candidates post new profiles.
Best of all, WorkFountain is easy to use. "The whole system is driven by simple navigation. It's something that small businesses and small business owners without HR experience can do as well as seasoned professionals in the recruiting space," Balasia said.
A Fountain of Fresh Opportunities
WorkFountain profiles and job postings remain active for 30 days. If a candidate is still seeking a job at the end of that time, they can log into WorkFountain and maintain their active status instead of creating a profile again from scratch. Otherwise, they'll be dropped from employers' matches. The same is true of job postings.
"We make sure that, if you're getting opportunities as a candidate, they're real opportunities — they're not something that's been in the system for a long time," said Balasia. "And it's the same thing on the employer side — we want the employers to get matched to candidates who are actively seeking work."
That time limit, combined with the platform's innovative survey approach, ensures WorkFountain remains a dynamic space for job seekers and employers. Altogether, WorkFountain offers the opportunity to find the perfect job without all the noise and uncertainty we've come to expect from the online job search.