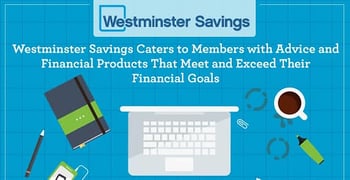 Experts share their tips and advice on BadCredit.org, with the goal of helping subprime consumers. Our articles follow strict
editorial guidelines
.
In a Nutshell: The rising costs of living for residents of the lower mainland of Vancouver, British Columbia, often precipitates unexpected expenses and increased debt. These unwelcome surprises frequently lead to seeking financial advice that can be cost-prohibitive to consumers already struggling financially. For 73 years, Westminster Savings Credit Union has helped its members resolve credit and debt issues with affordable, convenient banking products. The institution offers savings, chequing, and loan products tailored to the needs of its 56,000 members. That includes financial guidance available through branch experts online and over the phone, but the most successful method is often through face-to-face meetings in a branch. Each day, Westminster Savings works with members to identify financial solutions tailored to their needs and to create a plan to enhance their effect on credit scores.
I received my first credit card while I was in college. For some, the idea of swiping a piece of plastic to pay for your lunch instead of actually paying in cash can be addictive. That trap has many university students leaving school with their degree and a mountain of debt to both student loan issuers and credit card companies.
Thankfully, my family taught me the importance of responsible credit usage long before my card came in the mail. The lessons I learned served me well during my studies and continue to guide me today.
Credit unions can be a tremendous asset to their members by offering competitively priced financial products, as well as educational opportunities. These member-owned institutions reinvest their profits into new products and services that serve their customers' needs.
Headquartered in Surrey, British Columbia, Westminster Savings Credit Union has spent the last 73 years constantly improving its role as a financial service provider to its customer base. More than 56,000 members trust the institution with their banking needs — including savings, chequing, credit, and loan accounts.
But Westminster Savings also looks to set itself apart from the competition with responsive customer service and educational opportunities that guide members toward their goals.
"Our focus is on really trying to help people figure out what their needs are and help to get them wherever they need to go," said Chris Pragnell, Manager of Consumer Marketing at Westminster Savings. "That may mean we help them with budgeting, investing, or just managing the money they have. We figure out what customers want and need, and put together plans to help them achieve their goals."

For some members, those goals include pulling themselves out of a financial hole that may have their credit score lower than they'd like. To help these members, WSCU offers online and in-person opportunities to boost their knowledge — and credit scores.
Online advice topics include tips on buying a car, taking a vacation, or dealing with unexpected events like medical bills or other expensive surprises. For more in-depth or personalized topics, Chris advises members to come into a branch.
"Our primary point of contact with people is in our branches," he said. "When someone comes in for a consultation, it's all about uncovering what that person wants and needs. We don't have any preconceived notions about what solutions we're going to offer them."
Face-to-Face Meetings Help Members Get Back on Track
Westminster Savings has a staff of experts who meet with members on a range of financial topics. The advice offered is intended to educate and create a plan that gets members where they want to be.
"Sometimes, just a 20-minute conversation can make a huge difference in how people spend their money or save their money," Chris said. "Our best successes come from sitting down with our members and finding the best way to help them through whatever situation they're in."
Chris said Westminster Savings' staff works with members who have a variety of issues affecting their credit rating. The wide selection of products and services offered to all members of the institution makes it easier to find the right solution to each unique problem.
"We have accounts for people whose credit score is not the best," he said. "The idea is that we work together to find ways to build that credit score up — whether it's advice on curbing potentially bad spending habits or ways a member can responsibly use credit. Those are things you have to understand to build up your credit score."
Westminster Savings, along with most other Canadian financial institutions, works hard to regularly add to its online education offerings. While the demand for such products has grown, Chris said he's seen the impact that meeting in person can have.
"As a credit union, we try to take the time with our members and answer their questions," he said. "We want everyone to leave with options and ideas of what they can do to take their next step. That's probably what we pride ourselves on the most."
Student Credit Products Provide Real-World Experience
Having a low credit score isn't the only roadblock to financial freedom. While poor credit is certainly a major contributor to some consumer problems, a thin credit file — meaning you have too little credit history to generate a score — can be just as troublesome.
This problem is typically experienced by younger Canadians just starting out. Students, who often travel to school and need to access regular credit to pay for books, classes, and other fees — are the most affected. Westminster Savings offers multiple credit products that aim to improve the financial outlook of its student members.
One of the most popular is the Visa Desjardins Student Credit Card. The card offers a 19.9% annual interest rate with no annual fee.
A unique aspect to the card's perks is the addition of up to $1,000 in mobile device insurance at no extra cost. The insurance covers a cardholder's cellphone, smartphone, or tablet if it gets lost, stolen, accidentally damaged, or experiences mechanical failure.
"We suggest that a student credit card is one way to build credit if it is used responsibly," Chris said. "Our student line of credit is another way for young people to gain experience with a line of credit and managing it."
A line of credit varies from a credit card in that funds are paid directly into the included Young Adult Chequing Account. Credit lines range from $5,000 to $40,000 — much higher than the average student credit card limit — and interest is paid only on the portion of the credit line that is used.
Once payment is made, the funds can be reissued and used for as long as the account holder remains enrolled in a Canadian post-secondary institution in full-time or part-time studies. Annual confirmation of enrollment is required.
Clearing the Stigma that Debt is Embarrassing
It's been a long time since I received my first credit card as a college student. I've since upgraded to a different card, but that would not have been possible without the education I received on responsible credit usage.
For nearly 75 years, Westminster Savings has provided the lower mainland of Vancouver with financial products and services aimed to educate and pave a smoother path toward financial independence. A lot has changed since the credit union first opened its doors, but the institution's focus has always remained on the customer.
"Vancouver is now one of the most expensive places in the world to live, so people are under constant financial pressure," Chris said. "It's so important that people have somebody to talk to."
Westminster Savings' staff is available online, over the phone, or in person to meet with current or prospective members and offer expert advice on a host of financial topics.
"We don't push products here," Chris said. "We try to uncover people's needs and present solutions that we believe can help them."
Chris said that many of the members who come in for help leave will a clearer understanding that they aren't alone in their struggle.
"Debt is way more prevalent than people think," he said. "People find it embarrassing and don't want to admit that they have an issue with it. Most of the time it's not even their fault, but as soon as they find out there's help for it, the conversations are much easier."