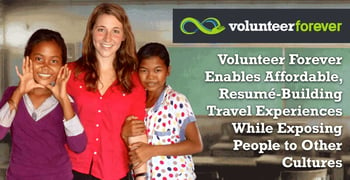 Experts share their tips and advice on BadCredit.org, with the goal of helping subprime consumers. Our articles follow strict
editorial guidelines
.
In a Nutshell: Volunteer Forever is a company that helps people realize their dreams of traveling abroad by providing a plethora of resources about volunteer options around the world. These opportunities are categorized by volunteer, intern, and teaching gigs. The organization has partnered with trusted volunteer programs and also offers articles, contact information, and reviews about the programs. It also provides valuable information on how to find low-cost volunteer opportunities and offers two travel scholarships each quarter. Not only do volunteers gain enriching, often life-changing experiences, but they can also acquire real-world skills and certifications that can aid them in their careers.
Traveling abroad for extended periods of time, and volunteering in particular, are often life-changing experiences for people. Not only is the traveler exposed to new cultures and points of view, volunteering their time and energy to help support a worthy cause is extremely fulfilling.
This was the case for Steve Weddle, who's volunteer trip to India in 2011 gave him a whole new perspective on life. Weddle wanted others to be able to have similar experiences but realized when he returned home to the U.S. just how many informational and financial barriers stood in the way of other prospective volunteers.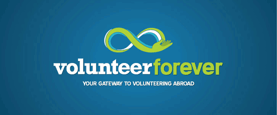 Even for Weddle, deciding where to go, which program to volunteer for, and what to expect while he was in India was a challenge. That's why he co-founded Volunteer Forever with Brian An in 2012, said Sarah Vandenberg, the program's Director of Partnerships.
"He said, 'Why don't I just build this platform to help educate people about different types of volunteer trips and different organizations,'' Vandenberg said. "And then, people could also review and share their experiences to help others learn about what programs may be right for them."
Vandenberg said Volunteer Forever has grown organically over the years and now provides resources on a huge variety of programs, with volunteer efforts and causes suitable for just about anyone.
"At Volunteer Forever, our goal is to be the most trusted resource in the world for volunteering, interning, and teaching abroad. We believe in integrity, transparency, and honesty above all else," according to the organization website. "We've aligned our interests with yours in order to stay objective and provide you with the most accurate information possible."
Selecting from a Wide Variety of Volunteer Programs and Causes
Volunteer Forever's offerings include resources on programs all over the world, including a directory of more than 800 different organizations and partners the company works with, Vandenberg said.
The company's robust website offers numerous ways for those interested in volunteering to find the program that is best suited for them. Among these resources are lists highlighting the best volunteer abroad programs, the best internship programs, and the best teaching-abroad programs.
Vandenberg said volunteer opportunities in Southeast Asia, including Sri Lanka, Thailand, and Cambodia, are among the most popular destinations for travelers who look to Volunteer Forever for information.
"South Africa and parts of West Africa are extremely popular," she said. "You'll also find lots of volunteer programs in Central America and parts of South America, like Peru."
Some of the most common volunteer opportunities involve teaching English in other countries and helping to provide childcare, Vandenberg said. This could be through after-school programs or coaching sports.
"On the professional development side, there are tons of opportunities for medical and healthcare — pre-med students, nursing, dental, any kind of medical-related opportunities that you can think of," she said.
Volunteer Forever partners with a number of organizations and promotes them on its website. Vandenberg said these relationships are carefully vetted so users know they are getting information about quality programs.
"As far as the partners we strongly promote across our platform are concerned, I go visit them and meet with them at conferences, or I'll go to their headquarters, and in some cases, I'll even visit their programs," she said. "I spent a few months last year visiting Maximo Nivel's programs in Central and South America."
Maximo Nivel is a well-established organization that specializes in study abroad and international travel.
Vandenberg said Volunteer Forever's partners include a healthy mix of long-standing organizations and newer organizations so it can deliver information on a diversity of opportunities.
Travel Scholarships and Affordable, Low-Cost Volunteer Abroad Programs
While it's no secret that traveling abroad can be expensive, becoming a volunteer presents different costs and opportunities than those encountered by tourists staying in plush hotels and sight-seeing their way across a country.
While some volunteer programs will certainly be cost-prohibitive for certain people, Volunteer Forever provides in-depth guidance on how to find the most affordable volunteer opportunities abroad.
Perhaps the most direct way the organization can help make a volunteer experience more affordable is through its Travel Scholarship.
"Since 2014, Volunteer Forever has been offering travel scholarships to help participants defray the cost of volunteering, studying, interning, teaching, or working abroad," according to the Volunteer Forever website. "Each quarter, we award a $500 to $1,000 scholarship to two travelers."
Vandenberg said that, when applying to the scholarships, the volunteers must know which program they want to participate in and what their goals are by volunteering. Applicants must submit an essay to be eligible for the scholarship.
"The scholarship award can be used for anything related to your travel, including the program fee, airfare, travel insurance, or even spending money while abroad!" according to the website. "During each scholarship round, essays are evaluated blindly by a scholarship committee."
Volunteer Forever also devotes a portion of its website to "cheap, affordable volunteer abroad programs and low-cost overseas projects."
The webpage includes a list of the organization's recommendations of 25 low-cost volunteer, intern, and teaching abroad programs.
Volunteer Forever excludes well-known low-cost opportunities from its list, such as the Peace Corps and Volunteer Service Overseas. While they are great programs, according to the company, they require two-year commitments that may not be realistic for many students or professionals looking for more short-term opportunities.
"We have also included intern abroad and teach abroad programs since they provide similar experiences to volunteering abroad, but at a lower cost to the participant," according to the website.
Gaining Experience that Can Aid Your Career
Vandenberg said since Volunteer Forever launched, the company has seen a shift in people's motivations for volunteering.
"When we started in 2012, it was kind of on the heels of the recession," she said. "People — younger people in particular — wanted to travel, but they felt this sense of guilt and wanted to be able to justify a trip abroad. So, by volunteering, they were able to travel and give back to the community."
She said that now that the same group of people has aged, their intent has changed a bit. Now, many volunteers are driven by what they may be able to gain from the experience.
"They say, 'I'm going to spend six weeks on a health care project or a teaching project in Cambodia. What do I want to bring back with me? What do I want to put on my resumé later?'" Vandenberg said.
She said volunteers can pick up a variety of skills — both hard and soft — through their experiences. And they don't necessarily have to apply the skills they've learned to the same area of work they did as volunteers.
A great example of this is language skills, she said.
"You can learn Spanish in Latin America and come to Miami and find a job more easily," Vandenberg said. "This is also where the internships come into play. That's where you'll get certifications in your field or pick up skill sets you didn't have before and couldn't gain locally."
For example, someone living in Ohio who wants to pursue a career in marine biology will not be able to gain experience in that field in land-locked Ohio. But an internship abroad can help them learn skills and see how research data is collected and interpreted, Vandenberg said.
So, if you're itching to travel abroad, Volunteer Forever can provide you with an abundance of resources on just about any type of volunteer opportunity available, no matter how old you are, where you want to go, or what areas you are most interested in.