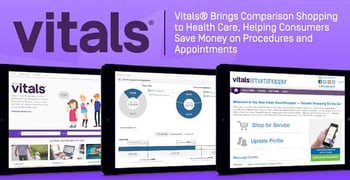 Experts share their tips and advice on BadCredit.org, with the goal of helping subprime consumers. Our articles follow strict
editorial guidelines
.
In a Nutshell: When it comes to health care, many people equate cost with quality, and choose the more expensive options. However, research shows that this flips when people are given comprehensive, easy-to-understand information about their options. Vitals was founded in 2008 to help people make savvy, cost-saving medical decisions through comparison shopping. The platform provides reviews of physicians throughout the US, as well as other comparative information on the cost of procedures at given facilities and Care Guides on various conditions for patients. Vitals also has a SmartShopper program that helps employers and insurance companies save on health care by rewarding consumers with cash incentives for finding lower-cost health care.
Americans spend vastly more on their health care when compared to other developed nations. At the same time, Americans have far fewer doctor consultations and procedures, such as hip replacements, but more expensive tests, like CT scans and MRIs. The cost of procedures, prescriptions, and tests is three times as much as in other developed countries. Despite these extra charges, we have an average life expectancy that is lower than that in Japan, Canada, France, the UK, and other developed nations.
Health care is Americans' second-highest expense, after housing and utilities — and it's only getting more costly. Keeping pace with the rising health care expenditures are insurance premiums. Between 2003 and 2013, health premiums increased 80%, while wages went up 31%, with inflation at 27%. As a result, there's been a move toward high-deductible coverage, with 38% of workers facing a deductible of at least $1,000.
At the same time, Americans are increasingly using the Internet to find health information. A survey by Price Waterhouse Coopers Health Research Institute showed that 68% of consumers used online review information to choose a doctor, hospital, and to a lesser extent, health plan, pharmacy, drug, or medical device.
Vitals
is a company that was established to unite both trends — of exploding health care costs and the age of online health research resources.
This online compendium of health resources allows people to shop around for doctors and hospitals, compare the wildly different prices of procedures by institution, and even earn cash based on certain provider choices they make.
The platform was inspired by entrepreneur and co-founder Mitch Rothschild, who was trying to find a physician to perform his knee replacement surgery. Mitch and two other founders launched the site in 2008, and it now has more than 10 million monthly visitors, saving members an average of $626 per procedure.
A Reviews Platform Adds Transparency to Picking Doctors and Hospitals
The most essential feature of the Vitals platform is an online search tool that helps people looking for doctors of various specialties and geographical locations. Vitals provides 9 million doctor and facility ratings and reviews, and profiles of 1.7 million physicians and 200,000 care facilities. The search tool allows people to do tailored searches as well, narrowing their doctor search by accepted insurance plans, education, specialization, languages spoken, gender, and awards.
Additionally, transparency is a cornerstone concept at Vitals, which it defines as "the availability of information enabling consumers to evaluate cost/quality of medical care options." Transparency is also becoming increasingly important publicly. Most major national health plans offer some sort of transparency tool, and there's a trend toward employers increasingly offering transparency tools through health plans.
Vitals' transparency tool is called VitalsChoice, which links to member benefit plans so they can accurately compare plans' specific benefits and pricing.
Transparency is especially important in a health marketplace in which prices vary widely within geographical regions. For example, in Denver, inpatient hospital charges to treat heart failure ranged from $21,000 to $46,000; and $9,000 to $51,000 in Jackson, Mississippi, according to the US Department of Health and Human Services.
In the absence of comparative information for consumers — a problem that former Health and Human Services Director Kathleen Sebelius pointed out — people are inclined to equate price with quality, and opt for the more expensive service/physician. However, a study showed that when given easy-to-understand information, consumers chose the lowest price/highest quality services.
Vitals also provides ample educational resources, such as its Care Guides for various conditions. These encyclopedic entries on conditions ranging from acne to youth sports injuries help patients prepare for their appointments by providing questions to ask physicians, as well as the latest medications and treatments.
SmartShopper Incentivizes Finding Affordable Procedures
One unique advantage of Vitals is its SmartShopper program, which helps employers and insurance companies pass on savings to consumers who are willing to shop around for lower-priced doctors and services. Instead of spending money on a co-pay, these qualifying patients are actually being paid for going in for procedures and visits.
Vitals knows that lower-cost services don't necessarily mean lower-quality services. In 2014, it paid $1.3 million in cash incentives to 16,076 patients, an average of $83 each. The average amount saved per shopper was between $25 and $500. In 2015, the procedures that generated the most savings include colonoscopies, MRIs, physical therapy, CT scans, and mammograms. The average savings per procedure was $626.
"SmartShopper is designed to change the game. It allows people to shop for health care as they do for other important purchases, achieving best-case outcomes for both their health and their wallet," said Rob Graybill, Vice President of SmartShopper.
The service is also user-friendly. Once a doctor orders a procedure for a patient, the patient can call 1-866-285-7475 to shop for the best price, with the help of a personal assistant. SmartShopper has a list of all the qualifying procedures. After such a procedure is completed, SmartShopper confirms that the location qualifies for an incentive, then mails the patient a check.
Future Plans Include New Provider Types and Simplified Provider Profiles
Vitals' users are made up largely of educated and engaged health consumers. It has 95 million members, and 78% are over age 35, and 7 out of 10 have a post-secondary degree, and 68% have a household income over $60,000.
Many of these members use Vitals regularly. This is likely due, in part, to another distinguishing feature of the website, namely that clients create a Vitals account, and sign in everytime they use it. Their data — searches, procedures completed, etc. — is then saved in the system, which helps Vitals to continually improve its services.
Furthermore, Vitals did a survey of consumers and found that 71% had more confidence in their doctor selection after using the platform; 80% said reading other peoples' reviews increased their confidence in choosing a doctor. With such strong momentum, Vitals is forging ahead. In 2017, some of its plans include improving site performance, simplifying provider profiles, and providing new provider types.
Vitals is hopeful that the US health care marketplace has a similar fate as the deregulation of the airline industry in 1978. Over the next 25 years, ticket prices declined 40%, and trips increased 68%, according to the Government Accountability Office. According to a Vitals white paper, "It's likely that greater transparency, driving greater competition on price as well as quality, would bring about positive changes in health care as well."