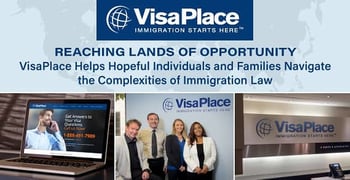 Experts share their tips and advice on BadCredit.org, with the goal of helping subprime consumers. Our articles follow strict
editorial guidelines
.
In a Nutshell: Immigration is one of the foundations of the United States, yet throughout its history, the US has denied legal entry to large groups of people seeking to work or live in America. The laws surrounding immigration policy are complex, and the process of obtaining legal status can be onerous. VisaPlace is an immigration law firm founded in Toronto, Canada, that assists individuals and families seeking entry into the US and Canada. From work visas to permanent resident status, VisaPlace lawyers can help immigrants navigate the often confusing application process. Using a combination of technology and vast immigration law experience, VisaPlace professionals have helped thousands of hopeful candidates get the visas they seek.
Since its founding, America has always had a complicated relationship with immigration.
That notion may seem strange given Americans' nearly universally shared identity as people who arrived on these shores from other lands. Yet throughout its history, the US has rejected entire groups and classes of people seeking entry into this country simply based on where they come from, the religion they practice, or what they look like.
In his posthumously published book, "A Nation of Immigrants," President John F. Kennedy famously wrote, "Another way of indicating the importance of immigration to America is to point out that every American who ever lived, with the exception of one group, was either an immigrant himself or a descendant of immigrants."
Given the current political climate in the US, Americans don't have to look far to find issues that divide them, and immigration stands near the top. Yet few can argue the vital role immigrants have played in building this country into the most powerful and prosperous nation on earth. Immigrants have contributed to all aspects of American achievement — cultural, scientific, artistic, athletic, academic, and economic.
US immigration expands and contracts over time with policies becoming more progressive or more restrictive based on the decisions of those in power. It's this fluctuation — and the legal changes that accompany it — that makes immigration law so complex. Michael Niren is an immigration lawyer and CEO of VisaPlace, the Toronto, Canada-based immigration law firm he founded more than 20 years ago.

"Immigration law is very complex," Niren said. "Next to the tax code, immigration law is nearly as complex, in terms of how many pages are in each statute."
Helping immigrants to navigate this complexity is what VisaPlace is all about. With offices in Toronto, as well as two locations in Florida (Boca Raton and Jacksonville), the firm helps immigrants seeking visas for both the US and Canada.
How the Growing Complexity of Legal Immigration May Work Against the US
Due to factors ranging from economic conditions to national security, the laws surrounding immigration into both the US and Canada have become especially complex in recent years. Even the most qualified applicants would have difficulty navigating the application and entry process without the assistance of qualified immigration professionals. Niren and Associates, Niren's Toronto-based immigration law firm, is the legal team behind VisaPlace.
"Every immigration case is different, with variables like family, job status, or whether they're coming to study," Niren said. "There are so many factors that go into understanding what a person's objectives are, and whether there are options that meet those objectives. At VisaPlace, we've built a system around this matrix of matching a person's circumstances with the legal options that are available to them."
Illegal immigration has been all over the news in recent years, due, in part, to a focus by the current administration on rounding up and deporting undocumented individuals living in the US. Ironically, the complexity of the laws surrounding legal immigration may actually be a factor in the high number of people living here without proper documentation.
"People in the US and Canada often ask why there are so many illegal immigrants," Niren said. "One reason is that the legal path is not viable. The reality is that there are a lot of good people who would otherwise contribute and who would be perfect immigrants to our countries, yet the system shuts them out. The reality is that the legal system for immigrating takes so long and is so onerous that it's creating illegal immigrants who otherwise would be happy to go through the legal process."
In addition, hopeful immigrants to either the US or Canada must meet strict requirements to even be considered for a visa. If they want to work in the US, they must have a job offer in advance, and the employer must be willing to sponsor them on their visa application. If someone wants to apply for legal resident status, they must meet certain requirements for education level, financial resources, occupation, and must have no criminal record, among other qualifications.
How Technology Can Help Immigration Law
With immigration case law second in complexity only to the tax code, introducing new legal tech into the immigration process can be a potential game changer. Recently, VisaPlace has recognized the need for new technologies that expedite the process of determining qualifications for and applying for the various types of available visas.
Streamlining the visa and immigration application process is an ongoing and worthy goal, but technology can also help in other ways.
"We're building out systems that enable us to empower lawyers and legal professionals to make better guidance decisions for people," Niren said. "Having legal guidance throughout the process is essential, but it must be married with technology. Empowering legal professionals is what matters; it's the key. It's always a blend of leveraging technology with knowledge, professionalism, and human intelligence."
This shift toward technology and streamlining the immigration application process can help ease the process of admitting more legal immigrants. It can also help identify all of the various potential paths to immigration by matching applicants with the sometimes obscure criteria for different visa qualifications. Technology can help to ensure applications are filled out properly and completely, avoiding potential delays or even denials.
Free Resources to Seek Immigration to the US and Canada
Each year, the United States Citizenship and Immigration Services agency (USCIS) receives approximately 6 million applications for various visas and lawful permanent resident status. Of those, only around 1 million are approved, including applications from immigrants already residing in the country. VisaPlace understands the importance of access to accurate information for these individuals and families, which is why it offers free resources and instruction on the website.
The right preparation and understanding of the process can make all the difference in an immigration interview. When sitting before an immigration official, the wrong answers to their questions can end the chances of being approved right then and there. But the right answers can mean a chance at a new opportunity.
"Educating people coming to the US and Canada is one of our missions," Niren said. "People should know where they stand and learn as much as they can, and that's part of the services we provide to people free of charge. We just want people to know what their options are, and we get a lot of good feedback for it."
Through a series of instructional videos, potential immigrants to the US and Canada can learn about the immigration lawyers at VisaPlace, the process of applying for a work visa, how to secure a TN visa under NAFTA, and a lot more.
Most of those who wish to immigrate to the US and Canada are only seeking the right to pursue their dreams in a land of greater opportunity. In most cases, it's not an easy decision to leave family and friends in their home country and embark on a journey into the unknown. Niren views immigration as a human right, and that one of the greatest freedoms is the freedom of movement. It's why he began this work more than two decades ago.
"America was built on immigration and the right to move freely," he said. "Without immigration, we wouldn't have what we have today. The idea that immigrants are harmful or an economic detriment is a fallacy. In fact, as it turns out, it's the complete opposite."