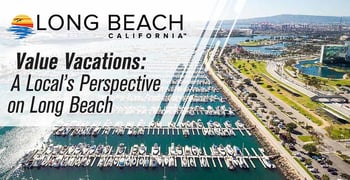 Experts share their tips and advice on BadCredit.org, with the goal of helping subprime consumers. Our articles follow strict
editorial guidelines
.
For households on a tight budget, vacations can often seem like an impossibility. Fortunately, there are some great ways to explore some great sites across the country and make long-lasting memories without having to miss a mortgage payment.
Just 20 miles south of Los Angeles and with a population about the same size as Atlanta, Long Beach offers an abundance of free or low-cost activities. From its wide, picturesque beaches, broad-ranging dining options, and plenty of entertainment, the city can make for a budget vacation the whole family can enjoy.
Recently, we had an opportunity to chat with Bob Maguglin, the Director of Public Relations at Visit Long Beach, for an insider's point of view on some of the city's most affordable sites and activities.
What brings the most tourism to Long Beach, and what are some of the can't-miss attractions?
What really brings people to Long Beach first is simply Southern California. The Pacific Ocean. The weather. We have the best weather in the United States and we can say that because in August The Washington Post conducted a survey and claimed that Long Beach was the No. 1 city in America with the most nice days.
We claim 345 days of sunshine here per year so seldom is an outside activity marred by weather.
One of our primary attractions is the Aquarium of the Pacific, which is the fourth-most attended aquarium in the U.S. It's not just an exhibition aquarium — it's a scientific institute that conducts research. Its goal is educating people on the oceans, the planet, and the environment.
The aquarium will have the grand opening on May 24 of a new wing called Pacific Visions. It will have a number of new galleries and a state-of-the-art IMAX theater with a 180-foot wraparound screen and floor and ceiling projectors. They are creating an immersive atmosphere where visitors will literally feel like they're swimming with whales and dolphins in the ocean.
The next major attraction we have is the Queen Mary, which is probably the most famous ocean liner of all time and one of the most famous warships of all time. The Queen Mary sailed her maiden voyage in May 1927 and was one of the most glorious floating palaces on the sea before WWII. She was literally the most elegant and fastest ship in the ocean. During WWII, she was commissioned as a troopship and was instrumental in many battles.
To this day, she holds the record for carrying the most human beings on one ship. In May 1943, she carried 16,781 soldiers to battle.
After the war, the Queen Mary went back to regular service until 1967. Then, Long Beach purchased her.
Today, it's a 350-room hotel where they actually use the original first-class suites and staterooms. And she basically holds the largest collection of art deco in the world. She's packed with sculptures, paintings, decorations, and more.
The Queen Mary has six restaurants and also serves as a convention center. And, as of a couple of years ago, it has also become one of the best music venues in Southern California.
Besides those two main tourist attractions, it's the water. Long Beach has every possible water activity you can do. That includes kite surfing, paddle boarding, kayaking, and sailing of every kind. We're also the headquarters for whale watching in Southern California. We have year-round whale watching and the boats seldom fail to see grey whales, and sometimes even great blue whales and orcas.
What is the most popular time of year to visit Long Beach?
Obviously, summer is extremely popular because that's when most people are taking their vacations. And, there are more water activities in the summer than at other times of the year. But there's always something to do throughout the year.
Long Beach is very popular with people from the Midwest and other colder areas. Then in summer, we're very popular with people living in nearby deserts like Arizona and New Mexico — it gets very hot in those places and they want to come here.
What are some of your top recommendations for things to do and see in Long Beach that are free or inexpensive?
There are some great ways for visitors to enjoy Long Beach and spend very little money. Of course, the beach is inexpensive. We have over five-and-a-half miles of beach. And on the beach is a five-mile set of paths — one for bikes and one for pedestrians. All along there, you have beach volleyball courts that are open to the public. Bring your own ball and start a volleyball game right on the sand.
Throughout the summer on most Friday nights, the Aquarium of the Pacific hosts Shark Lagoon Nights where they put on a live concert. These are free events in the outdoor Shark Lagoon area. So you just show up and you get a live concert. They have food stations where you can buy food and bars where you can buy alcohol or soft drinks.
Throughout the summer months, we also have free concerts throughout the city. There are three bands, including our Long Beach Municipal Band, that all schedule concerts in the park or on the beach.
And, we have a complete schedule from May through September of movies on the beach. The parks and recreation department puts up giant screens, and you can bring your beach chair and watch anything from major action-adventure movies to kids movies.
There are also lots of great walking opportunities. Rainbow Harbor is like a little jewel right in the center of our downtown waterfront. You can walk from the aquarium over to Shoreline Village and see all kinds of boats and vessels, including giant yachts, tall sailing ships, and lots of fishing boats.
If you want to get an inexpensive on-the-water experience, for $2 you can jump on one of our water taxis that will actually take you across the bay over to the dock of the Queen Mary. You can get off there or just stay on the boat for the return ride. For $4, it's the cheapest harbor tour you can take.
Long Beach also has two Spanish ranchos that were built in the late 1700s when this area was under Spanish control. They are both very nice with formal gardens, one of which was designed by the team who designed Central Park in Manhattan. The ranchos accept donations but even if you don't have the funds for a donation, you can still tour them for free.
What are some popular local dishes or restaurant to try that won't break the bank?
If you just look at the downtown, within an eight-block area, you have over 130 different types of dining facilities. These range from hotdog trucks and hot wings to fine continental cuisine. So you can literally decide how much you're going to pay for food.
Even what I consider to be some of our very best restaurants are inexpensive. For instance, in Shoreline Village, we have a great place called Louisiana Charlie's that sells incredible Cajun food, right out of New Orleans. On the water, we have Parker's Lighthouse, which serves seafood and steaks.
Pine Avenue — which is kind of our restaurant row — has a lot of good options. You've got places like George's Greek Cafe and a gastropub called The Federal Bar that are great. One of my personal favorites is called BO-beau kitchen and roof tap. They have French-inspired dishes down below and then on top is this great open area bar that overlooks Pine Avenue, and you can buy delicious small plates.
We basically have every kind of ethnic cuisine you can imagine — Argentinian, Japanese, Chinese, Spanish tapas restaurants, Middle Eastern — you name it.
Do you have any advice for tourists looking for affordable lodging in and around Long Beach?
Long Beach is a convention town. We have a 400,000-square-foot convention center. The good news is that, while downtown hotel rates can be high during the week for conventions, on weekends those hotels offer very good packages for leisure travel. So the weekends are a great time to book hotels downtown.
Then, over at the Queen Mary, it's just the opposite. They host a lot of weddings and other events on the weekends, so you can get really good rates there on Monday through Thursday.
We also have a number of great small hotels. We have a very nice Travelodge. There's a Best Western Plus and a Courtyard by Marriott right downtown — both of those are excellent choices.
There are also great places to stay near the Long Beach airport, which is only eight minutes away from downtown.
If anybody would like to check out rates or hotels — or anything else about vacationing in Long Beach — people can find that stuff on our website, VisitLongBeach.com.