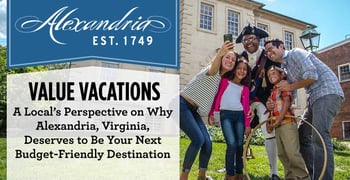 Experts share their tips and advice on BadCredit.org, with the goal of helping subprime consumers. Our articles follow strict
editorial guidelines
.
For households without much wiggle room in their budgets, planning a family vacation may seem like a pipe dream. But it doesn't have to be. The United States is home to numerous destinations that can make for great, affordable vacations.
With its proximity to Washington, D.C., and plenty of its own rich, historic flair, Alexandria, Virginia, is a great option for a budget-friendly getaway. The city is situated alongside the Potomac River and fosters a bustling arts scene and an abundance of charm.
Recently, we had the opportunity to sit down with Leah Spellman, Director of Communications for Visit Alexandria, to get an insider's perspective on some of the best affordable activities Alexandria has to offer. Spellman discussed the rich historical heritage of the city and offered some of her favorite essential activities.
What brings the most tourism to Alexandria, and what are some of its can't-miss attractions in the area?
Alexandria is perfect for a relaxing weekend getaway or a home base for a longer D.C. vacation. Visitors from around the world travel to Alexandria to explore our historic and picturesque city that dates back to 1749 and is within eyesight of D.C. on the Potomac River.
Because of the many sites in Alexandria associated with George Washington, we are also known as Washington's adopted hometown.
History lovers can explore museums and historic sites and enjoy numerous walking tours. Alexandria is also known for its concentration of independent shops and restaurants. It's easy to spend a day exploring one-of-a-kind boutiques, enjoying the city's arts scene, and grabbing a bite or drink in a waterfront restaurant or one filled with historic charm.
The number one thing to do when visiting Alexandria for the first time is to spend some time exploring historic Old Town and strolling King Street, known as one of the "Great Streets of America." Visitors are often amazed by how beautiful Old Town is with its centuries-old architecture, colorful rowhomes, flickering gas lamps, brick-lined streets, and cobblestone alleys.
Another great activity is enjoying the many water taxi and river cruises that leave from Alexandria. Enjoy the morning in Alexandria and then set off on an adventure to see the D.C. monuments or explore George Washington's Mount Vernon.
In Alexandria, you can experience early American history where it happened at several intimate historic site museums. Some of our top museums include Gadsby's Tavern Museum, which hosted George Washington and the first five U.S. presidents, the Stabler-Leadbeater Apothecary Museum, an historic pharmacy founded in 1792, and Carlyle House, a Georgian manor built in 1753 by one of Alexandria's city founders.
Another must-see is the Torpedo Factory Art Center, located in a former World War II torpedo factory. The Torpedo Factory Art Center is home to the largest collection of publicly accessible working artist studios in the U.S. Guests can visit 82 artists' studios featuring a variety of media including painting, ceramics, jewelry and printmaking, plus seven galleries, two workshops, and the Alexandria Archaeology Museum.
What is the most popular time of year to visit?
Spring and fall are some of the most popular times of the year to visit, but Alexandria has something to offer throughout the year.
In the spring, Alexandria is a great place to stay to enjoy the D.C. cherry blossoms. Visitors can enjoy cherry blossom-themed hotel packages, tours, events, and food and drink offerings in Alexandria. Then, hop on a water taxi or electric bike to see the D.C. cherry blossoms up close.
For those who prefer fall foliage, Alexandria offers great leaf peeping opportunities and plenty of fall arts festivals and events.
The holidays are also a great time to visit. Alexandria was named one of America's Top Holiday Towns by "USA Today" in 2016. When you come to Alexandria during the holidays you feel transported by an old-fashioned sense of holiday wonder. Under a canopy of sparkling lights, a stroll on historic King Street is like being in a real-life Dickens Village, complete with European flair.
Alexandria also hosts two can't-miss holiday events each year — the annual Scottish Christmas Walk Parade, named one of the South's Best Christmas Festivals by "Southern Living," and the Alexandria Holiday Boat Parade of Lights, named one of the Best Holiday Parades in the country by "USA Today's" 10 Best Reader's Choice Awards.
What are some of your personal favorite things to do and see in Alexandria that are free or affordable?
One of my favorite things to do in Alexandria is to wander Old Town's historic neighborhoods. I love taking friends to see the skinniest historic house in America — the Spite House — located at 523 Queen Street. The house is just seven feet wide and is a private residence, but friends love trying to stretch their arms to see if they can reach both sides. The story goes that the owner in 1830 built the tiny house to keep loiterers out of his adjacent alley.
I also love touring the Stabler-Leadbeater Apothecary Museum because it feels like you're stepping back in time to what would be the CVS or Walgreens of their day. You can see a letter from Martha Washington requesting castor oil and hold a piece of dragon's blood (yes, it's a real ingredient!).
The Torpedo Factory Art Center is also a wonderful place to discover local artists and get one-of-a-kind gifts for friends or art for your home. I love to take advantage of Alexandria's marina and waterfront parks.
Beer lovers can't come to Alexandria without checking out our award-winning craft brewery, Port City Brewing Company.
What are some popular local dishes to try and restaurants that won't break the bank?
Alexandria has so many wonderful independent restaurants. Some of my favorites that are also affordable are Mia's Italian Kitchen, Urbano 116, Myron Mixon's Pitmaster Barbeque, and Meggrolls. You can see all of the great restaurants in Alexandria on our restaurant page.
Do you have any advice for tourists looking for affordable lodging in and around Alexandria?
Visitors are surprised to learn that you can find some of the lowest hotel rates of the year in late summer and around the holidays. Throughout the year Alexandria offers various hotel packages and special deals. Whether you want to stay at a smaller boutique hotel filled with local character or prefer a specific brand, we have plenty of options. You can find those offerings under the hotels section of our website.
What's the most economical way to get around the area?
Alexandria is a walkable destination, so it's easy to enjoy a car-free getaway here. Alexandria is just a few miles from Reagan National Airport, and many hotels offer free shuttles. Visitors can stay in Alexandria and explore the region by utilizing Metrorail. We have four stops in Alexandria, including one in historic Old Town.
Visitors can also access D.C. and the region via water taxi, bike-share and carshare. The free King Street Trolley takes visitors from the King Street Metro station to the waterfront in Old Town making it easy to hop on and off to explore historic sites, shop, and dine.