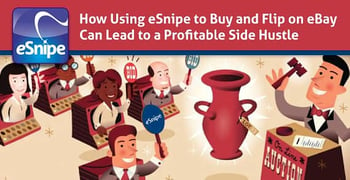 Experts share their tips and advice on BadCredit.org, with the goal of helping subprime consumers. Our articles follow strict
editorial guidelines
.
In a Nutshell: As a platform for buying and selling items of any possible type — new and used, working or not — eBay is the original and still the king. But with more than 170 million active registered users, the competition for certain collectible and high-value items can be fierce. eSnipe is an automated online bidding platform for people who want to increase their odds of winning an auction on eBay, while ensuring they bid the lowest amount possible to win. By waiting until the final seconds of an auction, eSnipe allows its users to remain anonymous and to keep their interest in an item private. This gives an advantage to anyone who wants to buy underpriced items and resell them for a profit as a side hustle.
When the online auction platform eBay was founded in 1995, internet startups were grappling with how to make money, while trying to decipher what this new technology was ultimately going to mean for commerce.
From the beginning, the idea behind eBay was to focus not on selling products to consumers but to make this a platform for connecting people. Today, nearly 170 million buyers make purchases on eBay that total almost $90 billion annually.
While many sellers on eBay make money by sourcing low-cost products and selling them in volume, this isn't the only way to be successful on the platform. With so many niche product categories, specializing in buying and selling certain collectible or high-interest items can be a great way to make money as a side hustle. Consider the following examples.
One eBay seller buys vintage furniture — the more distressed the better. In fact, he often distresses it even more once he receives it. Then, he turns around and sells it at his local swap meet for a premium to buyers looking for "shabby-chic" decorative pieces.
Another seller specializes in buying early Hot Wheels toy cars in any condition, as long as they're cheap. He then painstakingly restores them to their original appearance and puts them back up for sale on eBay to collectors for hundreds of dollars.
Other sellers focus on specialty items ranging from costume jewelry and mint-condition action figures to vintage Schwinn bicycles. Anything you could dream of collecting, buyers and sellers are out there looking for these items. But, if that's true, how can you successfully compete with so many others doing the same thing? That's where secret weapons, like eSnipe, come in.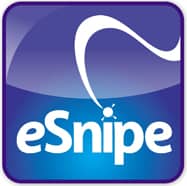 eSnipe is an automated online bidding platform for people who want to increase their odds of winning an auction on eBay, while ensuring they bid the lowest amount possible to win.
The man responsible for developing eSnipe into one of the most popular and successful sniping services is former Microsoft program manager Tom Campbell, CEO and proprietor of the privately held company.
"The main job of eSnipe is to place bids during the last few seconds of an eBay auction," Campbell said. "The thing about sniping — whether you do it through eSnipe or just by yourself — is that you want to keep other people from knowing about your interest so they don't try to outbid you."
In case it isn't completely clear, the practice of sniping is simply placing a higher bid within the last few seconds of an auction in an attempt to outbid the other offers. It can be done manually, of course, by holding your finger over the submit button and hoping for perfect timing, or by using an automated platform like eSnipe.
How eSnipe Has Saved Users More than $7 Billion
The story of how Campbell first came to use eSnipe is an interesting one. As a self-proclaimed "guitar guy," he began bidding on a particular type of guitar called the Fender Performer. He jokes that he single-handedly (and unintentionally) drove up the market price of these guitars by overbidding because he didn't know any better.
"My wife loves my hobby, but hates when I waste money. So she told me I have to figure out a way to bid that's not emotional. That's when I came across eSnipe," Campbell said.
In practice, manual sniping has been around since the early days of eBay. Bidders would anxiously watch the countdown of an auction, and frantically attempt last-second bids — with varying degrees of success. When Campbell first encountered the platform in the late 1990s, he was impressed by its potential. It turned out the originators of the platform couldn't figure out how to make money with it, though, and Campbell saw an opportunity.
"The company wasn't making any money because, in 1999, everybody was afraid to charge for access or use of a website; it just didn't work," Campbell said. "So, they put eSnipe up for sale on eBay, and I bought eSnipe using eSnipe. I put it back together, and six months later, I started charging for it."
eSnipe has been making money as a platform and for its users ever since. Here's how it works: The site charges just 1% of any bids that you win, up to a maximum of $10. If you win a bid at $40, they charge 40 cents. If you win something that's $1,000, they charge you the maximum amount of $10. If you bid on and win, let's say, a classic Corvette that cost $40,000 — you still pay just $10.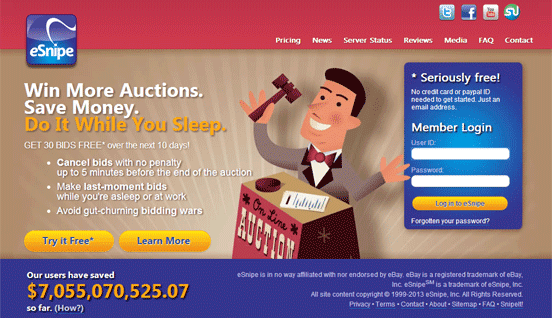 To date, eSnipe calculates it has saved users more than $7 billion on bids they've won. To understand how this is possible, you need to know a little about how eBay structures its auctions. You can tell eBay the maximum amount you're willing to pay for something, but the platform only raises your bid price in increments enough to beat the highest bidder.
The $7 billion users have saved is a verifiable figure that the company shares with anyone who's interested. Taking the maximum bid that's submitted and subtracting the amount that actually wins the bid yields the amount saved on the item.
Using eSnipe to Start a Lucrative Side Hustle
Now that you understand a bit more about how eSnipe works, you may be wondering how to use this platform to your advantage. Starting a lucrative side hustle of buying and selling on eBay doesn't take a lot of skill, but it does take some patience and a little knowledge. Campbell's experience as both the CEO of eSnipe and a longtime eBay user makes him the ideal person to talk to about how to get started.
"People who do this as a side hustle tend to use some eSnipe features more," he said. "For example, bulk bidding, which lets you bid on a whole bunch of things at once — you're essentially pasting in a spreadsheet of things you want to bid on."
He also told us people who use eSnipe for a side hustle tend to focus on a pretty narrow niche or style of item. The more you know about the thing you're looking for, the more likely it is you'll know the value of it — even if the seller may not. You'll also be better able to recognize real vs. knock-off products. Finally, specialization can let you build a reputation as a seller and attract buyers of that collectible to follow you and your products.
"Find something you love, and specialize in it. Even some of the most obscure items can end up being collectible and lucrative," Campbell said.
Getting the Best Deals — What to Do and What Not to Do
Campbell also had some pretty clear ideas on how to know what to bid on within eBay's massive pool of item listings. He told us that sometimes sellers will list an item in the wrong category — for example, listing a guitar under music books. By expanding your search for things outside the category where they're typically located, you can find things others have missed.
"People who are looking for a particular type of guitar would not tend to run across it because it's not listed in the place it should be," he said. "But people who use eSnipe would search for the best possible price for this instrument and might get it for less than it is really worth. So, miscategorized stuff can be a good thing for people who are doing this as a side hustle."
Also, Campbell said estate sale listings are a great place to look because sometimes those people don't know how to categorize or how to value certain things. You can find treasures hidden among the commonplace items, if you know what you're looking for.
Another thing to keep an eye out for is a misspelling of the item you're seeking. Searches won't necessarily turn it up, unless you try some common misspellings in your search. Finally, you can get good deals on items that have lousy descriptions and unattractive pictures, simply because they may garner less attention. Again, if you know what you're looking for, you can sometimes find a hidden gem.
Once you've found your diamond-in-the-rough and won the bid using eSnipe, the final step is to price it correctly, take some high-quality pictures of it, and post it using a good description and the appropriate keywords. Doing this, Campbell said, is the key to a successful and lucrative side hustle on eBay using eSnipe.