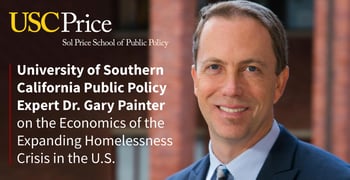 Experts share their tips and advice on BadCredit.org, with the goal of helping subprime consumers. Our articles follow strict
editorial guidelines
.
In a Nutshell: Although homelessness in the U.S. shows an overall downward trend, it still impacts more than 500,000 people in America today. And in certain population centers, particularly on the West Coast, homelessness is on the rise. We recently spoke with University of Southern California Price School Professor Gary Painter, Ph.D., about this important issue. Painter said more than ever before, simple economics is a major contributing factor to homelessness, as opposed to other issues such as mental illness. Rent prices are increasing faster than wages in many areas. Local governments must rethink their planning policies, Painter said, many of which were put in place decades ago when housing was more abundant and populations were lower. Additionally, new approaches to construction and financing can contribute to more affordable housing.
Unfortunately, homelessness remains an issue for more than half a million people in the United States.
And while there has been an overall downward trend in homelessness over the past decade, according to the National Alliance to End Homelessness, certain regions of the U.S. have seen an upswing.
The West Coast, and specifically certain areas of California, has seen drastic increases in homelessness in recent years. A recent Vice article documented how the problem has become so bad that some California cities, including Oakland, Modesto, and San Clemente have built their own homeless camps.
While mental illness and substance abuse remain contributing factors to homelessness in the U.S., many people are homeless because of rising rent and real estate prices and financial setbacks.
For many households in the U.S., a significant unexpected expense — such as a medical emergency or legal fees — can wreck already strained budgets, and the prospect of becoming homeless is a very real threat.
We recently spoke with University of Southern California Price School Professor Gary Painter, Ph.D. to learn more about the ongoing homeless crisis in the U.S., how the face of homelessness is changing, and what may be done to address the issue. Painter is an economics expert, Director of the USC Sol Price Center for Social Innovation, and Director of the Homelessness Policy Research Institute.
Pure Economics is a Bigger Driver of Homelessness Than it Has Been in the Past
"It isn't a surprise that we're seeing more and more people ending up living in their cars or on the streets," Painter said. "We have this steady march of increasing housing costs as well as overcrowding. None of it has been a dramatic shock year-to-year, but if you look at it over decades, those are big changes."
Additionally, those steadily increasing housing costs have not been matched by equally increasing wages for many.
"Because, for the first time, the homeless population is now being driven so much more by economics than by illness or addiction it really changes how we should think about the homeless population," Painter said.
He said the homeless crisis should be considered in a broader context, including job markets and housing prices.
The steady trend of rent prices increasing faster than wages is particularly problematic in major metropolitan areas like Los Angeles or San Francisco, where the housing supply is more restricted, Painter said. But it is an issue that is occurring all over the country, he said.
In Los Angeles County, some of Painter's USC colleagues conducted a survey to understand the reasons people cited for being homeless in recent point-in-time counts, he said.
"What they found was that — compared to a few years ago, where it was between 50% and 60% — this year, 73% of people who have become homeless for the first time cited a specifically economic reason (for becoming homeless) and not some other reason, like mental illness," Painter said.
He said those reasons included scenarios such as the loss of a job or a drastic increase in rent.
How Local Governments can Shape Policy to Alleviate the Problem in Coming Years
Painter said a lot of cities are still operating under planning guidelines that were established to support the housing market of the 1970s and 1980s.
"In many places, there have been almost no changes in those particular codes and laws," he said. "And that's just not good government — to not reconsider the outdated systems by which you did things 50 years ago, when there was rapid growth with lots of land available."
Painter said those old standards were often meant to address issues such as how to zone residential areas in relation to industrial areas. But in the intervening years, populations have risen and growth has continued, but the available housing has not necessarily increased along with those things.
"Although some of these regulations were enacted for good reasons, such as environmental protection or to prevent residential populations living in close proximity to dirty industries, government needs to reform planning processes that have been in place for decades, and that no longer efficiently serve California's population from 50 years ago," Painter wrote in an op-ed picked up by several publications.
He said holding on to those old standards is the primary reason behind the affordability crisis because — at least in California — cities have not built enough new housing to accommodate the population growth.
"It's pretty clear going forward that the whole model has to be completely rethought," Painter said. "Here, that includes changes in both California state laws and local practices."
He said the private sector can also play a role in addressing the problem by exploring issues around finance and construction modalities.
"Instead of looking backward to what the housing market was in the past, it is time to plan for the housing market our communities need for the next 50 years," Painter wrote in the op-ed.
Affordable Housing Policies and Helping People Stay in Their Current Homes
Building new affordable housing and maintaining existing affordable housing options is another important factor in addressing the homeless crisis.
"Recently, a number of new models of construction materials have garnered attention as possible ways to make housing development more affordable," Painter wrote in the op-ed. "These approaches include a process for off-site construction and using alternative materials like shipping containers or 3-D printing."
Although these tactics show promise, they have not yet reached their potential for cost savings because of outdated planning processes, he said.
"We just published a case study that examines ways to preserve affordable housing with a new hybrid model of finance that combines impact investing with philanthropy and some government funding. But in a much-reduced capacity compared to low-income housing tax credit subsidies and those kinds of things," Painter said.
The Homeless Policy Research Institute has been working closely with the Los Angeles city and county governments to explore new ways to address these issues and to support permanent housing, Painter said.
The institute will be evaluating the success of certain efforts as well, to begin developing a set of best practices for new planning processes, construction modalities, financing, and more, he said.
"I think it's important to note that there's a lot of really good work happening all around the country, in terms of how the homeless service systems are continuing to improve," Painter said. "People are dedicated and understand there are ways we can map services to people experiencing homelessness and ways to help people stay in housing."