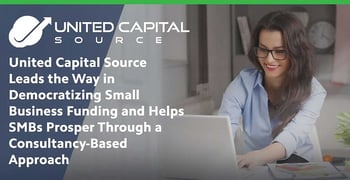 Experts share their tips and advice on BadCredit.org, with the goal of helping subprime consumers. Our articles follow strict
editorial guidelines
.
In a Nutshell: By providing small businesses with needed funding in as little as two days, United Capital Source has become known as a brokerage that puts its clients first. Borrowers can apply online, or use its concierge service over the phone, to receive approval within 24 hours. Even after funding is delivered, the company maintains contact with clients to ensure their continued satisfaction. For its commitment to expedited loan services and providing SMBs with the money they need, United Capital Source has earned our Editor's Choice™ Award as a Top Small Business Lender.
The Milk 'n' Things Convenience Store in Albertson, New York, is a seasonal business, and slow winters mean less cash flow for the store's owners, who still must deal with overhead costs. During that time of the year, the store needs quick access to funding, especially in case of emergencies.
When the store's freezer broke down, the owner first went to a bank to secure financing to purchase a new one. But he found himself overwhelmed by paperwork and an approval process that wouldn't provide the funds when he needed them. Instead, he turned to United Capital Source, which required fewer documents and provided funding in under 72 hours. With the loan, Milk 'n' Things upgraded its equipment and invested in advertising, both of which helped it grow.
United Capital Source specializes in helping small businesses like Milk 'n' Things get funding — including a merchant cash advance, a business line of credit, equipment financing, or other business necessities — ranging from $5,000 to $10 million. As a consultative brokerage, it assesses practical business data when helping a client select the best product, amount, and lender. That's the approach Jared Weitz, Founder and CEO of United Capital Source, has taken since he got into the finance industry.
"I was in the alternative finance space at the end of 2006, and I had the benefit of starting as an underwriter," Weitz said. "I got to learn about businesses from an analytical perspective. I learned that we were analyzing data instead of solely looking at someone's credit, which I thought was an interesting way to judge things."
United Capital Source has helped more than 20,000 merchants in more than 1,000 industries and has provided them with over $875 million in funding. Available in all 50 states and Canada, United Capital Source's products are open to any business that has been operating for three months or more and can provide official sales documentation. It presents a convenient alternative to traditional lenders by offering various products with custom levels of funding to match the needs of small businesses. The company can also deliver loans within a few days.
"We understand exactly what a merchant is looking for no matter what the challenges might be in their market. And then we partner with about 35 different lenders, funding companies, and private sources so we can accomplish anything that a merchant needs," Weitz said. "We offer business loans, business lines of credit, accounts receivable financing, SBA loans, and merchant cash advances, among other products."
For its conscientious attitude toward client care, we recognize United Capital source with our Editor's Choice™ Award as a Top Small Business Lender. United Capital Source's variety of offerings and attention to clients ensure that small businesses get the funding they need to prosper.
Online Applications and Concierge Service Enable Fast Access to Funds
Businesses that borrow through United Capital Source can choose either a fully automated application process or avail themselves of concierge service that provides direct assistance in selecting and applying for a financial product. In either case, applications begin on the company's website. Filling out the application and uploading the necessary documents takes less than five minutes, and applicants then receive an automated email with the name of their assigned representative.
During business hours, a representative contacts the applicant within a few minutes. Otherwise, that contact is initiated the next business day. Through the conversation, the representative gets an understanding of the precise needs of the business and assists the applicant in evaluating the options.
"Sometimes a merchant says, 'Hey, listen, I think I need a $50,000 business loan,' and after speaking to one of our representatives, we find out they're better suited with a line of credit," Weitz said. "At the push of a button, we send documentation to the lender we think will be the best fit for our client. We get a response in less than two hours with full documents ready to go."
Once approved, funds can be made available in as little as 24 hours. The average delivery time is from two to four business days. In addition to fast delivery, borrowers can expect the most value from their product. More than 90% of United Capital Source's business is direct; it handles the rest through referrals to partners, but in no case will a borrower encounter any surprise fees.
"We don't allow anyone to charge application fees or closing costs or anything like that," Weitz said. "We're strict on that and always in favor of the merchant netting the most of the capital to accommodate the fact they're paying for the loan."
A Company Culture That Puts Clients' Needs First
United Capital Source has an 18-member staff, 13 of whom work directly with clients on the phone. Weitz has known many team members for years, including high school friends, family members, and previous business associates. And he trusts their integrity and ability.
"Most of the folks have been here with me since inception. Three of them came with me from another company, so they have experience in underwriting," Weitz said. "Through that experience and training we teach our employees how to be consultants."
During training, new employees listen to senior consultants' calls before handling any of their own. United Capital Source provides specific questions for representatives to ask applicants to best assess the means and needs of a business. Such specialized service is one of the company's secrets of its success.
"We have a lot of repeat customers and we're helping clients with about 300 financial situations per month," Weitz said. "I've found success in building a culture, not a company. That culture is about high integrity, it's leaving money on the table if that's what the right move is for the client, and it's thinking about yourself last because you understand that if the client does well, they'll going to be your client for a long time."
Weitz takes a similar approach toward his staff. He seeks to include all employees in company matters, gaining valuable input and understanding how large decisions will impact the company's internal workings. His open-door policy and a personal interest in staff members help every employee feel invested in the company and its goals.
Investing in Small Businesses through Financing and Service
United Capital Source delivers the optimal product to each client by understanding the industry in which the client works — and the situation within that industry.
"It's fine to understand an industry, but all that really means is that you understand profit margins. Our consultants know here, from day one, part of the first phone call is to ask each client what profit margin they're working with," Weitz said. "That way, we can understand what they can afford. Every industry is different."
"We're constantly talking to clients throughout the loan process — and after — to ensure everything is going well. Are payment structures working? Did you use the money to grow the business? Did you buy the new inventory you wanted? How's the new website you put up? Whatever is pertinent to that client, we're always communicating." —  Jared Weitz, Founder and CEO of United Capital Source
In addition to connecting clients to various funding types and sources, United Capital Source has a line with its own lender, which it uses to put up a portion of each client's funding. This syndicated style of lending mitigates risk by sharing it with the lender and allows United Capital Source to pass on better rates and terms to clients. It also establishes a vested interest in each small business, a commitment the company takes seriously.
United Capital Source's renewals department maintains communication with current clients regularly. The team uses a customer-relationship management tool to streamline client interactions and ensure that each borrower receives comprehensive service.
"We're constantly talking to clients throughout the loan process — and after — to ensure everything is going well," Weitz said. "Are payment structures working? Did you use the money to grow the business? Did you buy the new inventory you wanted? How's the new website you put up? Whatever is pertinent to that client, we're always communicating."
Plans to Improve Services with Consultative Brokerage
The personalized service and understanding United Capital Source provides helped the Milk 'n' Things Convenience Store get a right-sized loan to upgrade its equipment and engage in a marketing campaign to grow its business. And by fostering that kind of small business growth, United Capital Source has expanded its own reach.
"We're doing a little over $200 million a year in brokerage and about 80% of that is outside of merchant cash advance. In that 80%, that's business term loans, lines of credit, SBA loans, accounts receivable financing, and equipment financing," Weitz said.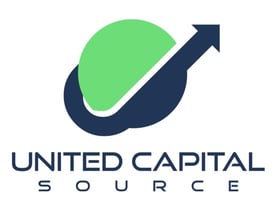 Weitz said he plans to continue his work at United Capital Source offering products to borrowers, but he will also assume a more active role in the finance industry at large. He was chosen as Chairman of the Small Business Finance Association Broker Council in 2018 and will work with the organization's members and policymakers in individual states.
The SBFA is a nonprofit advocacy group that works to ensure small business access to capital and strengthen the economy. Through his role with this organization, Weitz hopes to bring his sensibilities and strategies to small business finance and promote quality service to borrowers throughout North America.
"That's a move toward transparency and ensuring that small and mid-size business owners understand what the pricing is, and that goes back to consultative sales," Weitz said. "I look forward to accomplishing that in 2019, and I think it will help the industry — and grow our company."