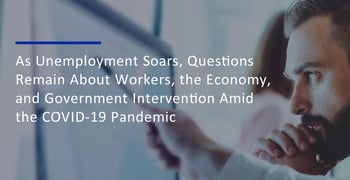 Experts share their tips and advice on BadCredit.org, with the goal of helping subprime consumers. Our articles follow strict
editorial guidelines
.
In a Nutshell: The COVID-19 pandemic has brought unprecedented challenges to America's healthcare system and economy. Businesses across the country have shuttered their doors, either through self-imposed or government-imposed stay-at-home orders, resulting in major financial challenges for both employees and employers. Since mid-March more than 30 million people have filed for unemployment, and the only thing certain, it seems, is uncertainty. We spoke with Sophia Koropeckyj, a Managing Director at Moody's Analytics, to learn more about the questions economic experts are asking and what they are predicting in these challenging times.
As COVID-19 began spreading across the U.S. in early March and it became clear that the deadly disease was not going to be easily stopped, local and state governments issued stay-at-home orders to residents and placed strict guidelines around the types of businesses that could remain open.
While these measures seem to have helped flatten the curve and allow most (but not all) medical care facilities to avoid becoming overwhelmed with COVID-19 patients, Americans have had to trade their financial well-being for their health safety in some cases.
Unemployment numbers have skyrocketed as businesses have closed and residents practice social distancing and isolation to avoid contracting or spreading COVID-19.
While experts are optimistic that the worst weeks are behind us for now, many questions remain about how the resulting economic crisis will play out and what will happen to workers who have been laid off or furloughed due to business closings and stay-at-home orders.
We recently spoke with Sophia Koropeckyj, a Managing Director at Moody's Analytics, to learn more about what this means for workers and the economy. We also discussed the recent CARES Act and other government initiatives aimed at staving off an even more severe economic crisis.
Moody's Analytics, a division of Moody's Corporation, that provides capital markets and risk practitioners with tools and best practices for measuring and managing risk. The company conducts economic research and credit analyses and establishes financial risk strategies.
"We're tracking unemployment insurance filings closely," Koropeckyj said. "We're trying to parse what is going on with the CARES Act and what it may mean for employment down the road. We're trying to figure out what to expect in May when the April employment report comes out."
Since Mid-March, 30 Million Americans Have Initiated Unemployment Claims
Since mid-March, more than 30 million Americans have filed unemployment claims. That's estimated to be nearly 19% of the U.S. labor force. During the last week in March, unemployment claims peaked at 6.9 million and have declined each week since.
But the weekly numbers are still far higher than average.
During the last week of April, 3.84 million people filed for unemployment.
Although seeing a number in the low millions compared to the numbers earlier in April may seem like a relief, Nick Bunker, Director of Economic Research at the Indeed Hiring Lab told CNN that "it's objectively a horrifying statistic."
"Rising joblessness will weigh on incomes and consumer spending, which is the largest contributor to the economy," the CNN article continues. "Personal incomes fell 2%, and personal consumption expenditures dropped 7.5% in March, according to the Commerce Department."
Although lower paid workers were generally the first to be hit with layoffs or furlough orders, experts say the layoffs will likely creep into the white-collar world in the near future as well.
And some sources are reporting that the number of unemployment claims should actually be higher.
"Millions of Americans who have been thrown out of work during the coronavirus pandemic have been unable to register for unemployment benefits since the U.S. economy entered a free fall, according to a poll released on Tuesday," reports a Reuters article.
Koropeckyj said that, at Moody's Analytics, she and other economic experts have been working to get a handle on all the data coming in, which can be challenging because there are so many moving parts.
Analyzing the Existing Data and Trying to Predict What Comes Next
"We normally run our forecasts once a month, and in March, we ran our forecasts three times — each time lowering our outlook," Koropeckyj said. "And then, in April, it was even worse. That's been very, very difficult."
She said the company observed in March that a lot of people who lost their jobs left the labor force, which makes it more challenging to get a grasp on accurate data.
"The way the government calculates the unemployment rate, those people kind of fall off the map so they're not counted as unemployed," Koropeckyj said. "So there are a lot of fuzzy edges around the numbers that we're trying to parse."
At the time of our interview, Koropeckyj was waiting to see what the data will look like for April once it's released, she said.
"We're just trying to predict how bad the numbers could be based on people filing for unemployment compensation," she explained. "But then there's the other half of the story which is the hiring that is not taking place."
Moody's is assuming that hiring fell to about half of what it would normally be, she said, and the net number for April will be based on hiring minus layoffs.
Koropeckyj said that, although this pandemic and the unemployment pace is unprecedented in modern times, Moody's has used post-Hurricane Katrina New Orleans as a rough metric for some estimates and predictions.
"In New Orleans, after Katrina, there was a sudden stop of activity," she said. "Employment plummeted, and obviously, businesses couldn't operate because many were destroyed. So we've been looking a little bit toward that as a model."
The Impact of The CARES Act, the Paycheck Protection Program, and Other Government Initiatives
In late March, President Donald Trump signed the $2 trillion CARES Act, a package aimed at alleviating the economic toll due to the COVID-19 pandemic. The act was the third aid package intended to soften the economic blow to businesses and individuals whose livelihoods were put on hold.
Again, although the act has provided relief for some, many questions remain unanswered.
"The CARES Act expands unemployment compensation to self-employed people and to people working part time" Koropeckyj said. "How are they counted? Are they going to be counted? And are people going to be staying in the labor force or not?"
The act also includes the Payroll Protection Program for small businesses.
"The Paycheck Protection Program is providing small businesses with the resources they need to maintain their payroll, hire back employees who may have been laid off, and cover applicable overhead," according to the U.S. Department of the Treasury.
Koropeckyj said that although 1.8 million small businesses have been successful in getting the loans, some are questioning whether the loans are going to deliver the intended results.
"A lot of businesses are saying, 'Well, what's the point if we can't really start operating in the eight-week period that the loans are designed for?" she said. "And so, what that means is that the possible lift to the economy of the CARES Act could be much smaller than it may have seemed initially."
Koropeckyj said the pandemic has revealed a number of shortcomings within U.S. infrastructures, and the economy won't be the same on the other end of this downturn.
"The economy is always a little bit different once it emerges from a recession. And we are likely to see a different economy at the other end of this recession," she said. "But, when things are bad people have the tendency to think that they will always be bad. And on the flip side, when things are good, people can't imagine that the tide is going to turn."
Right now, some states are reopening or strategizing about how to reopen certain businesses. But the U.S. has a long way to go until the economy fully recovers. Congress is expected to plan another stimulus package in May but the details are still being hammered out.
Koropeckyj said that if there is any bright side to be seen right now, it may be that certain industries, such as the tech industry, is actually increasing its payrolls during this time. Still, she admits this is a small comfort amid the otherwise bleak news.