Experts share their tips and advice on BadCredit.org, with the goal of helping subprime consumers. Our articles follow strict
editorial guidelines
.
In a Nutshell: Instead of working an extra job, car owners in need of extra income can now put their cars to work for them. Through peer-to-peer car-sharing platform, Turo, hosts are earning an average of $625 per month by allowing people in their area to rent their vehicles when they aren't using them. Meanwhile, travelers are benefiting from increased selection and savings of up to 35% of what traditional car rental agencies are charging. The platform is already popular in major cities across the US, Canada, the United Kingdom, and recently launched in Germany, with plans to expand into new markets.
When money is tight and bills are coming due, people often look for new sources of income to avoid taking on debt. Traditionally, this would mean looking for a higher-paying job or starting a side hustle. But what if vehicle owners could put their car to work for them when they weren't using it?
Founded in 2009 in Cambridge, Massachusetts, peer-to-peer car-sharing platform Turo allows people to rent out their cars to those in need of vehicles in their areas. And while it's a strong source of passive income for car owners, it's also a platform that saves travelers up to 35% and provides more variety than traditional rental agencies.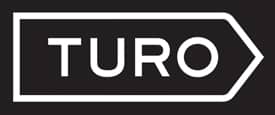 We recently spoke with Christin Di Scipio, Communications Coordinator for Turo, to find out about the benefits for both hosts and guests through this unique platform that's changing the way people think about car rentals.
"One of the main advantages of Turo is that it's an extra source of income," Christin said. "The average monthly car loan payment is about $500, and the average monthly earnings for a Turo host is about $625. And so, hosts can make their car payments by renting out their cars about nine days per month."
To date, Turo has more than 4 million rental days under its belt, with more than 200,000 vehicles available for rent listed and more than 5 million people who have signed up.
Turo Helps Vehicle Owners Cover Their Car Payments
Many people end up in situations where they suddenly find it difficult to cover their car payments. And those who have demanding, full-time careers know there is little to no time in the day to earn extra income to help with bills. That is what makes passive income extremely desirable.
Vehicle owners can list their car on Turo and rent it out on days they don't need to use it. And the money these hosts are earning is pretty decent, especially when one considers they did little more than hand over their car keys for it.
"On the host side, you can list a car on Turo. It's pretty simple. You add the make, model, and year. We have just a few basic requirements," Christin said. Requirements include having a car manufactured in 2006 or later and with less than 130,000 miles on it.
Hosts can choose the daily price they want to charge for their cars, or they can let Turo use factors, like market value, locations, and season, to ensure cars are listed at competitive prices with other vehicles on the platform. Turo pays its hosts via direct deposit within five days, and hosts receive 65% to 85% of the trip price. That pay rate can differ depending on which insurance package is chosen.
"There are three levels of insurance that folks can choose from: basic (15%), standard (25%), and premium (35%)," Christin said. "All of them cover $1 million liability insurance and physical damages."
Increased Variety and Lower Rates for Guests
While Turo is certainly set up to give hosts a chance to make money off their cars, the platform also benefits guests.
Before being eligible to rent on Turo, customers are vetted and their driver's license information is collected to ensure hosts can trust responsible drivers are using their cars.
"It's a really trusted system," Christin said. "That's one of the things that makes the marketplace run so smoothly. We're checking everybody who's coming onto the platform."
Rental fees on Turo are up to 35% more affordable than traditional car rental agencies, and, depending on which hosts live in the area you're renting, you might also find a lot more interesting vehicle options.
While the platform is popular with travelers, some people just like to use Turo to get the opportunity to try out cars they're excited about driving. For example, in some markets, a traveler can book a 2017 Tesla Model 3, for which there is a long waiting list, or try a Maserati, Lamborghini, or Porsche. Some customers also like to rent cars for their loved ones for birthdays and other celebrations.
"I think one of our key value propositions is selection, and I think it's what a lot of our guests find most compelling about Turo," Christin said.
Convenience is also a selling point for travelers, with many hosts offering door-to-door delivery or delivery to an airport. Guests can search by make and model, delivery availability, and other more specific preferences, like whether the car has a ski rack. The experience is very similar to that of Airbnb, except with cars instead of apartments and houses.
Put Your Car to Work for You with Turo
For car owners who don't always need access to their vehicles, Turo is proving to be an effective way of earning passive income. Meanwhile, guests are enjoying the ability to rent cars unavailable through other rental services, while saving significantly in the process.
Turo's biggest markets are Los Angeles, San Francisco (where it's now headquartered), Denver, and Boston, and it is expanding globally. The service is now available in major cities across the US, Canada, and the United Kingdom. It also just launched in Germany, with plans to continue reaching new markets.
"We want to be able to have people come to us wherever you are in the world," Christin said. "We are building global awareness right now. Renting out your car is a new concept, so it's taking a little more time to educate people that they're covered, that their personal insurance isn't affected, and so on."