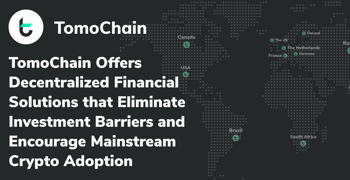 Experts share their tips and advice on BadCredit.org, with the goal of helping subprime consumers. Our articles follow strict
editorial guidelines
.
In a Nutshell: If using cryptocurrency were as quick and easy as redeeming reward points, more consumers might get on board. And that is the experience TomoChain aims to provide with its suite of crypto payment, exchange, and security solutions. The TomoZ protocol creates a frictionless experience for users by allowing them to reduce the technical and financial complexity of different blockchains. TomoX offers turnkey solutions for setting up and operating token exchanges, allowing founders and operators to establish networks without devoting valuable time and energy to technical concerns. And TomoP ensures the privacy of individuals and transactions while still maintaining regulatory transparency. All three TomoChain products work together to create an efficient solution that meets the crypto needs of businesses and consumers.
Kyn Chaturvedi first learned about Bitcoin in 2010, but for years, he remained skeptical about the currency that floated around the internet. Finally, in 2014, he decided to investigate further and ended up joining TomoChain, a crypto exchange and transaction platform.
And in six years, he went from skeptic to investor to TomoChain's Chief Business Development Officer.
"At the time, the narrative was that Ethereum was having scalability issues, even as it is today," said Chaturvedi, who joined TomoChain in 2019. "And so other cryptocurrencies became one of the potential solutions for that problem."

TomoChain's mission is to enhance crypto's usefulness by eliminating the learning curve for newcomers, increasing its value for businesses, and providing solutions that meet the needs of the decentralized finance market.
The key to achieving that goal is deploying a suite of blockchain tools that enhance security, make setting up exchanges easier, and don't get in the way of the normal processes for individuals and businesses. And that ease of use can help bring blockchain and cryptocurrency into the mainstream, just as early ISPs expanded internet access and paved the way for its status as a household utility.
"When you're surfing the net, most of us don't know exactly how the data is sent and received. You don't need to know how the data is routed at all," Chaturvedi said. "Similarly, why do you need to know about blockchain technology? TomoChain allows users to simply benefit from it."
TomoZ Provides Frictionless Access to the Blockchain
In TomoChain's TomoZ protocol, the Z stands for "zero friction." Its purpose is to reduce the complexity of crypto transactions for consumers.
For example, the Ethereum blockchain includes fees that cover the small cost of conducting a transaction on the network. But those fees must be paid in Ethereum, so users must hold that particular crypto even if they're transacting in another currency that is built on the Ethereum blockchain.
TomoZ eliminates the need for users to hold a base currency and allows them to pay those fees with the token used in a transaction rather than TOMO (TomoChain's token).
"I think TomoZ is perfect for the issuance of a decentralized stablecoin or even a centralized stablecoin," Chaturvedi said. "You just have the underlying technology of TomoChain without needing to know what it is."
One application for TomoZ is allowing businesses to issue tokens as rewards to consumers. Consumers can then redeem their tokens for products or services, as they would with credit card reward points or airline miles.
"You can go to the cashier and make a purchase using loyalty points for a cup of coffee, and it can be done in two seconds," Chaturvedi said. "The consumer doesn't have to know there's an underlying blockchain technology."
Coin98, built on TomoChain, is already putting that blockchain-based reward model into action. In early 2020, it launched an app that incorporates social media, news, and the Coin98 token. In six weeks, the app acquired 55,000 users, becoming one of the top 10 finance apps in Vietnam's Google Play Store and rising to the top 40 in the Apple Store. And it has generated 160,000 transactions using its embedded tokens.
"They're using it for product redemption in their stores," Chaturvedi said. "And their users don't even have to own TOMO to use that mobile application."
TomoX: A Ready-Made Foundation for Token Exchanges
TomoX is the platform's decentralized exchange protocol. Although it is still in testing as of February 2020, it will offer a turnkey solution for establishing proprietary exchanges at launch.
"The idea is that you put a deposit of TOMO down, and you can launch your own decentralized exchange on top of TomoChain. Because of TomoChain's speed, the experience is very close to that of a centralized exchange," Chaturvedi said. "The point is to focus on user acquisition, advertising, whatever the business thinks is important to customers, rather than worrying about the technology behind it."
Chaturvedi said he expects TomoX's out-of-the-box capabilities will allow for experimentation in the token-trading space not only with TomoChain-based coins but also with cryptos like Ethereum and Bitcoin. At the same time, it enables users to create and trade new and novel tokens in tandem with TomoZ.
"People can hold the token, trade it, and send it as they wish," Chaturvedi said. "There's no permission required.."
TomoChain expects to introduce a lending aspect to TomoX's capabilities, as well. Loans will be peer-to-peer interactions with no liquidity pool. Users can borrow and lend tokens directly to one another, most likely starting with a stablecoin, according to Chaturvedi. It will initially feature fixed-term loans, and, later on, users can accrue higher interest rates, making it an excellent option for people excluded from the traditional financial system.
Privacy Suite Will Balance Security with Compliance
TomoChain's privacy suite, TomoP, is also in testing and aims to build on TomoChain's speed and efficiency. The solution will enable users to complete private transactions within five seconds.
Although identities and amounts can be completely hidden, the option can be toggled on and off within the Tomo wallet, making it easy to switch between public and private transactions. These privacy features will eventually integrate with TomoX exchanges and share compatibility with TomoZ tokens as well as non-TomoChain-based cryptos.
"When we look at other privacy tokens, a third party is delegated to handling the fees. That's one of the problems: How do you manage those fees?" Chaturvedi said. "The cool thing about TomoP is it actually uses our TomoZ protocol to accomplish that."
Entities can also issue private tokens through TomoZ in conjunction with TomoP. The only information visible would be the total supply of tokens, but TomoChain has taken care to ensure that those private tokens will still be regulatory-compliant.
"And when you issue a private token, you'll have the option to allow for any authority to have a view into the transactions of that token," Chaturvedi said.
TomoChain Aims to Build a Better Blockchain Experience
Chaturvedi told us that TomoChain is its Founder and CEO Long Vuong's third iteration of a second venture into crypto. "He takes a broad-perspective look at everything and continues to refine his ideas and adjust," Chaturvedi said. "It didn't start as a blockchain. It was more of an application he was thinking of building initially, and eventually worked it into a blockchain idea."
Surprisingly, TomoChain's initial coin offering raised only $8 million — but, as it turns out, that was by design. The founding team decided that was the amount they needed to get the project running and see if it was a good market fit.
"That was one of the reasons why I was intrigued by the project. Whereas you had other projects that just wanted to raise as much as they could, whether they needed it or not, these guys were thinking deeply," Chaturvedi said. "They're willing to scrap ideas, even if they're moving down a new direction. That's one of the things that I value most, honestly, and why I want to continue working with TomoChain."
TomoChain's mission is driven by its vision of what the ideal solution should be, not by commitment to the development team's current idea for a solution. As a result of their efforts, TomoZ, TomoX, and TomoP all mesh to create a robust, simple, effective token ecosystem.
"These products fit well together, and they're going to be a big part of our story this year," Chaturvedi said. "We're trying to think about, from a cohesive perspective, what's going to be needed in the space. And we do think that these things are important. Reducing the friction for end users, … allowing them to have truly decentralized finance experiences for trading, borrowing, lending, and at the same time having it be as private as possible yet having the ability to be regulatory-friendly."