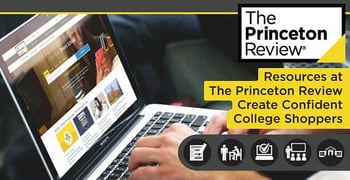 Experts share their tips and advice on BadCredit.org, with the goal of helping subprime consumers. Our articles follow strict
editorial guidelines
.
In a Nutshell: From finding the right college to finding a way to pay for it, the college admissions process is often a giant headache. Every year, more than a million college-bound students (and their parents) use resources from The Princeton Review to help ease the pain. The website offers a variety of useful digital materials, including a database of thousands of popular colleges and articles offering great advice. Additionally, Princeton Review's iconic publications are information treasure troves. The detailed annual editions include information that can help you find the best value college as well as step-by-step guides to navigating the financial aid process like an expert. Use the resources at The Princeton Review to demystify the admission process and become a confident college shopper.
We live in a world populated by more than 7 billion people, so it should be little wonder that such a wide variety of fears and phobias exist. Really, if there is a noun, verb, or even adjective that exists, odds are there also exists someone who is afraid of it.
Even some things that many would consider completely innocuous have associated phobias. You may be thinking of participating in "No-Shave November," but if your spouse has pogonophobia — the fear of beards — you may have to think again. And the next time you sport a two-piece swimsuit, consider the feelings of those who have omphalophobia (the fear of navels).
Of course, not everything we fear is a designated phobia; some of the most anxiety-provoking ordeals we go through are simply regular parts of life. For example, many students and parents probably believe that there should be a spot on the list of phobias for applying to college — and paying for it.
Just about every part of the college admission process can be fraught with stress and anxiety, from the necessary tests, such as the SAT and ACT, to the pile of college and financial applications that must be filled out. In fact, the annual Princeton Review survey of students and parents applying for college revealed the toughest parts of the admissions process are taking exams and completing applications.
"If you can demystify admission and financial aid, and, thus, help combat the stress of applying to college, then you can create a very confident college-shopper, financial-aid-applier, and test-taker," said Rob Franek, Editor-in-Chief for The Princeton Review. "Though it may sound a little Pollyannaish, it really does make people feel confident that they can navigate the system — and, not just navigate it, but do so expertly."
If anyone knows about creating confidence in the college-bound, it's The Princeton Review. The company has been helping students prepare for college since 1981 when founder John Katzman used computer analysis of test performance to develop an SAT preparation system for 15 college-bound students in New York City. John's initial course — which he called "The Princeton Review" — evolved into a popular book, Cracking the SAT, and was the beginning of what would become today's Princeton Review, a company synonymous with college preparation.
"This year we worked with a little over 1.4 million college-bound students," said Rob. "That number has been consistent over the last 10 years, and it's pretty significant because that is nearly one out of every two students who applied to college each year."
Helping Relieve College Stress with Guides, Tutors, Test Prep, and More
For the last 35 years, Princeton Review has been the one-stop shop for all things exams. They create confident test-takers with in-depth preparation guides, courses, and even private tutoring, covering just about every test, including SAT, ACT, AP, GRE, GMAT, LSAT, MCAT, ISEE, TOEFL — just to name a few.
"The truth is that these tests are absolutely navigable and absolutely masterable," Rob said. If your student needs extra help, you can find a private tutor for one-on-one guidance. Tutoring isn't limited to the exams, either. The Princeton Review offers academic tutoring for multiple subject areas through its Homework Help service.
"Within just a few seconds in most cases, a student using our Homework Help solution can get a tutor in virtually any academic area," said Rob. "There are over 6,000 Homework Help sessions going on any given evening."
Of course, Princeton Review is most known for their iconic publications; from their unique position in the world of education, The Princeton Review has been able to determine what students (and parents) need to know to successfully get through every part of the admission process. In particular, students and parents can learn a lot about picking the best value college and getting through the financial aid process, concepts that can be tricky to master without knowledgeable advice.
"We publish many books at Princeton Review, and we have several that are financial-aid centric, which help parents and students navigate that process," Rob described. "We offer need-to-know guidance, particularly as it's based on questions that continue to come up from college-bound students, their parents, and their counselors. We make this info available through our books, website, mobile apps, classes, etc."
Ranging from detailed college profiles designed to help you find the best value, to step-by-step guides to help students and parents navigate the financial aid process, each book is packed with information. In fact, so much goes into an annual Princeton Review publication that they're working almost year-round to make it happen.
"Many of these books, particularly the annual editions — it takes us nearly a year to put each of those books together," explained Rob. "As soon as we're putting one issue to bed, once that book delivers, we're working aggressively on the next edition."
The 5 Do's and Don'ts of College Finances
As with many aspects of life, having the right information when you begin the college admissions process can help prevent a lot of stress and anxiety down the line. In particular, being knowledgeable about the financial aid process will help save you from the eventual headaches as well as helping to save you money.
"Our goal is to make the students and parents feel very confident and excited about the process," Rob said. "And help them understand they can navigate this process themselves, and understand that they CAN DO THIS! The payoff can be glorious — and really benefit them from a pocketbook perspective."
1. Don't Be Afraid to Talk About Paying for College
"People, no matter their socioeconomic group, are scared to talk about paying for college," explained Rob. "It's just a scary subject, regardless of where you are on the financial spectrum." Fears of how they're going to make costly tuition payments aren't just limited to parents; it weighs heavily on the minds of most prospective students, too.
"Princeton Review's annual survey, College Hopes & Worries, revealed that the number one fear students have — and this has been true over the last several years — is the amount of debt they're going to take on to afford college," said Rob. "A very close second is that students are going to get into their first choice school, but be unable to pay for it."
A good way to get the conversation going? Parents and students should start doing a little research — together. You'll not only get the opportunity to discuss your concerns about the process, but you'll get a better idea of the real costs you can expect to see. (After all, knowledge is power.)
"I want students and parents to be incredibly savvy about college costs and the financial aid process," Rob said. "We hear so many horror stories — and we know they exist — but not every student is graduating with $80,000 in debt."
2. Do Look for Colleges with the Best Value
For many, the search for the best college usually starts the same way as the search for the best pair of jeans: with the brand. In the modern market, though, Rob recommends that you forget the brand. Instead, he said, it's all about how employable your potential school can make you.
"What I look for to determine if the school is going to be a great value — both academically as well as financially — are the career resources offered to students," said Rob. "How am I engaging with a career service center from day one, when I first step foot on campus freshman year? Do they have externships, internships, cooperative experiences — and how is the career services center providing those things?"
Rob said that admission teams, during prospective student presentations, should address career-oriented opportunities within the first 15 minutes of their introductory remarks. If not, the school may still operate on the old system, in which students don't see the career services center until the second semester of their senior year.
"That old approach doesn't do current students any good," he said. "But, if you can aggressively talk about what things students are doing outside the classroom to complement their study — that also makes them very attractive to employers upon graduation, or for internships, or attractive to graduate schools — that's the stuff I want to hear about."
3. Don't Cross Out Great Schools Too Early in the Process
Even though it's important to find a school that offers a good value, that doesn't mean eliminating more expensive schools for price alone. According to Rob, one of the biggest mistakes students and parents both make is to draw conclusions about the affordability of a big price tag school.
"Many students and parents will cross an expensive school off their list of consideration too early on in the college research process because of price," said Rob. "For example, suppose you're a sophomore in high school and you think, 'I could never afford to go to Rice' — which has a nearly $64,000 sticker price this year. You may cross it off your list without doing any more research than just looking at the sticker price."
By crossing that school off your list, however, you may be making a tragic mistake.
"The truth is, many of the schools that have a higher sticker cost likely also have deeper pockets, and they may be putting those dollars toward scholarships for students who qualify for acceptance," Rob explained. "Rice is actually a good example because, though it has a lofty sticker price of $64,000, their average gift aid — and this doesn't include a dollar of financial aid — is upwards of $41,000."
A cushy financial aid package like the one at Rice can bring a pricey private college education down into the cost range of your typical public state college, which averaged around $19,000 this year. The Princeton Review's book, Colleges That Pay You Back, is a great resource for finding the cost and average aid packages of hundreds of colleges around the country.
4. Do Learn How to Correctly Navigate Your FAFSA
The FAFSA, or Free Application for Federal Student Aid, is more than just your ticket to government funding. Many schools use your FAFSA information to grant their own in-house need-based scholarships.
"The FAFSA is the most important application you're going to fill out — other than your college applications — because it's going to unlock the majority of college dollars," said Rob. "You need to know how to navigate the FAFSA."
While you can always go to the Princeton Review website to get the latest information on the FAFSA (such as this change to the application window), the best way to gain FAFSA mastery is to pick up their full book, Paying for College Without Going Broke.
"It is a complete walk-through of every one of the questions," explained Rob. "They are translated into very clear English for students — and, mostly, for parents — to go through and make sure they're completing the FAFSA correctly. There's a worksheet included for the FAFSA that mimics the actual form. It's just a huge time savings for so many students and parents, and demystifies what is, generally, a scary process."
5. Don't Discount the Value of Preparation
S.A.T.: the three letters that can send a chill down the spine of almost any college-bound student. While there may be a number of schools that have test-optional admissions processes (they don't require SAT or ACT scores), most schools will still use that exam data in other ways.
"What we've been telling our students at Princeton Review is, your job as a high school student is to do awesome academic work in high school, and to do superlative work on the SAT/ACT tests," described Rob. "Because those will unlock not only academic admission but lots of merit-based scholarships when they get into college. When it comes to SAT, ACT, and, to an extent, AP exams — the majority of schools, even those schools that are test-optional, are looking at your test scores for academic scholarship dollars."
That doesn't mean you need to take every exam, of course. In most cases, unless your college application specifies one over the other, you can choose to take either the SAT or the ACT exam. How do you choose which to take?
"We recommend taking a full-length practice test," advised Rob. "See where you do better, then you can prepare for that specific exam. There are so many different ways you can do test preparation, especially through Princeton Review. Good preparation can change not only the schools you can get into but your own scholarship dollars as well."
The Princeton Review: 35 Years of Helping Students
"Collegeadmissionsphobia" may not officially be in the medical books, but, for many students and parents, it may as well be. Thankfully, the resources at Princeton Review can help combat the fear and anxiety brought on by the hoards of tests, forms, and applications that make up the admissions process.
"Our job at Princeton Review is to say, alright, we understand your fears, so we can understand how to address those fears," said Rob. "That's why we've developed so many resources. If you can diffuse the frenzy, the stress, and, thus, the fear around finding, applying, and paying for college — then you can make a very confident college shopper."