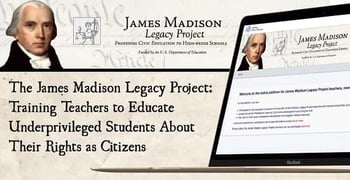 Experts share their tips and advice on BadCredit.org, with the goal of helping subprime consumers. Our articles follow strict
editorial guidelines
.
In a Nutshell: Well-informed teachers are critical to the success of any education system, but most four-year degrees scarcely scratch the surface on the topic of government education. With this in mind, the Center for Civic Education started The James Madison Legacy Project to train teachers to better present key subjects, like government, the US Constitution, and the Bill of Rights. These subjects are especially important at high-needs schools because they teach students about their rights as citizens and emphasize key skills, like public speaking and teamwork, that tend to translate well in the working world. Early research results show the program is vastly improving teachers' knowledge on the subject, which can then be passed on to their students.
Pervasive poverty in certain communities in the US, particularly in inner cities, is a huge obstacle in the American education system. Meanwhile, a strong education is crucial to qualifying for the type of career that can help end the cycle of poverty.
"Today, we have 51% of our children on free or reduced lunch. Schools now help feed our poor," said Robert Leming, Director of the We the People Programs, a school curriculum focused on government and civic education that's part of the efforts of the Center for Civic Education. "Try talking about free speech rights when you're hungry. It makes it much more difficult."
Yet, it's very important for students, especially those from lower socioeconomic backgrounds, to learn about government, their rights, and their responsibilities. It's about empowering the powerless.

Bridging this gap is the mission of the Center for Civic Education, a nonprofit that promotes learning about the Constitution and Bill of Rights. Its James Madison Legacy Project focuses on teacher resources and civic education professional development to help students learn, especially those in high-needs areas. After all, teachers — more than any other profession — are in the critical position to impact young lives.
Through a 52-hour professional development program for 2,025 of our nation's teachers from more than 500 schools, the project is empowering educators to better present civic content, skills, and dispositions to more than 200,000 U.S. students. For more information about the James Madison Legacy Project, contact Maria Gallo at the Center for Civic Education.
Poverty and How Civic Education Can Help
Recognition of the need for civic education, especially among underprivileged students, is not a new concept.
"Over the past forty years, some students, especially those who grew up in poverty, have experienced a less-than-adequate education," Robert said. "That's why it makes sense for the federal government to support the Center in helping with the civic education of these kids."
Forty years ago, when Robert was a 23-year-old teacher starting his career in Grand Rapids, Michigan, he saw firsthand the challenges for some young people trying to succeed in schools — from high absenteeism to low GPAs. It soon became apparent to him that the living conditions outside of the classroom were a major hurdle to learning.
"It was no wonder learning was difficult," Robert said, "when you were trying to teach them content, and they were thinking about whether they would have heat at night."
Robert shared one example that still sticks out in his memory: a boy who would show up to class in tattered clothing.
"He was the youngest of six children," Robert said. "Each morning, his mom would throw clean clothes in the middle of the living room, and the siblings would wrestle for the clothes. Since he was the smallest, he, apparently, never got the good ones. And then, he'd have to come to school and try to learn."
Teachers in low socioeconomic areas of the country need all the help they can get, and the Center for Civic Education's James Madison Legacy Project effectively aims to "bridge the gap" between underprivileged students and their peers.
"Learning about their government and practicing teamwork and research and oral presentations helps empower students and may also inspire them to be leaders in their communities. If students can master the content and gain self-confidence, they are more likely to succeed at whatever career path they choose," Robert said
52 Hours of Training Makes All the Difference for Educators
While good civic education and citizenship can help improve their lives, students will only be as knowledgeable on the subject matter of the teachers who are presenting the material.
"The problem is, are the teachers themselves prepared?" Robert asked. "Do they learn the content and pedagogical skills during their college and university education? Many teachers coming out of four-year or Master's degree programs don't have all the content background to teach government, the Constitution, and the Bill of Rights effectively."
Teachers in inner-city schools, which typically have higher concentrations of low-income students, might be even less prepared to handle the learning challenges of their students.
The James Madison Legacy Project was established to help fix this reality. The three-year project focuses on professional development programs for teachers throughout the nation. More than 500 schools have participated.
The program involves 52 hours of coursework, 40 of which teachers take at a four-day summer institute at one of several sponsoring universities, where teachers interact with expert scholars, scholar videos, and mentor teachers.
Last summer, these institutes, which cover four of six units from the We the People textbook, took place in 26 sites with half of the locations using a traditional approach and the other 13 sites using a blended, multimedia approach. The other two units are covered during two-day workshops in the fall when the same teachers reconvene.
"The James Madison Legacy Project models good teaching and learning, in terms of content, pedagogy, and evaluation," Robert said
One of the program's benefits is that it brings together a community of like-minded teachers, who can then share their knowledge and successes, sometimes long after the professional development sessions are over.
"Teachers are educated together, and they share the same mission back home at their schools. They work together to help everyone improve. When teachers talk among themselves, they can improve their skills and content knowledge," he said, adding that educators tend to communicate by email, mobile, or through the program's online platform.
Research Shows Teachers Who Participate in the Program are Better Informed on Civic Education
Research has backed up the effectiveness of the program. Results from the first cohort of more than 600 participating teachers show they scored higher on a civics knowledge test than non-participating teachers. Participants also were more inclined to ascribe to the goals of educating students about core democratic principles and American government. Even more importantly, these teachers were more likely to encourage their students to participate in public affairs and engage in their communities.
The teachers themselves also found the Center for Civic Education's program to be helpful. They cited the success of the professional development activities; 97% said the practical exercises for implementing activities and lessons in classrooms were effective.
"The James Madison Legacy Project is making inroads in an area that has been long-neglected in American education," Robert said. "In the past 20 years, I have observed in schools all over the nation exceptional teachers, who are very knowledgeable of civic content and know how to help students learn. These teachers have participated in the professional development opportunities offered by the Center for Civic Education and impacted the lives of millions of students. What has not changed in America is the entrenched poverty that, for some students, creates a constant struggle to learn."