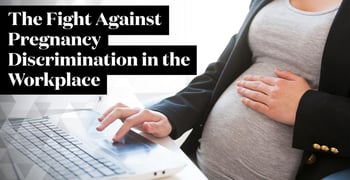 Experts share their tips and advice on BadCredit.org, with the goal of helping subprime consumers. Our articles follow strict
editorial guidelines
.
In a Nutshell: Whether an employer denies a pregnant woman a stool during her shift or goes as far as firing pregnant workers, pregnancy discrimination is a real problem in today's workforce. The Pregnancy Discrimination Act of 1978 and the Family Medical Leave Act of 1993 established legal precedents for pregnant workers' rights, but many civil rights groups believe the laws need to be strengthened and clarified. We spoke to Alex Baptiste, Policy Counsel for the National Partnership for Women & Families, about the issue today and how the Pregnant Workers Fairness Act would offer further protections. She also addressed work that the National Partnership is doing in the area and how workers can take action if they believe they are being discriminated against.
Natasha Jackson was working as a customer account representative at a Rent-A-Center in South Carolina when she found out she was pregnant with her third child, according to a report compiled by several nonprofits, including the National Partnership for Women & Families. Jackson's immediate supervisor initially accommodated her request — based on her doctor's orders — to avoid tasks involving heavy lifting.
When the regional manager heard about the situation, he put Jackson on unpaid leave because heavy lifting was included in her job description. Jackson was eventually fired once she exhausted all of her unpaid leave. As a result of this financial hit, Jackson and her husband lost the house they were in the process of closing on.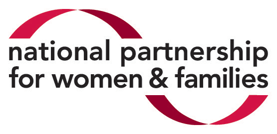 This is just one of a multitude of examples of how pregnancy discrimination is real and may lead to very real consequences for families. In other examples, women have suffered miscarriages or their children have had health complications because the employer refused to allow for minor accommodations during pregnancy.
One of the main focuses for the National Partnership for Women & Families is fighting against pregnancy discrimination, along with a number of other initiatives intended to make life better for women and families.
"We're an organization that really works to promote policies that are aimed at fairness in the workplace," said Alex Baptiste, Policy Counsel for the nonprofit. "We want to make sure that nobody is put in the impossible position of having to choose between their economic stability and taking care of their family."
Advocating in State and Local Jurisdictions for Laws to Prevent Pregnancy Discrimination
In 1978, Congress passed the Pregnancy Discrimination Act which was meant to guard against pregnant women in the workplace being treated unfairly by their employers based on pregnancy-related matters.
The act set a much-needed legal precedent in the U.S. but it has not always been heeded by businesses. Pregnant women still become victims of discrimination due to bigotry, legal gray areas, or lack of education about discrimination laws.
"Discrimination can show up in a number of ways," Baptiste said. "The most obvious would be being fired for asking for a very slight accommodation such as avoiding heavy lifting."
Other common examples of pregnancy discrimination include being denied a change in schedule, being denied a promotion, being harassed by coworkers or supervisors, or simply being forced to stop working because of multiple hurdles.
"In general, being denied accommodations that can easily be attained — needing a stool, taking extra breaks, or having a water bottle next to your work station — they really can have a harsh impact on the woman's health and on a family's economic security," Baptiste said.
Recently, the National Partnership for Women & Families has focused its efforts on advocating for state and local jurisdictions to pass laws offering protections against pregnancy discrimination, Baptiste said. So far, 23 states, Washington, D.C., and four cities in the U.S. have laws that offer additional protections for pregnant workers out of the Pregnancy Discrimination Act of 1978.
"The laws generally go further than the protections offered in the Pregnancy Discrimination Act," Baptiste said. "They're really helpful in protecting pregnant workers from retaliation for requesting accommodations that employers are required to provide."
She said the laws help to clarify that a pregnant worker's needs should not be considered special accommodations, but rather, the worker should be treated as any worker currently experiencing some other disability.
The nonprofit works with a number of coalition partners across the country as much as possible to advocate for the issue and keep it present in policy conversations.
"We're seeing a lot of momentum on the state side of things, which is really encouraging," she said.
The Pregnant Workers Fairness Act Ensures Pregnant Women Receive Proper Workplace Accommodations
The National Partnership for Women & Families was involved in drafting and passing the Pregnancy Discrimination Act of 1978 and was instrumental in the Family and Medical Leave Act of 1993 coming to fruition, Baptiste said.
Between October 2010 and September 2015, nearly 31,000 pregnancy discrimination charges were filed with the U.S. Equal Employment Opportunity Commission and state-level agencies, according to the National Partnership for Women & Families.
That number would likely be higher but many workers are simply unaware that certain protections exist and don't know the avenues to take to pursue legal action, Baptiste said.
The Pregnant Workers Fairness Act would help prevent employers from forcing pregnant women out of the workplace, help clarify the employer's role in providing accommodations, and protecting pregnant workers from retaliation," she said.
Furthermore, the bill would "require an interactive process between employers and pregnant workers to determine appropriate, reasonable accommodations, similar to the Americans with Disabilities Act."
The Pregnant Workers Fairness Act was first introduced in Congress in 2012 and was most recently reintroduced in 2017. Although it has not been enacted into law, Baptiste said the National Partnership for Women & Families is hopeful that it will be introduced again and will eventually be passed.
"We are definitely going to keep supporting it and trying to educate as many folks on Capitol Hill and in Congress about the really far-reaching benefits and protections the law can provide," she said.
A Longstanding Partner in the Fight for Women's Rights
"We've been around for almost 50 years at this point," Baptiste said. "We started as the Women's Legal Defense Fund before becoming the National Partnership for Women & Families."
Pregnancy discrimination is only one of a number of issues the nonprofit supports in its mission to improve the lives of women and families.
"That means fighting for: equality, and repro rights, and health care, and fair pay, and paid leave, and women, and families. That means speaking truth to power and holding our elected leaders accountable. That means fighting back when extremists stand in the way of our progress," according to the organization's website.
Other policies the National Partnership for Women & Families has been instrumental in over the years include the Civil Rights Act, the Affordable Care Act, statewide paid family leave programs, and local and state paid sick days.
"We know when women do better, families do better, and our nation prospers," according to the organization. "We promote equality for all women and are working every day to make our country more fair, just and tolerant so everyone has the opportunity to fully participate and thrive."
With women across the country securing historic victories in the 2018 midterm elections, the National Partnership for Women & Families is calling on lawmakers to "honor their activism and prioritize our new policy agenda for women and families."
"An Agenda for Progress for Women and Families" outlines the organization's roadmap for priorities in 2019 with seven specific goals that align with the group's mission and recommended actions for policymakers
How Americans Can Take Action
Baptiste notes that, if a pregnant worker believes she is experiencing discrimination in the workplace, there are steps she can take to address the discrimination and seek recourse.
"Write down everything you believe is happening and review the company's policy to find out how to file complaints and discrimination claims," she said. "If nothing comes from that, you can file a formal complaint with the Equal Employment Opportunity Commission."
Education is key, Baptiste said, because oftentimes women either regard the discrimination they are experiencing as par for the course, or are simply unaware of the existing protections and actions they can take to fight back.
"We partnered with the Time's Up initiative to create a really great resource about knowing your rights in the workplace, specifically related to pregnancy discrimination," she said. "Anybody can access it on our website to learn more about their rights and protections."