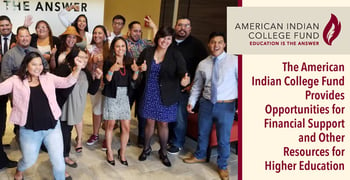 Experts share their tips and advice on BadCredit.org, with the goal of helping subprime consumers. Our articles follow strict
editorial guidelines
.
In a Nutshell: American Indian and Alaska Native students often face numerous challenges, including financial inequality, cultural insensitivity, and access to technology. The American Indian College Fund helps students overcome these challenges through scholarships, education, and other resources. In 2019 alone, the fund helped nearly 4,000 students by awarding more than $7.7 million scholarships. The charity also provides robust college preparatory, career guidance, and financial literacy resources. Part of the American Indian College Fund's mission is also to serve 35 Tribal Colleges and Universities through scholarships, internships, career counseling, and access to technology.
When Erin Kiyukanpi was growing up, he experienced food insecurity due to his family's financial struggles.
Today, Kiyukanpi is helping young people who are in similar positions take on food insecurity through education and improving SNAP recipients' accessibility to healthy foods. As a non-traditional college student and father, Kiyukanpi still struggles with food insecurity and he is deftly bringing a new generation of kids along with him on his journey in defeating it.
The inspirational path Kiyukanpi has forged may not have been possible without the help of the American Indian College Fund. The mission of the American Indian College Fund, which was established in 1989, is to invest "in Native students and tribal college education to transform lives and communities."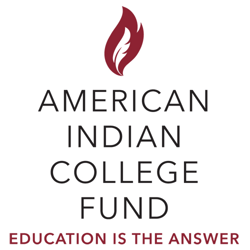 As a member of the Sisseton-Wahpeton Oyate American Indian tribe, Kiyukanpi was able to qualify for a scholarship through the American Indian College Fund to earn his associate's degree at Sisseton Wahpeton College, a tribal college in South Dakota.
He then transferred to the University of Minnesota Morris to complete his bachelor's in environmental studies and continue his work in educating people about food insecurity.
Unfortunately, Kiyukanpi's situation is not unique among Native American populations.
"The challenges facing Native American students are many and diverse," according to the American Indian College Fund. "Financial inequality, culturally insensitive institutions, and access to broadband Internet are just a few regularly occurring barriers to higher education."
The American Indian College Fund is the nation's largest charity supporting access to higher education for American Indians and Alaska Natives, according to the organization's website.
"We provide scholarships, programming to improve Native American student access to higher education, and the support and tools for them to succeed once they are there," according to the charity.
We recently spoke with Tiffany Gusbeth, the Director of Student Success Services at the American Indian College Fund and a member of the Northern Cheyenne nation. In her role, Gusbeth said she helps oversee the charity's scholarship administration, student support programming, college access programming, and career readiness and development programming.
Providing Scholarships and Valuable College Preparatory Resources to Students
Gusbeth said that, in 2019, the American Indian College Fund served nearly 4,000 students with more than $7.7 million in scholarships.
"We look at how we can support these students financially, whether that's through scholarships, opportunities to attend conferences, or supporting them with financial aid awareness," she said.
The charity's main scholarship is the Full Circle Scholarship. Applications are accepted every year from January 1 to May 31. Applicants must be a member of an American Indian tribe — and provide proof of tribal enrollment — or be a tribal descendant. This is demonstrated by submitting a parent's or grandparent's proof of tribal enrollment, along with the applicant's birth certificate.
A digital photo and academic transcripts are required as well. Applicants must also have at least a cumulative 2.0 GPA.
"We make our selections for the awards in the summer and make announcements in the summer as well, so students have their funding available for fall of that year," Gusbeth said. "These are academic year-long awards, and many of them are renewable."
She said awards average around $5,500 but have ranged from $1,000 all the way to $90,000-plus for one particular student attending Harvard Law School.
The American Indian College Fund also administers Tribal College and University (TCU) Scholarships for 35 tribal schools in the U.S. as well.
Gusbeth said the charity also focuses on helping high school students prepare for the road ahead with a number of resources, including the Native Pathways college preparation guidebook, information on how to choose a college, and what to expect when they get to college.
"We work directly with high schools as well to increase the college-going rate among American Indian and Alaska Native students," she said. "We really develop holistic supports for these students."
The Fund Also Offers an Array of Career Guidance and Financial Literacy Advice
"Career success is a big piece of our work as well," Gusbeth said. "It's really our goal to increase the number of employable graduates for American Indian and Alaska Native communities."
The conversations about career success begin in high school and continue through the students' academic careers, she said.
Gusbeth said the charity will discuss with the students what their aspirations are and help them lay out a path to achieve them.
"Because our communities are so tight-knit and related to the relationship and kinship with our relatives, it can be hard to leave home because of our cultural values," she said. "But, if students want to move to Denver — like I did — then we'll help them find some opportunities in that way."
She said it's really about looking at what will be the most meaningful and helpful for the individual, and what will propel them in their life goals to serve their community and their family in a way that makes sense for them.
"For a lot of students, they want to stay in their community and grow and develop their communities for the better," Gusbeth said. "And, for others, it makes more sense to find other opportunities that fit for them."
The American Indian College Fund strives to provide students with enough information and resources to make good decisions in their degree pathway, Gusbeth said, so when they graduate they have an idea of what they want to do with their degree.
"We have an online tool on our website that we engage our students with called Focus 2," she said. "And that's a career assessment module. So students can take this assessment and gauge what their strengths and weaknesses are, and how that might lend itself to certain careers and also gives them advice on different industries to explore."
The module also helps them explore which colleges and universities offer degree programs in the areas they are most interested in.
The charity also offers résumé, interviewing, and professionalism tips as well as its Career Pathways Guidebook.
"We also do some financial literacy work through our online events with students and talk through budgeting, and planning for the school year, as well as what you're going to do when you graduate," Gusbeth added.
Supporting Tribal Colleges and Universities on Reservations
Gusbeth said that part of the American Indian College Fund's mission is to support tribal colleges and universities and their surrounding communities. The TCU scholarships are just one way the fund supports this mission.
The first tribal college was established in 1969 on the Navajo reservation.
"In addition to receiving an accredited higher education, students thrive in a learning environment in which the culture, traditions, and experiences of Native people are woven into the DNA of the institutions — providing a space for them to learn and be understood," according to the charity's website.
"We serve 35 tribal colleges and universities, and the majority of these schools are on reservations," she said. "And, if you look at our TCU map on our website, you'll see that these are in pretty remote areas of the country like southeastern Montana, South Dakota, and North Dakota."

These remote locations present challenges for students in these communities, and the American Indian College Fund serves the students to help them overcome those challenges.
"When we're talking specifically about careers with these students, we look at what types of opportunities are available in their area, or explore if there are opportunities that are non-traditional they can pursue while staying in their home communities," Gusbeth said.
She said this may include internships on their campuses or through tribal offices in their area or opportunities to work remotely from home.
But with their remote locations and varying financial situations, students and TCU schools may not have access to connectivity and up-to-date technology to pursue certain opportunities.
"Sometimes we have to do some workarounds with them so that they can participate remotely in career and academic projects," Gusbeth said.
Just as Kiyukanpi was able to combine his past experiences, desire for higher education, and passion to help others, the American Indian College Fund helps thousands of other American Indians and Alaska Natives overcome financial and other challenges to achieve their goals.