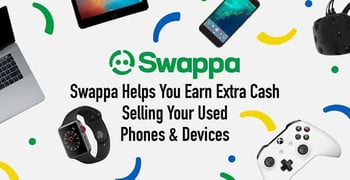 Experts share their tips and advice on BadCredit.org, with the goal of helping subprime consumers. Our articles follow strict
editorial guidelines
.
In a Nutshell: With the cost of the latest smartphones reaching as much as $1,000 or more, you want the best price you can get for your previous generation phone to help offset the expenses associated with an upgrade. Wireless carrier trade-in values are often a pittance, and selling through eBay or other online channels can be risky. Swappa is a platform that lets sellers get the best price for their gently used smartphones and other electronic devices. This user-to-user marketplace lets both buyers and sellers see how much the same device is selling for, and arrive at a fair price. With both quality assurance and payment protection safeguards, Swappa is a secure and convenient way to make sure you're getting the best deal possible on your device.
The year was 1969, and the US had just accomplished the seemingly impossible task set forth by President John F. Kennedy of putting a man on the moon and returning him safely to Earth before the decade was out.
NASA overcame innumerable obstacles in designing the Apollo 11 spacecraft and the lunar landing module. It developed the most advanced computers and designed a command interface inside the capsule to allow the astronauts to land on the surface of the moon and take off again.
Yet with everything this massive effort entailed, the computing power and memory capacity of the systems used by NASA pale in comparison to that of a modern smartphone. Even the iPhone 6, which seems dated by today's standards, could perform calculations more than 120 million times faster than all the Apollo 11 computer systems combined.
Smart devices are true marvels of modern technology. They are faster, more powerful, more secure, and have better screen resolution than ever before. In short, they are tiny supercomputers that fit in the pocket of our jeans. But if you want to own one of these beauties, be prepared to pay a small fortune to do so.
OK, so maybe the Galaxy S9 or the iPhone X won't set you back as much as the dual $3.5 million IBM Model 75s mainframe computers used by NASA for Apollo 11. But they still cost a chunk of change. You can expect to pony up about $800 for the S9, and around $1,000 or so for the iPhone X. And you may be thinking, "I'll just trade in my old phone, and it'll end up being half that. Right?" Wrong.
The meager trade-in value a wireless carrier will give you for your current phone, even if it's relatively new, will shock you. So, you can sell it on eBay or Craigslist, right? Only if you want to deal with seller fees or the risk associated with selling to strangers. Fortunately, there's a better way to get higher returns on your devices.
Swappa is an online platform that lets market forces determine what a used smartphone or other device is worth. This user-to-user marketplace shows both buyers and sellers what others have recently paid for the same smartphone, tablet, game console, or other high-tech electronic gadget.
We recently spoke with Corey Rabazinski, Director of Marketing for Swappa, who told us more about the company's success in the online device marketplace.
"We have full pricing charts for each device to show what phones have sold for recently, and a graph that tracks those prices over time," Rabazinski said. "It's a completely transparent and open market. So, for a seller it's an easy and quick way to sell your phone at the best market rate."
Great Bargains for Buyers, and Fast Payment for Sellers
As a user-to-user platform, Swappa can find the best prices for smartphone sellers, while still giving buyers an excellent deal. That's because there are no inventories to keep, and no need for Swappa to ever handle the devices. Overhead is low, and the savings are passed on to the users of the platform.
"There are advantages across the board, from the fees you pay to the cost of the devices themselves," Rabazinski said. "That's because we're not buying devices and reselling them; it's a user-to-user marketplace. We're providing a platform and a trusted process, for which we charge a small fee."
That small fee Rabazinski mentioned is paid by the buyer and is built into the purchase price of the device. Transparency of overall cost is one of the advantages Swappa is known for. Sellers, who use the Swappa marketplace, pay nothing except the cost of shipping the device once the deal has been completed.
Fees paid by the purchaser are very reasonable, and are always less than what eBay would charge for the same transaction. For example, a device that sells for between $301 and $500 would incur a $15 buyer fee on Swappa, whereas eBay would charge the seller up to $50.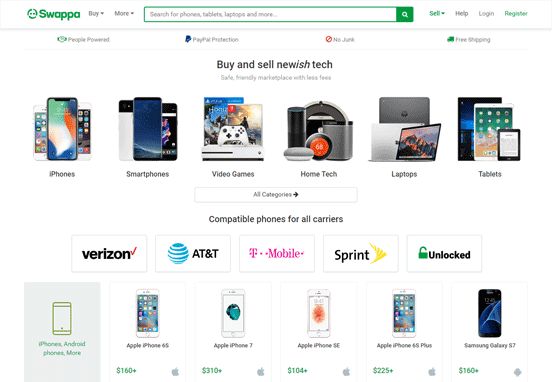 The Swappa marketplace exclusively uses PayPal for transactions for a number of reasons, including PayPal's extensive protection for both buyers and sellers. Up to 180 days of buyer protection means you don't have to worry about a device not working when you receive it. That's on top of Swappa's own protective measures.
"Any seller who's found to be doing anything that's against our terms, we ban them from the platform," Rabazinski said. "We have several measures in place to keep the marketplace as clean and honest and transparent as possible."
Expert Product Approval Ensures No Junk Devices
One of the factors that differentiates Swappa from other resellers is the platform's expert staff of product reviewers. All of the product quality staff at Swappa are tech experts who know the devices, and know what to look for. Prior to being accepted for listing, each phone must be photographed, with the IMEI or ESN number clearly visible, and showing the device's condition in detail.
Only fully functional smartphones and other devices are eligible to be posted on Swappa. Every product has listing requirements and an approval process that involves making sure the device meets quality standards. "No Junk Devices" is a mantra for the company.
"This added level of security and transparency lets people rest assured that it's a quality device they're getting," Rabazinski said.
The seller approval process is another safeguard the company takes very seriously. As stated on the Swappa website, new sellers and sellers with a "bumpy" rating history will be given more scrutiny than a seller who has lots of five-star feedback from buyers. It's just one more way of ensuring the highest quality and smoothest transactions possible on the site.
Home Electronics and Other Future Plans
The most popular devices sold on Swappa are iPhones, with Android devices running a close second. A category that's also picking up steam and becoming quite popular is gaming consoles and the games that run on them.
While Swappa has a reputation as a high-quality smartphone marketplace, the company has begun branching out into other device categories. Laptops and tablets are, of course, big sellers, but lately home-tech and other smart consumer devices have been gaining traction. The expanding resale market for this type of equipment in good condition makes bringing these devices under the Swappa umbrella an easy decision for the company.
"The goal here is to become the trusted marketplace for buying and selling used tech," Rabazinski said. "Not just phones and tablets, but really anything tech-related. We want to be able to provide that same service across the board."