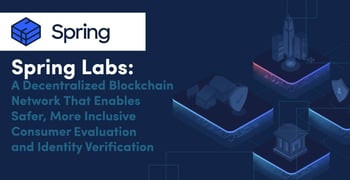 Experts share their tips and advice on BadCredit.org, with the goal of helping subprime consumers. Our articles follow strict
editorial guidelines
.
In a Nutshell: Credit bureaus collect, aggregate, and sell data to lenders, but the process can be ineffective, risky, and not provide a comprehensive consumer profile. Spring Labs offers an efficient alternative through its blockchain network that allows lenders to connect directly, securely share information, and obtain a complete view of a consumer. And Spring Labs pursues partnerships with lenders and other businesses to ensure its network is populated with sufficient data to provide value to users. That approach not only enhances the existing lending space but also makes financial products more accessible to unbanked consumers.
In September 2017, an Equifax security breach compromised the data of 147.7 million Americans. While it wasn't the first hack of its kind, it was the first to affect such a significant portion of the population.
Equifax eventually agreed to pay settlements to individuals affected by the data breach. On a larger scale, however, few visible steps have been taken in the industry to make aggregated and centralized information more secure against malicious attacks.
That can leave consumers in a bind as credit bureaus still collect personal data and store it in a single location to facilitate faster lending decisions. But, at the same time, that wealth of data is both attractive and vulnerable to hackers who want to sell it on the dark web.
Spring Labs is developing a platform to help consumers enjoy financial efficiency while ensuring that their data remains private. Its solution leverages blockchain technology, which enables fast, secure transmission of information among users, institutions, and businesses. On that network, Spring Labs is building a credit evaluation system that will better serve and protect consumers.
"Our founding team has experience in the financial space. They have experience creating successful companies in this sector, including with Avant, which is a major online lender," said Valentin Blehaut, Senior Strategy and Operations Associate at Spring Labs.
That helps Spring Labs understand problems inherent in the sector, which is in contrast to how other blockchain companies lay their foundations.
"We began with a problem that's been identified by people who know the industry very well. An element of the solution to that problem includes blockchain," Blehaut said. "We very much started from a problem to create a solution and not the other way around."
The Spring Labs network represents a more efficient and secure way for institutions to share consumer financial information. It will also allow banks to make more sophisticated lending decisions and provide peace of mind for consumers, whose information is safe within the banks' four walls.
Fixing the Inefficiencies of the Current Data-Sharing Model
Centralized financial third parties, including credit bureaus, collect information from other institutions for free. And they intend to aggregate that information, provide a score, and sell it back to those institutions.
"You've created a dependency on the third party, which are the credit bureaus, whose incentives aren't entirely aligned to their customers," Blehaut said. "They have the incentive to give as little information as possible for the most amount of money."
That situation can present a problem for lenders as bureaus may provide a credit score but not the information behind it. Lenders must then try to determine whether an individual consumer is a good credit risk by trusting the bureau's calculations.
The process also presents a problem for consumers, whose private financial data often resides on the servers of the three biggest credit bureaus — Equifax, Experian, and TransUnion. And if consumers encounter a discrepancy on one bureau's record, they'll need to consult their histories with the other bureaus as well. For each problem they find, they'll need to file a report with each bureau, asking them to fix the issues individually. That can be a time-consuming process, not to mention frustrating for the layperson to navigate.
That's why Spring Labs aims to connect those financial institutions directly, cutting out the third parties and maintaining data integrity. The process will make credit evaluation not only more efficient but also more secure.
"Our initial approach is very much going to the businesses and existing financial institutions," Blehaut said. "We help them exchange information amongst themselves at a higher and better granularity and higher visibility than they get today through credit scores."
Offering Safer, More Effective Sharing Among Institutions
Initially, Spring Labs plans to focus on consumer and small-business lending. Its credit-evaluation system will be deployed to help everyday consumers and entrepreneurs access the capital they need to meet their personal and professional expenses. Spring Labs data isn't directly used for credit decisions, though. Instead, its value lies in identity verification, fraud prevention, and protection of private consumer data.
At launch, the network's direct users will be lenders. They will query the network of other lenders when making decisions. The more lenders who possess data on a specific borrower, the more hits an institution will receive on its search and the more information it will have at its disposal. With that data, lenders can make sophisticated judgments of creditworthiness and risk for particular consumers by assessing fraud risk.
"If you look into our network, all you would see is a bunch of cryptographic hash outputs. You wouldn't be able to reverse engineer what the information was from that output. You can however, compare these outputs to ones you generate from your own data to find any matches from other network participants" — Valentin Blehaut, Senior Strategy and Operations Associate at Spring Labs
One of the most secure aspects of this system is its decentralized architecture, meaning individual pieces of data are not stored in a singular place. Because it's not aggregated, the information is less appealing and vulnerable to hackers. That's because they would need to access multiple databases and piece together disparate bits of information to use it.
When lenders access information on borrowers, it is displayed but not transferred, to limit the locations where it exists. And when institutions access the data, it is encrypted during transmission, preventing it from being exploited en route.
"If you look into our network, all you would see is a bunch of cryptographic hash outputs," Blehaut said. "You wouldn't be able to reverse engineer what the information was from these outputs. You can, however, compare these outputs to ones you generate from your own data to find any matches from other network participants."
As with the current credit-rating system, consumers still aren't directly involved in the management of their data. Institutions will exchange information among themselves. But the Spring Labs network will allow the latter to transmit it more securely, and institutions won't have to give the data away, limiting the proliferation of sensitive information.
Alternative Metrics Expand the Reach of Financial Services
In 2017, The World Bank reported 22% of the global adult population was unbanked and lacked access to basic financial products and services — including savings accounts and lines of credit. But The World Bank also acknowledged that blockchain technology could offer a solution to that problem.
"Blockchain is only an element of the solution because it is a technology," Blehaut said. "It's what you use it for and the properties it confers that makes what you're building valuable."
The Spring Labs network adds value to the blockchain by incentivizing institutions to contribute data that can help a wide range of consumers achieve creditworthiness. For example, telecom providers, utility companies, insurance companies, and subscription services keep records of consumer payments. That track record of paying bills on time can enhance a lender's estimation of whether or not a borrower will repay a loan in a timely fashion.
Even without a credit score, people can still access utility services and subscriptions to services like Netflix. And consumers can leverage recurring expenses to gain access to other financial products — including home and auto loans and other lines of credit.
Spring Labs offers a more complete representation of an individual's creditworthiness by allowing institutions to evaluate a wider variety of transactions. That can serve to increase access to financial services for unbanked and underbanked consumers around the world.
Spring Labs: Enhancing Network Value and Consumer Benefits through Strategic Partnerships
The success of Spring Labs will rely on revolutionizing credit evaluation through existing companies and institutions — after all, they're the ones who hold the data and provide the money to borrowers. That's why the platform is establishing partnerships to ensure enough data availability to make the network a valuable resource for lenders.
"We're pushing hard to get as many people on the network as possible because each of these companies will need some proof that this network provides enough value to them," Blehaut said. "That's what we're pushing so hard on the partnership front. The more people on the network, the more valuable the network."
Current Spring Labs partners include General Motors Financial, SoFi, OnDeck Capital, Avant, Funding Circle, BlueVine, Fundation, Upgrade, and Fundbox, among others.
Blehaut also said that Spring Labs aspires to become a touchstone for consumer confidence and an effective, secure alternative to traditional credit reporting agencies. An additional future benefit will be a self-assessment tool for consumers to view their own creditworthiness — according to data provided to, and by, network participants.
"In the long term, people can check their status on this platform," Blehaut said. "They'd see, at a granular level, how they're participating or how they're viewed in the credit space and quickly detect when they have issues."