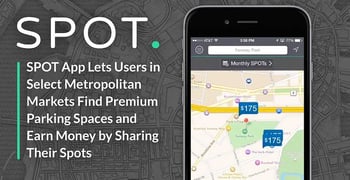 Experts share their tips and advice on BadCredit.org, with the goal of helping subprime consumers. Our articles follow strict
editorial guidelines
.
In a Nutshell: Boston resident Braden Golub noticed private parking spots going unused while the owners of those spaces were at work. So he had the idea to connect those available spots with people looking for affordable parking — and the SPOT parking app was born. SPOT allows users to find and pay for parking using their mobile device — at rates often below the city's average cost. It can also provide the owners of those private parking spaces a passive income stream. The result is more available parking, reduced congestion, and lower costs in major metropolitan areas like Boston and Chicago, with more coverage coming soon.
Boston is often referred to as the Cradle of Liberty, owing to the city's role in the Revolutionary War and the founding of our nation. Paul Revere's ride, the Boston Tea Party, and the first shots fired against the British all took place in the area. With such a unique and prominent role in American history, Boston is a favorite city for visitors, but one thing you won't find much of is affordable parking.
In a city where parking is so tightly regulated and enforced (parking officials brought in more than $15 million in revenue in 2016), the cost of legal parking is often whatever the market will bear. Metered parking, if you can find an available spot, can run as high as $8 an hour. And parking garages around town can be $25 an hour or more.
But one Boston resident saw a potential solution for the city's parking woes. Braden Golub was living in the Back Bay area of the city and had a private parking space behind his condo.
"Each morning when I left to go to my job, I would see that out of around 20 spots, there were, maybe, two spots being used," Golub said. "So even in the morning as I was leaving I realized; this real estate is valuable."
Golub, who worked in real estate at the time, had an idea for how to help people monetize something they were paying for, but weren't using for a good portion of every day. His idea led to the founding of the SPOT parking app, which pairs owners of private parking spaces with people who want more affordable and accessible parking within the city.
While there are plenty of parking apps that try to help drivers locate available parking, most are associated with public parking lots and huge corporate garages. But SPOT is trying to make parking more affordable while providing space owners with more value.
"When we developed SPOT in 2013, consumer-facing apps were ubiquitous. But they weren't as straightforward as they are now," said Golub, Founder and CEO of SPOT. "A lot of work went into how we could make it simple for someone to log on to our app and find a parking spot."
The SPOT app, which is currently available in Boston and Chicago, lives up to the promise of being easy to use. According to Golub, it takes around five to 10 seconds to find a parking spot, and another 10 to 20 seconds to actually book it. Similarly, it takes the person who owns the parking spot about one minute to list it on the SPOT app.
Users Can Turn a Parking Space Into a Passive Income Stream
Owning a coveted parking space in the greater Boston area means not having to shell out for daily or hourly parking. However, those private spots aren't cheap. Golub's space behind his Back Bay condo cost $400 a month, which he says was pretty typical for the area at the time.
Renting a spot out when it's not in use could recoup some — or all — of that expense. And the process is simple, just sign up, pinpoint your spot on a map, and set a schedule and rates.
In fact, Golub said that people in some parts of the city make upward of $600 to $700 a month renting out their spots. While this is obviously dependent on the area, the type of parking space, and how frequently it gets rented, that amount can be a solid passive income stream for what would otherwise be an empty piece of property.
"It depends on a lot of variables, like if they have a good spot that transacts hourly," he said. "There are also folks who make $150 a month because they choose to rent their spot out monthly rather than having a lot of individual transactions."
SPOT offers suggestions for parking space holders on how to price their spots. The app uses data on what other spots in the area are going for, as well as information about events or happenings nearby. It then lets holders know how much they can charge, or if they can ask a premium for their spot during certain times.
"With SPOT, we only suggest pricing. For example, if there's a Red Sox game, we say you can charge 60% more per hour for your spot, but we never automatically change the pricing," Golub said. "We give them the tools to see what they can get, but, sometimes, it comes down to people just wanting the easiest and most straightforward means of doing a transaction. Ultimately, that's what we provide."
How a Parking App Can Help Big Cities Avoid Congestion
Beyond the benefits to holders who can earn money from their spots are the benefits to visitors — and to the city itself. People who use the SPOT app can easily find a parking space at a rate that is typically 60% to 70% lower than garage parking rates, according to Golub.
And it saves time. Instead of visitors driving around for hours looking for any available parking space, there is one waiting so they can spend that extra time enjoying the city.
Traffic congestion is another big problem in cities like Boston, which has narrow streets that weren't engineered with modern automobiles in mind.
"In a study published by an urban developer in L.A., he found that roughly 30% of the traffic in big cities is caused by people circling the block looking for parking," Golub said. "The reason they're circling the block looking for parking is that garages are too expensive, and there aren't enough metered spots. So you have this imbalance of supply and demand that's creating traffic and wasting people's time."
The SPOT app helps resolve this supply/demand imbalance by creating a market-driven system where holders of parking spaces and those looking for parking can determine a fair price and complete a transaction instantly.
"Cities are now becoming more efficient because people aren't driving around looking for parking, and you have less congestion. And less congestion means people are more apt to come to the city and spend money."
SPOT is Planning to Expand Beyond Boston and Chicago
As a parking spot owner in Boston, Golub saw an opportunity to connect owners and drivers seeking parking to combat high prices and desirable spaces going unused. After getting started in Boston, the SPOT app expanded to include areas of downtown Chicago — which suffers from similar woes as Boston. It was a logical place to begin growing the app's reach.
Golub said that he's also looking closely at partnering with cities, landlords, and property managers — who aren't necessarily experts at managing their parking. Using this approach in the cities of Boston and Chicago, the company has raised the capital to move forward with plans to expand throughout the country.
"Right now we're in Boston and Chicago, with plans to expand into eight cities that cover around 88% of all paid parking in the U.S.," Golub said.
The cities the company is looking to add are Washington D.C., San Francisco, Los Angeles, Miami, Seattle, and Philadelphia.
Golub wants to ensure the model is fully functional in Chicago before proceeding. But if the reception in new areas is anything like what the company has seen so far, SPOT can expect further success.
And Golub's original goal is still at the heart of SPOT's mission.
"Our goal is to help people to park easier, and the only way we do that is by finding more parking," he said. "Our goal from the beginning was to help people on both sides of the parking equation."